Found May 30, 2012 on The Saints Nation:
A guy that's been mostly under the radar in his 4 years as a member of the Saints, mostly due to all the other big names on the roster, is former 1st round pick Sedrick Ellis. When the Saints took Ellis 7th overall in the 2008 draft, trading up from the 10th slot and giving up a 3rd round pick to the Patriots to get him, expectations were extremely high. Ellis, at the time, was one of three USC players in team history to bench over 500 lbs. He came into the NFL as the kind of player that was respected as very versatile for an interior lineman, very capable regardless of the down and distance. He had the luxury of being big, strong, but also explosive for his size. But has he lived up to his pre-draft hype? Ellis came out of the gates with an extremely strong rookie campaign that created even more promise, before having a slight dip in performance in 2009. 2009 was still a pretty good year, though, and obviously the team had tremendous success that season. 2010 was his breakout year, as Ellis notched career highs in tackles (44), sacks (6) and games played in a season (16). Entering the prime of his career, it was fair to think Ellis would perform even better alongside Aubrayo Franklin and Shaun Rodgers in 2011. But Ellis fell flat last year and had his worst statistical season of his career, notching career lows for a season in tackles (29) and sacks (0.5). Granted, he was rotated more than any other years thanks to the newfound depth at the position, and the poor performance on defense seemed to be a widespread problem across the unit in 2011, but it was a discouraging step back for a player that seemed to be coming into his own as an NFL star. That's kind of been Ellis' career so far with the Saints, in a nutshell. In 4 years, he's had two solid seasons followed up by regressions. Impressive and teetering the edge of stardom at times, and surprisingly passive and disappointing at others. Here's how Pro Football Focus rated each of his 4 seasons, which actually views Ellis as pretty middle of the road:2008: +8.6 rating total, 16th best among interior linemen. +17.2 rating in pass rushing (3rd best in NFL) but a -10.7 rating in run defense (8th worst). That was based on 86 graded players.2009: -3.0 rating total, 47th best among interior linemen. -1.5 rating in pass rushing (37th) and -3.1 rating in run defense (57th). That was based on 87 graded players.2010: -4.8 rating total, 58th best among interior linemen. -3.3 rating in pass rushing (51st) and -4.0 rating in run defense (62nd). That was based on 77 graded players. 2011: +0.6 rating total, 51st best among interior linemen. -1.4 rating in pass rushing (37th) and -2.3 rating in run defense (74th). That was based on 88 graded players.So it's interesting. If you look at PFF's grades, they seem to think his rookie season was by far his best, even though 2010 was better statistically. Not surprisingly, Ellis has graded out each year much better in pass rushing situations than run defense. He's come out each year grading very poorly in run defense, and the best he's ever finished was rated 57th out of 87 graded players in that department. It's slightly shocking to see PFF think of him as a middle of the road, at best, defensive tackle. Based on these grades, I don't see how you can argue Ellis was worth the 7th overall pick. Granted, PFF isn't the end all be all, and I don't necessarily take their ratings as gospel, but I have to say their scores end up being pretty close to the scores I give in my grading. Obviously the point system is different from my GPA system, but the ranking of each Saints' player in order of best to worst usually comes out very close... so at the very least I respect their system as pretty accurate. That said, there's probably more room for error and differential if it's not the same person grading each player each week.Sedrick Ellis is entering the final year of his rookie contract, which will pay him $5.816 million this season. After that, he's an unrestricted free agent and the Saints will have to decide whether they bring him back or let him walk. Ellis will of course have to decide if he wants to return, as well. Given what decent DT's cost, given the Saints' cap woes, and given the fact that they just invested in Brodrick Bunkley for 5 years at the same position, Ellis may not be retained. Quite simply, he just hasn't been able to become the dominant and reliable player the Saints hoped he would be. Still, you have to like the fact that in a contract year we'll probably see the most determined and effort filled season yet from Ellis. If he wants to get a big second contract and earn leaguewide respect as one of the best, now would be the time to step up.[follow]
Original Story:
http://www.thesaintsnation.com/2012-a...
THE BACKYARD
BEST OF MAXIM
RELATED ARTICLES
Curtis Lofton admits that as a former Atlanta Falcon, he used to hate the rival Saints. Yet, instead of delighting in the bounty scandal that cast uncertainty upon Saints' 2012 season, Lofton's reaction was to take New Orleans seriously as a free-agent destination. Lofton has been practicing as the starting middle linebacker, the same position held by Saints defensive captain...
For the fourth consecutive year, I give you the Saints ten most valuable players going into the season. Last year's top 10 featured two players no longer on the team (Carl Nicks at #2 and Tracy Porter at #7). This year you will notice three newcomers in the top 10. Here are my top 10 players going into 2012: 1. Drew Brees: For the fourth straight year Brees is listed atop...
The New Orleans Saints are getting into OTAs without their head coach. Once the regular season begins, they will get underway without their offensive coordinator and general manager as well, causing a less than favorable start to the upcoming NFL campaign. If they also begin the year without their top overall player, can the Saints possibly expect to contend in a challenging division...
When the all-too-common argument of athletes being overpaid arises, I tend to always side with the athlete. While $20 million a year seems like an astronomical amount of money to pay someone for playing a game, it is the basic concept of supply-and-demand at work. The money comes from somewhere, and if the people shelling it out didn't think they were going to get a return on their...
An arbitrator has ruled that NFL Commissioner Roger Goodell has the authority to discipline New Orleans Saints players for their role in a bounty system. The NFL Players Association challenged Goodell's power to impose penalties for what the league says was a three-year bounty program that targeted specific players. Stephen Burbank, a University of Pennsylvania law professor...
Commissioner Roger Goodell says he's confident bounty hunting will no longer be an issue in the NFL because of the severe penalties handed out in the wake of the New Orleans Saints scandal. Goodell says the actions taken by the league ''speak very loudly.'' The NFL Players Association has challenged Goodell's power to impose penalties for what the league...
Getty Images According to ESPN's Chris Mortensen, if John Clayton's calculations are correct, New Orleans Saints quarterback Drew Brees would make $23,574,240 million in 2013, if he's given the franchise tag for the third time in his career. There isn't a single player in the NFL that's ever made that much money in one season.  It looks like the Saints don't have that...
There has been enough drama in New Orleans Saints camp this off season from "Bounty Gate" to players suing the NFL to who will be running the team while Sean Payton is suspended for all of 2012 season and his temporary replacement Joe Vitt , will also be serving his six game suspension.  The issue that should be the biggest concern for the Saints organization is how will the...
Saints News

Delivered to your inbox

You'll also receive Yardbarker's daily Top 10, featuring the best sports stories from around the web. Customize your newsletter to get articles on your favorite sports and teams. And the best part? It's free!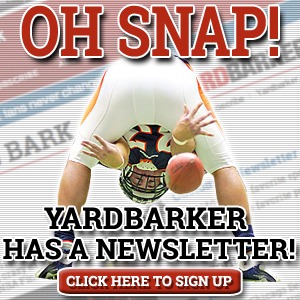 Latest Rumors
Best of Yardbarker

Today's Best Stuff

For Bloggers

Join the Yardbarker Network for more promotion, traffic, and money.

Company Info

Help

What is Yardbarker?

Yardbarker is the largest network of sports blogs and pro athlete blogs on the web. This site is the hub of the Yardbarker Network, where our editors and algorithms curate the best sports content from our network and beyond.