Found May 25, 2012 on The Saints Nation: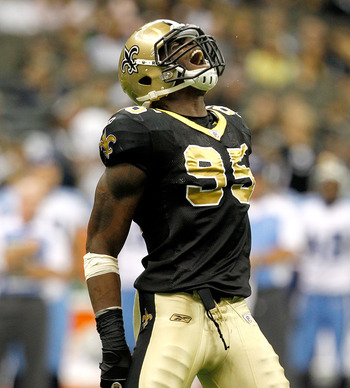 3rd Round draft choice Martez Wilson was a promising rookie a year ago, but he mostly made his mark on pass rushing downs while blitzing from the linebacker position. The Saints liked his ability to get to the quarterback so much, in fact, they're apparently thinking about making the move to switch Wilson from linebacker to defensive end.
Wilson apparently worked exclusively at right defensive end at the OTA's yesterday
. In 13 games last year, mostly on special teams with one start, Wilson finished with 10 tackles and a sack. He also had a huge game against the 49ers in the playoffs, posting 1.5 sacks in that game along with a forced fumble.
The idea of him playing defensive end is one I like. At 6'4", 252lbs he's a little lean but he can add bulk to his frame, and there is no question he's got the length and explosiveness to be dangerous off the edge. You think Junior Galette is fast off the edge? Wilson smokes him. His ability as a linebacker makes him an attractive piece at defensive end, too, because he can tackle soundly and he can cover a little. The big question is whether he can absorb a big edge blocker or tackle on every down. That kind of wear and tear is something not every player is built for, and you have to question with his frame if he can handle that. Still, based on his speed being his major asset, you have to figure he's a situational player, so perhaps the physical stress of run support situations will be kept to a minimum. And in this day and age teams run the ball less and less, so run stuffing defensive ends like Cam Jordan are less useful, and getting to the quarterback comes at a premium. With the depth the Saints now have at linebacker, too, after signing Chris Chamberlain, Curtis Lofton, and Chris Chamberlain, it suggests end may be the easiest way to land Wilson a roster spot. Don't forget the Saints also return Vilma (barring suspension for a year), Shanle, Herring, Bussey, and Casillas among others. The depth there allows them to play around with Wilson and see if his freakish athleticism can be used elsewhere.
Right now the starting ends are Cam Jordan and Will Smith, who is facing a four game suspension. Behind them there's Junior Galette, Turk McBride and Greg Romeus, followed by a number of no name youngsters that are unproven. With Smith likely to miss the first four games, that leaves a guy that missed the entirety of last year (Romeus), a guy so banged up he missed half the season (McBride), a guy that had one sack despite playing in all 16 games (Jordan) and a guy that only came in for pass rushing situations (Galette). While all those guys are capable football players, it's not a 4 man rotation you necessarily feel great about. So adding Wilson to the mix helps depth without taking much away from the linebacking core. That can only be seen as a positive.
For the stat geeks out there, interesting to note that Martez Wilson was graded by PFF as the second best pass rusher on the team last season. He received a +1.5 score for the year, only behind Junior Galette (+5.0). By comparison, Cam Jordan finished the year with a -6.1 score, and Turk McBride and Will Smith both rated at -0.9.
Do you like the move? How do you see Wilson panning out at defensive end?
[follow]
Original Story:
http://www.thesaintsnation.com/2012-a...
THE BACKYARD
BEST OF MAXIM
RELATED ARTICLES
The Saints used a 3rd round pick on Martez Wilson in 2011 and he played sparingly as a rookie, which is not a surprise. However, the Saints brought in 3 free agent linebackers this offseason, Curtis Lofton, David Hawthorne, and Chris Chamberlain so there isn't a lot of room for Wilson to play at linebacker. Given that, the Saints are working him out at defensive end in OTAs. At...
Although it's evident the Saints don't feel the same, at least one of Drew Brees' receivers have gone to bat for the record-setting quarterback, who remains locked in a contractual battle. During Saints OTAs Thursday, Lance Moore told reporters that Brees "deserves the world" — or, more appropriately, the title of highest-paid QB. Why? "He's done things that have...
METAIRIE, La. -- When the Saints allowed reporters in Thursday for their first media availability of the offseason, much of the discussion focused on the lawsuit middle linebacker Jonathan Vilma filed against NFL Commissioner Roger Goodell last week. The defamation suit filed by Vilma stemmed from what Goodell said was Vilma's role as one of the ringleaders in the bounty program...
New Orleans Saints rookie Nick Toon might not be the fastest receiver on the field but at 6'2, 215 lbs his features are just what the Saints look for. The former University of Wisconsin receiver has the NFL in his genes. His father, Al Toon, played for the New York Jets from 1985 to 1992. In
NFL Players Association executive director DeMaurice Smith used the same fiery and defiant language that was heard on the same sidewalk in front of the union's headquarters a year ago. "Simply stated, cartels do what will cartels do when left unchecked," Smith told reporters Thursday afternoon. The fact that the NFL and the players union agreed to a new 10-year collective...
This year the New Orleans Saints will be playing without head coach Sean Payton, while trying to become the first team to win the NFC South division in consecutive seasons. This article looks at what New Orleans can expect from their 2012 regular season schedule. In the first three weeks of the season, New Orleans will play against the Kansas City Chiefs,  Carolina Panthers...
Former Michigan wide receiver Adrian Adrian Arrington was at the WTKA studios last weekend for Mott Takeover to benefit Mott Children's hospital. GoBlueWolverine was there to check in on the current New Orleans Saints WR and talked about coming back to Ann Arbor, growing up a Fab-Five fan, the effect of the bounty program on his team, Brady Hoke, and more.***Video Interview included***
The all-out blitzing the Saints unleashed during recent seasons appears to be a thing of the past under new defensive coordinator Steve Spagnuolo. Saints free safety Malcolm Jenkins is lining up closer to the line of scrimmage and is no longer a tackler of last resort. Martez Wilson, drafted last year to play linebacker, finds himself practicing at defensive end. New Orleans&...
Nothing against Drew Brees, who seems to be the consummate leader of the vilified New Orleans Saints, but the main man on this football team is coach Sean Payton. And this is partly the reason Saints owner Tom Benson has been reluctant to simply write the check that Brees, who missed work this week, wants from the organization. On the open market, Brees wouldn't command the...
Time for the much awaited NFC South Nuggets, where I belittle the moves made by the Saints, Panthers, Buccaneers and usually the Saints again. The Saints rightly are looking for a discount from Drew Brees after they were fleeced in their previous contract, apparently. In perhaps one of the most foolish things I have ever heard, the Saints feel they deserve a discount for Drew...
I understood what Alex Smith was trying to say (Alex Smith Thinks Stats Are for Losers, Throws Subtle Shots at Cam Newton & Drew Brees) he just didn't say it in the proper way. I figure it was just a matter of time, before someone jumped in and went back at him Here is what Carolina Panthers Jon Beason had to say. Alex smith, don't hate on Cam Bc your stats would've...
Saints News

Delivered to your inbox

You'll also receive Yardbarker's daily Top 10, featuring the best sports stories from around the web. Customize your newsletter to get articles on your favorite sports and teams. And the best part? It's free!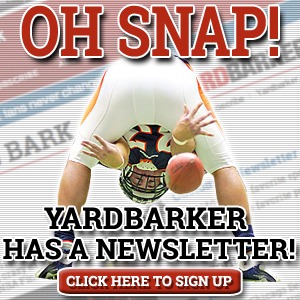 Latest Rumors
Best of Yardbarker

Today's Best Stuff

For Bloggers

Join the Yardbarker Network for more promotion, traffic, and money.

Company Info

Help

What is Yardbarker?

Yardbarker is the largest network of sports blogs and pro athlete blogs on the web. This site is the hub of the Yardbarker Network, where our editors and algorithms curate the best sports content from our network and beyond.