Found March 04, 2013 on The Saints Nation:
This will be a 'what if' post. Meaning: what if the team before the sSints had picked this guy and he had not fallen to the Saints. Who should we thank for this particular guy falling to the Saints? Same rules apply. First picks between 1985 and 2010, and of course it must be a player at the same position being drafted before the guy the Saints drafted. Saints did have often drafted the best guy at a position. Often they were worse than the guy that followed. Sometimes they were better. This does not really mean we should be happy the Saints picked this guy, but at least they didn't get the guy before him. 5: 1992 Vaugh Dunbar RB (#21). He sucked, but the guy that was picked before him even sucked more. That guy was Tony Smith (#19 Falcons) who only played 3 years and had only rushing stats for his first year. He was a total bust. 4: 2008 Sedrick Ellis DT (#7). He is not the guy Andrew hoped he would be. I had no idea since he was part of the team when I started watching. Any other guy. If you follow his twitter... he Likes big butts and he can not lie, but did you know I likes sacks more then Glenn Dorsey (#5 Chiefs)? Ellis has 12.5 sacks, Dorsey only 4. Now who is the biggest disappointment? 3: 1989 Wayne Martin DE (#19). He had a nice long run with the Saints and had a couple of good years in between totalling 82.5 career sacks. The DE he followed was Jeff Lageman (#14 Jets) and had a decent career but never stood out. He has 47 career sacks. Not really bad, but not good enough for a #14 pick! 2: 1994 Joe Johnson DE (#13). He has 52.5 sacks in his career which he mainly played for the Saints. While with the Saints he has gotten 2 Pro Bowl selections and 1 All-Pro selection. Before him John Thierry (#11 Bears) as drafted, who has gotten about 20 sacks less in about the same years played, but never was a Pro Bowl guy. 1: 2000 Darren Howard DE (#33). This is the only guy in this list that is a 2nd round pick. Never made a Pro Bowl and had 282 tackles, 62.5 sacks over his career, most of them with the Saints, 11 his first year. He is not the best player in this list, but compared to the guy he followed he is a lot better. Erik Flowers (#26, Bills) never has gotten to make his 1st round pick stand. He was on 5 different teams in his career before ending up in Canada. He recorded only 5 sacks in all his professional playing time. That is a 12 to 1 ratio. Pretty much makes Darren Howard the best Saints overall Next man up first pick. Looking at this... It pretty much gives me a good feeling that when the Saints will get a D-Linemen/OLB at #15 they will get the best guy available at that position. And with the draft being deep at that position the guy will be good! (I hope... time will tell.)
Original Story:
http://www.thesaintsnation.com/2013-a...
THE BACKYARD
BEST OF MAXIM
RELATED ARTICLES
Darren Sproles, RB, New Orleans Saints Player Profile Height/Weight: 5-6/190 Birthdate: 6/20/1983 School: Kansas State FANTASY FOOTBALL ANALYSIS Am I the only one who completely forgets the fact that Sproles is about to turn 30 this year? Holy cow! Sproles still looks like he could out maneuver a bunny rabbit getting chased by a wolf. In fact I would like to challenge Mr. Darren...
Pat Yasinskas of ESPN.com reports that the New Orleans Saints have restructured the contract of defensive tackle Brodrick Bunkley. Bunkley, 29 was set to make a base salary of $3.7 million in 2013, but the Saints converted $3 million of that figure into a signing bonus that will be paid out over the remainder of his contract. His salary will now $750,000. This actually frees...
In a season where the New Orleans Saints (7-9) were not much of a factor and, got more negative publicity than positive, quarterback Drew Brees had a pretty darn good year. Some might say he had a record-breaking season. Entering week 5 of the 2012 NFL season, the Saints were 0-4 on the season and
Editor's note: As part of NFL's Greatest Quarterback, fans will decide the best QB in each team's history. Archie Manning: Manning is best known as Peyton and Eli's father, but Archie had quite a career with the Saints. He played 11 years in New Orleans and led the team to a 35-91-3 record. Manning made two Pro Bowls in 1978 and 1979. The Saints never made the playoffs...
The 2013 NFL off-season has been marked by the numerous head coaching changes that have occurred since the 2012 season ended. A total of eight head coaches were fired and the New Orleans Saints had a coaching change as Sean Payton, who was suspended for the entire 2012 NFL season, was reinstated.Despite the lockout, the 2011 off-season also saw NFL eight teams making head coaching...
NFL News

Delivered to your inbox

You'll also receive Yardbarker's daily Top 10, featuring the best sports stories from around the web. Customize your newsletter to get articles on your favorite sports and teams. And the best part? It's free!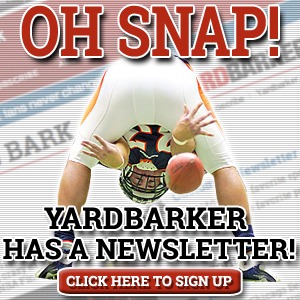 Latest Rumors
Best of Yardbarker

Today's Best Stuff

For Bloggers

Join the Yardbarker Network for more promotion, traffic, and money.

Company Info

Help

What is Yardbarker?

Yardbarker is the largest network of sports blogs and pro athlete blogs on the web. This site is the hub of the Yardbarker Network, where our editors and algorithms curate the best sports content from our network and beyond.