Found November 30, 2012 on The Saints Nation:
PLAYERS:
Drew Brees
,
Pierre Thomas
,
Mark Ingram
,
Chris Ivory
,
Darren Sproles
,
Jed Collins
,
Marques Colston
,
Lance Moore
,
Devery Henderson
,
Jimmy Graham
,
Michael Higgins
,
Jermon Bushrod
,
John Abraham
,
Ben Grubbs
,
Jahri Evans
,
Zach Strief
,
Eric Olsen
,
William Robinson
TEAMS:
New Orleans Saints
,
Atlanta Falcons
I'll spare you the long intro diatribe, the Saints scored 13 points, they turned the ball over five times and they failed to get points after having first and goal with about a minute left in the half. Frankly it just wasn't anywhere close to good enough. A pretty sick twist of fate that the offense picked this game to perform like this when the defense turned in their best performance of the season. Make the jump for the grades. Drew Brees: F (2.61) Normally I try to give reasoning for the grades as opposed to just pointing out stats, but the stats say it all: 28-50, 341 yards, 0 touchdowns, 5 interceptions. The clock management before halftime for me was even worse than any of the turnovers. This was the worst game of Drew Brees' career and this loss is squarely on his shoulders for playing one of the worst games I've seen from a Saints' QB since Heath Shuler. Pierre Thomas: A- (3.00) In the second half the Saints finally committed to him after giving him just one touch 4 days ago and it paid off. He finished with 84 yards on 14 carries and added a catch for 5 yards. Honestly I thought he should have seen the ball even more. I maintain he's clearly the best running back the Saints have in their stable of talented players. Durability has been an issue in the past so I have zero problem with having him on a pitch count, especially early in the season, but there is no way this guy should have less than 10 touches in any game, ever. After this week he's got a clear lead in the GPA department over Brees and will likely end the year as my team's MVP. Mark Ingram: C- (2.17) Give him credit for a short yardage conversion and his touchdown run, but this was otherwise a pretty atrocious running effort from Ingram. He got no push and at least at times it seemed to be his fault as he wasn't decisive enough hitting holes. He had 13 yards on 6 carries. He also had a reception for -1 yards that should have been a touchdown but he slipped on the play untouched. His miserable season continues. Chris Ivory: D+ (2.87) He had 3 carries for 4 yards and tipped a flare pass right into the waiting arms of Sean Weatherspoon for an interception. He did have a nice physical 6 yard run, but he was also blown up behind the line a couple of times trying to bounce things outside. I thought he was punished a little unfairly on the pick because he didn't play hardly at all afterwards and it was a poor throw by Brees and a little bit of bad luck with the bounce. Still, Ivory's contribution when he was in was clearly very poor. I still think he's clearly better than Ingram, though, and from here on out I'd like to see only him and Thomas getting the majority of the carries. Darren Sproles: B- (2.56) He finished with 5 catches for 47 yards and was valuable moving the chains in the passing game. At times he was covered well, though, and he dropped a couple of passes. He also added needed punch in the punt return game with an average of 15.5 yards per on 4 returns. He would have scored a touchdown if not for a stupid Graham penalty. Jed Collins: C+ (2.78) He had 2 receptions for 2 yards, so not much of a help there. Blocking wise he was very good on delay handoffs to Pierre Thomas but he didn't get as good of a surge on smash mouth plays. His pass protection was good at times and a little sloppy at others. Marques Colston: B- (2.61) He struggled to get separation throughout and two interceptions were deep ball targets to him where he perhaps could have gone up and disrupted the play. Still those throws are mostly on Brees. He did finished with 6 catches for 71 yards, many of those on critical third downs to move the chains. He also had a bad drop. Lance Moore: B+ (2.91) He was the best Saints receiver on the day. He finished with 7 catches for 123 yards and made numerous fantastic plays downfield showing absurd hands and catching ability. He dropped arguably the easiest pass of them all, though, an easy touchdown pass in the end zone that hurt the Saints badly. That definitely effects his grade slightly due to it's importance. He's giving PT a run for his money as the best GPA by season's end on offense. Devery Henderson: D- (2.09) I'm not going to fail him because Brees never really put him in a position to make plays, but Devery is just lost out there. He's not running his routes as hard and he was responsible for a horrible whiff on a block that led to Chris Ivory getting blown up in the backfield for a huge loss. He pretty much didn't do anything well in this game. After a decent midseason stretch he's reverted back to invisible, which we've seen at times in his career. Joe Morgan: C+ (2.00) He had a terrific catch and absorbed contact well for a 38 yard gain, the longest pass play for the Saints in the contest. That was his only catch, though, and he failed to get enough separation on a couple of other deep balls despite one on one coverage. His blocking was good. Jimmy Graham: C (2.39) To me he just jogs his routes. He looks lazy, unaware and while he didn't have any flat out drops he didn't come up with some contested balls either. His penalty that wiped out the Sproles touchdown was a timing block that was a little unlucky, but still a big mistake. He finished with 4 catches for 59 yards and did have some nice plays, though. As his GPA suggests, it's been a pretty poor season for him. Michael Higgins: D (1.00) He didn't block well when he was in at all and he finished with 1 reception for -3 yards. So yeah... Jermon Bushrod: C- (2.45) He had an up and down day against John Abraham. His run blocking was poor and he did a bad job cutting Abraham on a couple of plays which allowed the athletic defensive end to get up and tip passes. He did not allow a sack to him (the lone sack came against Strief when Abraham moved to the other side), but he did get Brees very pressured and hit a few times. He was also flagged for a false start that made a 3rd and 4 a 3rd and 9. Ben Grubbs: B+ (2.75) He's now tied with Evans in the GPA department for the best offensive lineman so we'll see how these last four games play out. He was good in protection. He also pulled a number of times to create some devastating lead blocks. He and BDLP teamed up to give Thomas some massive holes on delay plays in the second half. Brian de la Puente: A- (2.33) To me he was the Saints' best blocker on the day, particularly in the run game where he was physical and got terrific push. His pass protection was largely clean and correct, giving Brees a clean pocket with the enormous amount of edge pressure he was facing. Jahri Evans: C (2.75) He had a false start and on one play in pass protection, he lazily allowed his man to get passed him thinking he had blocked him for enough time. It caused Brees to get hurried and hit because he was still holding on to the ball back there. He just needs to finish that play stay engaged, so that was poor awareness. Overall he had an up and down day by his high standard. Zach Strief: D (2.00) I commend him for playing with an injury, especially given how depleted the Saints were at tackle, so I gave him a little boost for that, but his grade probably deserved worse. He just wasn't ready to play in this game. The lone sack he gave up where he showed the slowest lateral movement I've ever seen was bad, but he was also giving up edge pressure constantly. He did show a little physicality in the run game when he could get his hands on a player, though. He would leave the game with what appeared like a re-tweak of his groin. While he didn't give up a sack to Kroy Biermann he was consistently beat by him. Eric Olsen: C- (1.84) Came in as en extra edge blocker but didn't offer much in terms of physicality which was disappointing. William Robinson: D+ (1.50) He came in for Strief and was barely better. Pass blocking may not be his forte.   My Offensive Player of the Game: Pierre Thomas
Original Story:
http://www.thesaintsnation.com/2012-a...
THE BACKYARD
BEST OF MAXIM
RELATED ARTICLES
ATLANTA A lingering media throng is a curious sight following ahistoric sporting event, conversing in hushed tones but bodies and eyes all facing one direction. On Thursday night in the Georgia Dome,those eyes faced the Saints locker room door, each pair straining to spot afuture Hall of Fame quarterback. After years of playing Atlantastormenter, Drew Brees feel back to Earth against...
'3 F*CKING POINTS BREES…U GODDAMN SON OF A ***** DICK EATING ASS GOBLIN PERIOD SLURPING DYKE…..F*CK U' That tweet from @drunkn151er is just a taste of the NSFW nonsense that was sent Drew Brees way after his awful five interception performance. The Falcons won 23-13 in a game that the Saints should've won had Brees not completely sh*t the bed. New Orleans fans can't...
Drew Brees is a bona fide future Hall of Fame quarterback. But he didn't look like one Thursday night, throwing a career-high 5 INT in a 23-13 loss at 11-1 Atlanta. We look at the worst meltdowns by the game's greatest QBs.
Not only did the New Orleans Saints bus end up with egg on it, Drew Brees record did as well. The Saints were in Atlanta to face off against the Falcons Thursday night. While the team started off the season in pure struggle behind b0unty-gate, as of late they've shown signs of pulling things together. [...]
Boy, did Drew Brees lay an egg against the Atlanta Falcons. Five interceptions for the first time in his career. The end of his NFL-record touchdown streak. And a timing mistake that cost the Saints dearly. The Falcons raced to a 17-0 lead, then turned to their defense to make it stand up. The result was a 23-13 victory Thursday night that pushed Atlanta to the brink of a division...
ATLANTA -- The Atlanta Falcons raced to a 17-0 lead and the defense made it stand up, picking off five of Drew Brees' passes and ending his NFL-record touchdown streak with a 23-13 victory Thursday night. The Falcons moved to the brink of clinching the NFC South and dealt a big blow to the Saints (5-7) and their fading playoff hopes. William Moore had two of the five interceptions...
There was nothing special about Thursday Night Football from a fantasy perspective.  It was New Orleans vs Atlanta, a matchup that had produced plenty of points in the previous outing for all fantasy owners.  It was a night not to think too hard about the QBs or the WRs to start; it was going to be a fantasy smorgasbord.  But in real life, tension was building.  The Falcons came...
Every year, we are reminded how the NFL has become a passing league and if you don't have a franchise quarterback, you don't have a chance. Well, there is always a slim chance, but in recent years it has been the same names in the same game.With the passing boom of the 21st Century NFL, it feels as if defensive players appear to be at a slight disadvantage with all of the...
Matthew Stafford is currently third in passing yards in the NFL with 3,429, and faces off against a lack-luster defense this weekend in the Indianapolis Colts. We know Stafford has one of the best arms in the league, but how good can he actually do against the Colts defense this Sunday?Stafford has an opportunity to pass Drew Brees and Matt Ryan for the lead in passing yards, as...
NFL News

Delivered to your inbox

You'll also receive Yardbarker's daily Top 10, featuring the best sports stories from around the web. Customize your newsletter to get articles on your favorite sports and teams. And the best part? It's free!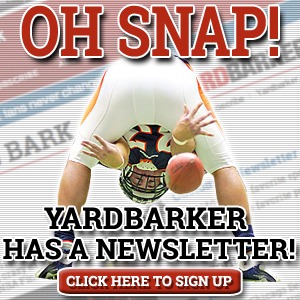 Latest Rumors
Best of Yardbarker

Today's Best Stuff

For Bloggers

Join the Yardbarker Network for more promotion, traffic, and money.

Company Info

Help

What is Yardbarker?

Yardbarker is the largest network of sports blogs and pro athlete blogs on the web. This site is the hub of the Yardbarker Network, where our editors and algorithms curate the best sports content from our network and beyond.