Found September 30, 2012 on The Saints Nation:
PLAYERS:
Garrett Hartley
,
Darren Sproles
,
David Thomas
,
Patrick Robinson
,
Corey White
,
Aaron Rodgers
,
Mark Ingram
,
Marques Colston
,
Clay Matthews
,
Curtis Lofton
,
Cedric Benson
TEAMS:
New Orleans Saints
,
Green Bay Packers
I never thought I'd be saying this but the Saints are now 0-4 with no end in sight to this slide. I've said it many times, the bad teams get really creative in the ways they lose. This time it came down to a missed Garrett Hartley 48 yard field goal. Even if he makes it, though, it's hard to imagine the Saints would have stopped the Packers' offense from getting a field goal with over 2 minutes left. Darren Sproles' third down drop and David Thomas' hold on Hartley's 43 yard make are equally to blame. Make no mistake, though, the Saints were in this game thanks to poor refereeing and very fortunate bounces. That's how football goes sometimes, but for all those times we complain about the Saints not catching a break... the only reason they were in this game was due to lucky breaks throughout the contest. Even still, despite practically being handed the win on a silver platter, the Saints weren't able to capitalize. What burns the most about this loss is the Saints really should be 2-2 right now. Instead they sit at 0-4 with virtually zero chance of recovery. I firmly believe the superior team won this game, and a Saints' win would have only delayed our blindness to their serious deficiencies a week longer. Below are my bullet style thoughts on the game:
The Saints' defense is horrid and their pass rush is beyond bad. They had a nice stretch with the fumble/INT/forced punt sequence in the 2nd half that gave the team the lead, but besides that they were torched all game long. Patrick Robinson and Corey White were bad, sure, but how could any corner be good in this defense? The Saints played a poor pass blocking team and generated zero pass rush the entire game. Giving a quarterback of Aaron Rodgers' quality that much time will never end well. The Packers completely abandoned the run game late and Spagnuolo tried everything with his personnel, the players just aren't getting to the quarterback.
The offense was overall good, especially Brees, but stalled drives deep in Packers' territory cost the Saints the game. Particularly three straight plays from the 2 where the Saints couldn't punch it in. 
Mark Ingram has just done nothing this season.
There were numerous drops by Saints receivers in this game. 
Give Marques Colston credit, he played a monster game and ate the Packers' secondary alive. He's basically playing on one foot and you can tell he struggles to get any sort of burst, so for him to have a game like this given his limitations is very impressive.
The pass blocking, by and large, was outstanding. Clay Matthews Jr. did get one sack, but he was knocked on his behind numerous times.
The Saints run game was shockingly stonewalled all game. They couldn't get anything going. Just 45 yards on 19 carries.
Joe Morgan got behind the Packers and finally showed off the deep speed that allowed him to make this team. The result was an 80 yard touchdown. He's still got a long way to go but it was a welcomed sight to give the offense an explosive play.
As bad as this defense is, Curtis Lofton continues to impress. He runs well, recognizes plays and is a very sure tackler. If the Saints didn't have him the defense would have given up 80 points today.
The corpse of Cedric Benson managed a very respectable 84 yards on 16 carries, but I half expected him to see some lanes because I figured the Saints would allow the Packers yards on the ground in an effort to drop more guys into coverage. The problem is this defense can't do anything right so it didn't help at all.
The bottom line with this defense right now is they do nothing well. They don't tackle well (with the exception of Lofton), they cover poorly, they don't stop the run, and worst of all is their pass rush. The Saints won the turnover battle 2-0 and still couldn't win a football game. That should speak volumes about this defense. Rodgers did whatever he wanted for most of the game. 
The Saints host the Chargers next week. Another tough game against a good team, but I have a feeling they will win that one as Brees always plays well against his former team. I didn't expect a win today so I'm ok with the result, though I have to say I was surprised the Saints got as close as they did. Like I said, a lot of good things happened in order to give them a chance, but they just didn't have the closing ability to pull it off. 
[follow] 
Original Story:
http://www.thesaintsnation.com/2012-a...
THE BACKYARD
BEST OF MAXIM
RELATED ARTICLES
Brees has played three of the NFL's worst defenses so far - Redskins, Panthers, and Chiefs - with two of those matchups at home.  Nonetheless, Brees has "just" 904 passing yards, 7 TDs vs. 5 INTs, and a 6.7 YPA.  Not awful stats, certainly, but they're a far cry from the Brees we saw in 2011.  I spent a fair amount of time this week trying to figure out which...
CRY ME A RIVER
Clay Matthews says the Saints are like a "wounded dog" coming into Green Bay and that he doesn't feel sorry for them.
Drew Brees Ties a Long-Time Record Today In Green Bay - On a 20-yd TD pass to WR Marques Colston, New Orleans Saints Drew Brees has tied Johnny Unitas' NFL record for most consecutive games with a TD pass at 47! Unitas' record spanned from 1956-60. 52 years later, Brees has tied it! Original Story Here!
The New Orleans Saints finally saw an offense they recognized. The result was the same, though - another loss for a team whose tumultuous offseason has spilled over into a winless start. This time Garrett Hartley missed a field goal in a wild ending at Lambeau Field, where the Saints (0-4) blew a fourth-quarter lead and lost to the Green Bay Packers 28-27 on Sunday. ''...
Linebacker David Hawthorne is inactive for the New Orleans Saints for Sunday's game against the Green Bay Packers. Hawthorne missed practice all week, and will be replaced by Will Herring. The Saints are thin at linebacker as backup Jonathan Casillas also is inactive because of a neck injury. Defensive end Turk McBride, running back Chris Ivory, cornerback Elbert Mack, defensive...
After taking advantage of six turnovers to beat the Kansas City Chiefs, the San Diego Chargers turned their attention to former teammate Drew Brees and the winless New Orleans Saints. The Chargers (3-1) will travel to face the Saints (0-4) on Sunday night. With only three healthy cornerbacks on the roster, the Chargers are expected to sign free agent Chris Carr. They'll need...
There's nothing more to say about this defense than to sum it up by saying they suck. I hate to be that crass or simplistic, but right now they really don't do anything well. The run defense is porous, the pass defense is shaky at best when they are 100% healthy (which hasn't been often) and the pass rush takes bad to a whole new level. I have a theory that this defense...
Philly Sports World Fantasy Week 4 recap Predicting the Saints to lose and they did I am now 2-2, though not the way I predicted it. Drew Brees showed up and showed up big but it wasn't enough. Fantasy owners got huge points off the 446 yards and 3 touchdowns. DUD of the week Cam Newton> had him as a fantasy sit against the Falcons and he has his best game of the year. Having...
NFL News

Delivered to your inbox

You'll also receive Yardbarker's daily Top 10, featuring the best sports stories from around the web. Customize your newsletter to get articles on your favorite sports and teams. And the best part? It's free!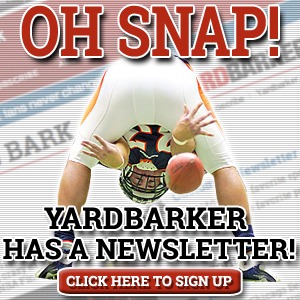 Latest Rumors
Best of Yardbarker

Today's Best Stuff

For Bloggers

Join the Yardbarker Network for more promotion, traffic, and money.

Company Info

Help

What is Yardbarker?

Yardbarker is the largest network of sports blogs and pro athlete blogs on the web. This site is the hub of the Yardbarker Network, where our editors and algorithms curate the best sports content from our network and beyond.