Found February 29, 2012 on The Saints Nation:
In addition to re-signing Adrian Arrington, the Saints have also come to terms with long snapper Justin Drescher and backup safety Jonathon Amaya on 1 year $540,000 contracts. Amaya (pictured) is a special teams standout that came to the team in the Reggie Bush trade, and Drescher has had the long snapper job on lockdown the last year and a half. These guys are all exclusive rights free agents, which means they were never going anywhere anyway and were by far the easiest to re-sign. The last remaining exclusive rights free agent is starting center Brian De La Puente.
That's the good news. The bad news is Adam Schefter of ESPN has reported the Saints are still far apart in contract talks with Drew Brees and... they will franchise him on Monday if they cannot close the gap. I remain steadfast in my thinking that I refuse to panic until it becomes clear the Saints have to franchise Brees. If and when that happens, I will crucify Loomis publicly for mismanaging this situation. As long as it doesn't happen, I don't care if Brees is signed at 11:59pm on March 4th. As long as they can franchise Carl Nicks we've got no problems. If their hand is forced to franchise Brees, which essentially most likely costs them Nicks, I will be furious. No one is a better insider than Schefter, though, so my guess is Brees' agent Tom Condon is frustrated with the progress and he spilled this nugget of information to Schefter in an attempt to put pressure on the Saints' camp. That's my theory, anyway. It's frustrating that things have gotten to this point, no doubt, but as long as the Saints aren't forced to franchise Brees we've got no problems. That's the same attitude I think all fans need to adopt right now. Let's not throw Loomis under the bus until the deadline is up and his mismanagement of the situation is clear. Until that point, I think he deserves our faith based on his track record.
[follow]
Original Story:
http://www.thesaintsnation.com/2012-a...
THE BACKYARD
BEST OF MAXIM
RELATED ARTICLES
Drew Brees and the New Orleans Saints are reportedly $5 million apart per year on a long-term contract extension. Yahoo! Sports reported that the Saints are making moves to help close the gap with Brees in advance of Monday's deadline for teams to place franchise tags on players. However, one of the reasons the team has been unable to reach a deal with Brees, according to the...
The rebirth and regeneration that has blossomed from Drew Brees' time in New Orleans has been among the most unprecedented in NFL history.  The person, the franchise, and the city itself have been transformed since Drew Brees arrived in 2006.  Brees came to New Orleans when both he and the city were broken.  Brees recovering from a shoulder injury that threatened his career...
New Orleans Saints quarterback Drew Brees talks to teammates on the bench as the Saints play the Carolina Panthers in an NFL football game in Charlotte, North Carolina on October 9, 2011. New Orleans won 30-27. UPI/Nell Redmond . According to ESPN's Adam Schefter, the New Orleans Saints and free agent Drew Brees remain "well apart" in contract talks, which presents a problem...
The New Orleans Saints and quarterback Drew Brees are far apart on a long-term contract extension, according to ESPN NFL Insider Adam Schefter.The team and Brees are reportedly struggling to strike a deal that many around the league expected to be done by now.The Saints may have to use their franchise tag on the quarterback if the two sides can't reach an agreement by the Monday...
According to ESPN's Adam Schefter, the New Orleans Saints and quarterback Drew Brees still aren't close with getting a long-term extension completed.  If a deal isn't done by Monday, the Saints will slap Brees with the franchise tag so he won't be able to hit the open market. Once Brees is tagged, the Saints will have until July 15th to get a deal done and remove the franchise...
Any complications the Saints have in agreeing to a contract extension with Drew Brees should be minor. When you step back and analyze the situation, you have to wonder what the holdup is. Brees is not exactly young (33), but he's at the peak of his game. He's coming off a 46-touchdown season, which was his fourth straight year over 30 touchdown passes. He also brought a Super...
Saints and quarterback Drew Brees still remain a ways apart in their efforts to produce a long-term contract, according to league sources.
I always thought Brees' contract situation resolving itself quickly and amicably was a more than reasonable thing to hope for, but apparently that wasn't meant to be. I still remain steadfast in my faith that things will get done before the Saints are forced to franchise tag him in 48 hours, and I refuse to buy into the media hype that things are critical for one second until...
According to Jason Cole of Yahoo Sports, the New Orleans Saints and quarterback Drew Brees remain about $5 million apart from finalizing a new multi-year deal. If the Saints aren't able to get a deal done with Brees before March 5th, they'll have to use their franchise tag on Brees, in order to keep him from hitting the open market. If the Saints franchise Brees, they won't...
If there's one thing Lions fans can agree on, it's that GM Martin Mayhew has been worlds better in the front office than Matt Millen ever was. As bad as those 8 seasons were (seriously, how the **** did he last that long?), I would be hard-pressed to believe that even he would dare to claim that Drew Brees is merely "very good." However, this is exactly what New...
(Eds: Adds details, quotes.) By PAT GRAHAM AP Sports Writer Being cut by the New Orleans Saints hit Jonathan Hamm like a punch to the gut. Now, he's the one delivering those body blows inside the boxing ring. Who knew the pass rusher would be even more adept at socking opponents than sacking quarterbacks? Well, Drew Brees for one - at least in a roundabout way. As a devastated...
Previously on Twitter, Saints Pro Bowl guard Carl Nicks shared his anxiety regarding the looming expiration of his contract.  If the team and quarterback Drew Brees work out a contract in the next few days, Nicks gets the franchise tag.  If Brees and the Saints continue to be at impasse, Brees gets tagged — and…
NFL News

Delivered to your inbox

You'll also receive Yardbarker's daily Top 10, featuring the best sports stories from around the web. Customize your newsletter to get articles on your favorite sports and teams. And the best part? It's free!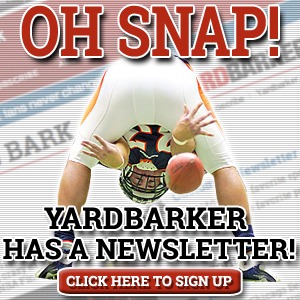 Latest Rumors
Best of Yardbarker

Today's Best Stuff

For Bloggers

Join the Yardbarker Network for more promotion, traffic, and money.

Company Info

Help

What is Yardbarker?

Yardbarker is the largest network of sports blogs and pro athlete blogs on the web. This site is the hub of the Yardbarker Network, where our editors and algorithms curate the best sports content from our network and beyond.