Found January 02, 2013 on The Saints Nation:
A nuclear bomb was dropped on Steve Spagnuolo and the Saints' coaching staff late last night while most of us were sleeping. Larry Holder of the Times-Picayune, citing an anonymous player of the Saints, gave the player's opinion that Spagnuolo should be fired immediately. What bothers me the most about these quotes is, well, pretty much all of it. Where to even start? Everyone hates him, he's not open to suggestion, he rules with an iron thumb, he's a poor communicator and he struggles mightily with in game adjustments. If any of that is even half true, he should indeed be fired immediately. Of course, this is one player's word and he won't even reveal his name and stand behind his comments. It could be a prominent player on the team that is entrenched in the lineup, or a disgruntled player on his way out. If I had to guess, it's mostly likely the latter... and if that's the case you have to wonder if his comments are motivated purely by some sort of revenge, or if there's significant genuine sincerity to them. If the locker room does feel anything close to what is suggested, though, it's a really bad sign. Even if you're not interested in hearsay or the word of one anonymous player, dealing in fact is enough to state a pretty significant case against Spagnuolo returning. If there was ever a justification for firing a coach after one season, this would pretty much be it. The Saints were the first team in NFL history to yield over 7,000 yards from scrimmage in one season. That's right, the worst ever. The Saints finished 32nd overall, 32nd against the run, and 31st against the pass. The fan base has generally leaned towards blaming the talent, or lack thereof, but this latest news could maybe shift that. I know it's made me question everything all over again, and when you consider that the defense didn't really improve as they saved their absolute worst performance for week 17 - maybe Spagnuolo should be sent packing. After all, the Saints were bad last year under Gregg Williams, but they weren't the worst ever. The talent this year was similar, if not better with Bunkley and Lofton. Do you think Spagnuolo should be fired? Does this latest article change things for you?
Original Story:
http://www.thesaintsnation.com/2013-a...
THE BACKYARD
BEST OF MAXIM
RELATED ARTICLES
Anyone with a one-third of a brain noticed that the New Orleans Saints' defense was not right this year.   Despite the obvious it was not suspected that anyone would step up and discuss it. There has been enough drama down by the bayou. Yet, discuss it they have as an anonymous player discussed how the unit felt in a published report. Please Click Here To Read This Story.
'BAD, BAD, BAD'
A Saints player quoted anonymously said that Steve Spagnuolo deserves to be fired, claiming the team's defensive coordinator "treats people like crap."
On Tuesday an anonymous Saints player spoke out about the defense's feelings for DC Steve Spagnuolo. The mouthpiece for the defense Jonathan Vilma is not cool with how it went down.   Please Click Here To Read This Story
According to Larry Holder of the New Orleans Times-Picayune, an anonymous Saints player told him that defensive coordinator Steve Spagnuolo needs to be fired.One Saints player, speaking on the condition of anonymity, said a "resounding" yes when asked if he thought Spagnuolo should be fired after just one season in New Orleans as the Saints broke the single-season record for...
The 2012 NFL season will not be one in which the New Orleans Saints will wish to remember. Take away the losing record and failure to make the playoffs, coupled with all of the player and coaching and executive suspensions, and this past season is one to forget in The Big Easy. Unfortunately, it appears as if the damage control is nowhere near complete for Sean Payton and the Saints...
The New Orleans Saints had one of the worst defenses in the NFL this season, which of course reflects poorly on defensive coordinator Steve Spagnuolo. It was a hectic year in New Orleans between the bounty scandal and the suspension of head coach Sean Payton, so it's tough to judge anyone based on the past 10 months. At least one Saints player feels as though Spagnuolo is to blame...
Anonymously ripping people has become all the rage in the NFL. In the past year alone, an anonymous Dolphins player ripped Chad Johnson on his way out the door and an anonymous rival GM ripped Ndamukong Suh saying he belonged on the "All-Hype team". And now an anonymous Saints player decided to join in the act by anonymously ripping first year defensive coordinator Steve Spagnuolo...
One New Orleans Saints player speaking anonymously told Larry Holder of The Times-Picayune that he wants defensive coordinator Steve Spanuolo fired. "Trust me all the guys were being politically correct this season when answering questions," the player said. "It's bad." Click link below to read more!
New Orleans Saints linebacker Jonathan Vilma is upset about the report the Times-Picayune ran regarding an anonymous defensive player coming out and saying the Saints need to fire defensive coordinator Steve Spagnuolo.Vilma wrote via Twitter about the player's comments saying, "don't give me 'anonymous source' bs" and "say who said it."When asked by NOLA.com | The...
Some pretty harsh words are being directed towards the New Orleans Saints defensive coordinator Steve Spagnuolo per a anonymous player, callng him "a control freak" who "treats people like crap," according to Times-Picayune. In total defense, the Saints ranked dead last, last in run defense, 31st in pass defense and 31st in points allowed. "Players have...
We can remember when Rex Ryan called out the entire NFL to beat the New England Patriots. Now, the worst defense in the history of the football, called out the Jets. Jonathan Vilma, a former Jet himself, blasted reporter Larry Holder of the New Orleans Times-Picayune, who quoted an anonymous source that they should fire defensive coordinator Steve Spagnuolo. Obviously ticked...
Saints News

Delivered to your inbox

You'll also receive Yardbarker's daily Top 10, featuring the best sports stories from around the web. Customize your newsletter to get articles on your favorite sports and teams. And the best part? It's free!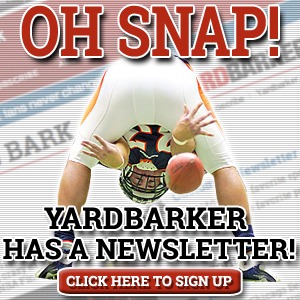 Latest Rumors
Best of Yardbarker

Today's Best Stuff

For Bloggers

Join the Yardbarker Network for more promotion, traffic, and money.

Company Info

Help

What is Yardbarker?

Yardbarker is the largest network of sports blogs and pro athlete blogs on the web. This site is the hub of the Yardbarker Network, where our editors and algorithms curate the best sports content from our network and beyond.