Found May 29, 2012 on The Saints Nation:
PLAYERS:
Drew Brees
,
Jimmy Graham
,
Darren Sproles
,
Malcolm Jenkins
,
Marques Colston
,
Jabari Greer
,
Jahri Evans
,
Pierre Thomas
,
Jonathan Vilma
,
Curtis Lofton
,
Roman Harper
,
Tony Gonzalez
,
Kellen Winslow
,
Will Smith
,
Gregg Williams
,
Brodrick Bunkley
,
Lance Moore
,
Sedrick Ellis
,
Jermon Bushrod
,
Patrick Robinson
TEAMS:
New Orleans Saints
,
Atlanta Falcons
,
Seattle Seahawks
For the fourth consecutive year, I give you the Saints ten most valuable players going into the season. Last year's top 10 featured two players no longer on the team (Carl Nicks at #2 and Tracy Porter at #7). This year you will notice three newcomers in the top 10. Here are my top 10 players going into 2012: 1. Drew Brees: For the fourth straight year Brees is listed atop these rankings. Hard to believe he's not currently under contract, and that he's only hanging on to his roster spot by the thread of a one year exclusive rights franchise tender. Despite this, there is no denying he is the main man in New Orleans and no one else comes close. (2011 pick was Drew Brees)2. Jimmy Graham: Graham makes his first appearance in the Saints' top 10 most valuable players going into 2012 and I've vaulted him all the way up to #2. In the past I've given some surprises at #2 with Vilma, Porter and Carl Nicks... but this should come as no surprise. Graham has taken the league by storm and he's earn the right to be called a superstar. 99 catches, over 1300 yards, and 11 touchdowns make him one of the most productive tight ends in NFL history in one season. He's only going to get better and he is already virtually unstoppable. (2011 pick was Carl Nicks)3. Darren Sproles: Another newcomer in the Saints top 10, this also should be no surprise. The offense essentially ran through him last year, and the amount of versatility and wrinkles he brought to the offense made the Saints completely unstoppable. He can run, he can catch, he can return kicks, and all that ability added up to the most all purpose yards in one season in NFL history. I don't know if he'll be able to duplicate another 6.9 yards per carry season, but no matter what he's very clearly viewed as one of the most important pieces on the team. (2011 pick was Malcolm Jenkins)4. Marques Colston: Players have come and gone from this list, but Colston has been a mainstay. He was #5 in 2009, #10 in 2010, and #4 in 2011. He stands pat this season at number four again. Colston has the reliable hands, size and toughness to get those tough first downs and get the chains moving. You can tell how much he was worth to the team when they rushed to sign him before free agency started. I was thrilled to see him back. (2011 pick was Marques Colston)5. Jabari Greer: This is the first time I haven't had a defender in my top 4, but that's because the Saints have clearly excelled in one area beyond my wildest dreams, while they've regressed in another. Believe it or not this is the very first year I've had Greer in the top 10, while Tracy Porter was in the last two seasons. Greer has always been solid, but in a year where basically every player on the defensive side of the ball played poorly, Greer was the exception to the rule. He's continually had solid and consistent seasons in New Orleans and he's proven to be the most reliable cover guy. The one knock on Greer is the number of drops he has, but he's otherwise solid and coverage and good against the run. (2011 pick was Jahri Evans)6. Pierre Thomas: PT, like Colston, has been a mainstay in this exercise. He was #10 last year, #5 the year before and #4 the year before that. This year I've got him at #6. While his role with the team is now reduced, I think we all noticed it's made him more durable and efficient. Last year was a fantastic season for Thomas, and he's got the most versatility of any of the running backs. He can run sweeps, he can powerfully in short yardage situations, he can catch, he can set up screen passes extremely well, he can block, you name it. You have to defend for more situations when he's in the backfield. I think we all noticed how much he was missed in the playoff game when the 49ers knocked him out. (2011 pick was Jonathan Vilma)7. Curtis Lofton: This may come as a surprise that I'd put a brand new free agent player in the top 10, but Lofton is that good. In fact, #7 is extremely conservative and he probably deserves to be in the top 5. He was by far the Falcons' best defender a year ago and finished with 147 tackles. He was not brought in to work alongside Vilma, he was brought in to replace him. He will quickly prove to be one of the very best players on the team (2011 pick was Tracy Porter)8. Jahri Evans: He's dropped in notoriety just a tiny bit the last couple of years and he's actually faded a little bit in the shadow of Carl Nicks who's gotten a higher profile in the last year or so. Still, Evans surprised me by bouncing back from a shaky 2010 to having another world class year in 2011. This is a big year for Evans, because with Nicks gone, it's on him to once again anchor the line and bear the brunt of the duty. The Saints are going to rely on him in many more situations. I've rated Evans as #8, #3 and #5 the last 3 years respectively, so 8 is the lowest he's been and he's another core player. (2011 pick was Roman Harper)9. Roman Harper: Harper drops a spot from last year due to an up and down year, but he's another guy that's improved. His ability in coverage has gotten better, and while it's still considered a liability, those who don't give him credit for making huge strides in that department should realize that covering the likes of Tony Gonzalez, Kellen Winslow Jr. and Greg Olsen/Shockey is something almost all safeties can't do. Harper is still a great run defender and plays very physical in the box, and he's a valuable asset to the team. This is the second time he's made this list, and the second year in a row. (2011 pick was Will Smith)10. Malcolm Jenkins: After the atrocious year he had in 2011 which, in my opinion, was a major regression - I strongly considered leaving him out of this top 10. Last year I had him rated as the #3 most valuable Saints, although that was his first time in the top 10. By no means am I writing him off, though, and I'm hopeful a change of scenery at coach will help motivate him to step up this year. From what I understand, Spagnuolo will put Jenkins in a position to make plays more often. There's no doubt Gregg Williams often asked him to play deep in center field 25+ yards off the line of scrimmage. It's hard to create much when you're trying to keep everything in front of you. (2011 pick was Pierre Thomas)Some players that didn't make it that I strongly considered, in no specific order:Will Smith, Brodrick Bunkley, Jonathan Vilma, Lance Moore, Sedrick Ellis, Jermon Bushrod, Patrick Robinson.2011 Most Valuable 10 Saints2010 Most Valuable 10 Saints2009 Most Valuable 10 Saints[follow]
Original Story:
http://www.thesaintsnation.com/2012-a...
THE BACKYARD
BEST OF MAXIM
RELATED ARTICLES
It seems crazy. On one side you have a player that has performed statistically off the charts throughout his last contract and is best in the league at this point. On the other side you have a franchise that is desperate for anything remotely close to good news to shift the tide of negative publicity. Yet we stiil have no deal. And we are reaching the point where people are hurling...
With the team far apart in contract talks with star quarterback Drew Brees, New Orleans Saints fans are taking matters into their own hands. A 52-year-old season ticket-holder has started Fansstepup.com, calling on his fellow Saints fans to pony up some cash as a gesture to show Brees how much he means to the city. "Drew Brees has been an incredible ambassador for the City...
The New Orleans Saints are getting into OTAs without their head coach. Once the regular season begins, they will get underway without their offensive coordinator and general manager as well, causing a less than favorable start to the upcoming NFL campaign. If they also begin the year without their top overall player, can the Saints possibly expect to contend in a challenging division...
Getty Images A long time New Orleans Saints season ticket holder has started a website called "Fans Step Up," in order to raise money for quarterback Drew Brees, in an attempt to keep him in New Orleans. "Drew Brees has been an incredible ambassador for the City of New Orleans. Not only in his accomplishments on the football field, but in his charitable and community endeavors...
When the all-too-common argument of athletes being overpaid arises, I tend to always side with the athlete. While $20 million a year seems like an astronomical amount of money to pay someone for playing a game, it is the basic concept of supply-and-demand at work. The money comes from somewhere, and if the people shelling it out didn't think they were going to get a return on their...
If Drew Brees doesn't have a long term contract by mid July, then he has a choice to make - 1. sign the 1 year franchise tender or 2. sit out 2012. Drew Brees sitting out the entire 2012 season due to a contract dispuste is not something I've been really considering much. Even with the latest Pat Yasinskas of ESPN article bringing that possibility to our collective attention...
Andrew Juge of the Saints Nation stops bye to discuss all the scenarios where the calendar turns to July, Drew Brees isn't signed, and we all look for tall bridges to leap off of. He also says compares a former Saints GM to midget porn! Plus the boys try to figure out if Grandmaster Wang is right about the local media (especially the Times Picayune) doing a crappy job covering...
QB Drew Brees (New Orleans) Drew Brees was insane last season with 5476 yards, 46 touchdowns, and 14 interceptions. He won't be that good again for 3 reasons. One, no one does that. Two, he lost one of his starting receivers, Robert Meachem. Three, he lost his Head Coach. He should see his YPA go down, as well as his TD:INT ratio, but the Saints have thrown the ball 1315 times...
To say this has been a "difficult" offseason for the Saints would be as big an understatement as saying T.O.'s career is a "little bit" over. (I mean c'mon, a Dr. Phil "Baby Mama" episode, Terrell??) This offseason has been one dog fart after another. And if it has affected you as a fan, you've got to know it has been a total suck-fest for the players. So imagine...
Getty Images According to ESPN's Chris Mortensen, if John Clayton's calculations are correct, New Orleans Saints quarterback Drew Brees would make $23,574,240 million in 2013, if he's given the franchise tag for the third time in his career. There isn't a single player in the NFL that's ever made that much money in one season.  It looks like the Saints don't have that...
  Very few things have gone right in Saints land this past offseason. It's been one blow after another for a city that has endured its fair share of tragedy and turmoil. So what does a fan base that has been so reliant on Drew Brees, and what he has brought them do when they see their hero in  contract dispute? Raise money themselves! Season ticketholder Tony Lemon has started...
NFL News

Delivered to your inbox

You'll also receive Yardbarker's daily Top 10, featuring the best sports stories from around the web. Customize your newsletter to get articles on your favorite sports and teams. And the best part? It's free!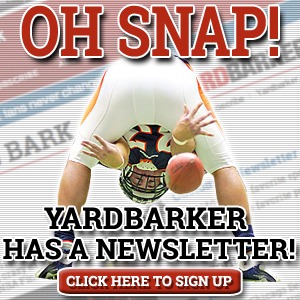 Latest Rumors
The Backyard

Today's Best Stuff

For Bloggers

Join the Yardbarker Network for more promotion, traffic, and money.

Company Info

Help

What is Yardbarker?

Yardbarker is the largest network of sports blogs and pro athlete blogs on the web. This site is the hub of the Yardbarker Network, where our editors and algorithms curate the best sports content from our network and beyond.