Found February 25, 2013 on The Saints Nation:
Every once in a while I like to make a post on Saints history to educate some of our younger/newer fans as well as relive the past of our team. Every once in a while I also let my morbid curiosity get the best of me, and that's why I pondered who exactly were the absolute worst draft picks in Saints' history? You think the Saints have had some bad draft picks in the Sean Payton era, man, you have no idea how bad it has been before that. With that said I present to you my top 5 worst picks in Saints' history. Don't worry, I'll be sure to post my top 5 best sometime this week for those of you glass half full personalities out there. 5. Royce Smith, G, Georgia in 1972: Smith was drafted 7th overall and he was supposed to give the Saints some stability on the offensive line. Back then Archie Manning was the quarterback and continually running for his life and Smith was drafted to help protect him. Instead, Smith lasted 2 disaster seasons with the Saints before ditching town to the hated rival Falcons and not faring much better. Smith died in 2004 at the young age of 54. 4. Vaughn Dunbar, RB, Indiana in 1992: I remember being very excited about this pick as most said he was going to be a superstar in the league. 3 years later, he was out of the NFL alltogether. Dunbar would average just 3.5 yards per carry in his short career and he had trouble hanging on to the football. The Saints had a nice run of backs around this time with Reuben Mayes, Dalton Hilliard and Craigh Heyward but Dunbar didn't come close to following suit. After a poor rookie season in 1992, he had a serious injury that cost him the 93 season entirely and he never recovered from that. 3. Shawn Knight, DE, BYU in 1987: Picked 11th overall, the Saints felt good about Knight becoming a dominant pass rusher that could transform the defense. You didn't see many guys that were 6'6", 290 lbs that could run back then. Knight would just play one bad season with the Saints and last three years overall in the league. What a disaster. 2. Russell Erxleben, K/P, Texas in 1979: The Saints drafted a guy that was primarily a punter 11th overall and that tells you really all you need to know about the place where the front office was at that point in the team's history. When they picked him the idea is he could maybe both kick and punt with his ridiculous leg strength and only take up one roster spot. Funny enough, Erxleben is facing jail time for fraud and running a ponzi scheme this past year. Sounds like his failures know no bounds. Anyway, Erxleben attempted only 8 fields goals in his career and made half of them. He punted for the Saints and averaged a whooping 40.6 yards per punt in 5 seasons. Morstead averages 47.1 in 4 seasons. Complete waste of the 11th overall pick. 1. Jonathan Sullivan, DT, Georgia in 2003 (pictured): This one still stings most of all and I don't think I'll ever fully get over it. What makes this pick so much worse is that the Saints traded two first rounders to move up in order to draft Sullivan at #6 overall. The Saints will be celebrating 10 years since Sullivan got drafted in this draft. Sullivan was supposed to be an interior difference maker, and instead he was fat, lazy and never contributed anything. He stayed on the Saints for 3 seasons mostly due to his draft status and contract, but contributed just 1.5 sacks in 3 seasons as a backup. When he was cut and tried to sell his house, it was rumored that trash/garbage was found in his cabinets. This guy clearly couldn't handle the massive $11.4 million signing bonus he got the day he was drafted and never showed up with any drive or heart. The tipping point was apparently that Sullivan went upstairs during a game when he was inactive to hit up a press box buffet meal instead of being on the field with his teammates. The scouting staff didn't do their homework on this kid's work ethic, or lack thereof, and this was a colossal fail in every department ESPECIALLY because it cost the Saints two first round picks to get him. Sickening to revisit, honestly. Anyone you think should be on this list?
Original Story:
http://www.thesaintsnation.com/2013-a...
THE BACKYARD
BEST OF MAXIM
RELATED ARTICLES
So this might explain why the New Orleans Saints have so much trouble scouting defensive players. Memo to Sean Payton: When operating binoculars, you look through the little end and out the big end. H/T SB Nation The post Sean Payton: Much better at calling offensive plays than operating binoculars appeared first on Larry Brown Sports. Related posts: Sean Payton played the bongos...
Free agent tackle Jermon Bushrod has yet to have any significant contract talks with the New Orleans Saints, per Larry Holder of NOLA.com. The two time Pro Bowler had this to say about the situation: Bushrod added, though, he expects talks to heat up soon and maybe as early as this week. "It's about to get interesting," Bushrod said. Bushrod said he's heard the report of...
It's not often that we get to post binocular fails here on Outside the Boxscore but check out New Orleans Saints head coach Sean Payton having a bit of an issue with a pair today during the NFL Combine in Indianapolis: (Courtesy of SB Nation)
Why was Sean Payton looking throw the wrong end of his binoculars this morning at the NFL Combine? Little rusty from the year off work? Hangover? It's Monday morning? That's how he finds diamonds in the rough? Stayed up late pounding margaritas while listening to Jimmy Buffett tunes at Indy bar?     Filed under: Football
Andrew's post on who were the worst picks the Saints ever had inspired me to write a little post of myself. I looked at a possible scenario where the Saints had not drafted the guy they picked but had drafted another guy that was drafted later, next man up. Couple of rules: the player must be the Saints' first pick of that year and he must be compared to the same position...
Ole Miss coach Hugh Freeze lost a major piece of his recruiting puzzle when Wesley McGriff left Oxford for the New Orleans Saints.
- The official website of the New Orleans Saints published an article about The Rock being a fan of fellow Miami alums TE Jimmy Graham and LB Jonathan Vilma. - Dwayne "The Rock" Johnson's newest film "Snitch" opened second at the book office for the weekend which is considered a weak showing in the movie industry. The film garnered $13.2 million according...
- The official website of the New Orleans Saints published an article about The Rock being a fan of fellow Miami alums TE Jimmy Graham and LB Jonathan Vilma.- Dwayne "The Rock" Johnson's newest film "Snitch" opened second at the box office for the weekend which is considered a weak showing in the movie industry. The film garnered $13.2 million according to DeadlineHollywood...
Co-defensive coordinator and cornerbacks coach Wesley McGriff, as announced Monday, has left Ole Miss to become defensive backs coach for the New Orleans Saints. What the move means, and where Hugh Freeze goes from here, in the latest Ole Miss Spirit Podcast.
Saints News

Delivered to your inbox

You'll also receive Yardbarker's daily Top 10, featuring the best sports stories from around the web. Customize your newsletter to get articles on your favorite sports and teams. And the best part? It's free!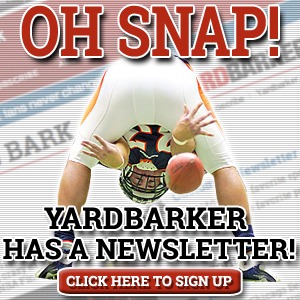 Latest Rumors
Best of Yardbarker

Today's Best Stuff

For Bloggers

Join the Yardbarker Network for more promotion, traffic, and money.

Company Info

Help

What is Yardbarker?

Yardbarker is the largest network of sports blogs and pro athlete blogs on the web. This site is the hub of the Yardbarker Network, where our editors and algorithms curate the best sports content from our network and beyond.