Found July 17, 2013 on The Saints Nation:
The guard position is probably one of the most secure on the Saints' team, but also one of the most important. The Saints have spent much more money on this position than the tackle position, which suggests they value it much higher with Drew Brees at quarterback. Interesting, because traditionally tackle has always been more important to other NFL teams. Brees has great footwork in the pocket and an uncanny ability to feel pressure from the outside and move up in the pocket. That's where stellar play on the interior comes at a premium. Fortunately for this offense, the Saints have that. Here are the players: Jahri Evans: The four time pro bowler is entering his eighth season with the Saints after being drafted by the team in the 4th round in 2006. In 2010 he received the richest contract for a guard in NFL history and he's come close to giving that full vfalue. I wouldn't say he's the best guard in the NFL now, and certainly not in history, but he consistently gives the Saints upper echelon performance consistently each year. He's the backbone of the offensive line. He is a definitive starter for hopefully a long time to come. Ben Grubbs: The Carl Nicks free agency replacement has largely lived up to expectations so far. He had big shoes to fill and while he's a different type of player than Nicks and not as dominant in the trenches, he offers better pass protection, technique and mobility. He's been one of the successful free agent signings in the Sean Payton era. He is the unquestioned starter at left guard, and he's a lock to make the team. Eric Olsen: Olsen was not only the primary interior backup lineman last year, he also played a lot as the jumbo tight end off the edge due to all the injuries the Saints suffered at tackle. He handled himself pretty well in extended play last season, although never at the traditional guard spot which is his natural spot. After being a mainstay on the team and playing 16 games last season, Olsen is the odds on favorite to land the backup role again. Andrew Tiller: Tiller came to the Saints from Syracuse under the tutelage of former offensive coordinator Doug Marrone. Tiller was a 6th round draft pick last year but spent his rookie season on injured reserve. He's got a massive frame and has the potential to be pretty special in my opinion. This year is big for him to make a step forward. Due to his size he has the potential to be a dominant run blocker, but his pass blocking is less good due to his lack of mobility. Tiller could be a big boost to the running game, though. I think he's got a 50-50 shot at the roster. Ricky Henry: Henry is a 3 year vet that played one game for the Saints last year and one game for the Bears the year before. My question is this: if you remember how positively atrocious the Bears' o-line has been the last few years, and this guy couldn't even cut it on that squad, how is he going to develop into anything worthwhile on the Saints where the position is a strength? He was an undrafted free agent that also spent a brief time with the Falcons. I don't see him making the team. Jeremiah Warren: The undrafted rookie last year spent a little time with the Patriots and Cardinals last season but never played in a game. His write up is similar to that of Andrew Tiller. I don't see him on the roster. Tim Lelito: He's an undrafted rookie free agent from a no name school, which probably means knowing the Saints he stands an excellent chance to make the roster. Haha. He is incredibly slow in 40 times but is spoken of highly by scouts. He's probably a practice squad guy. Prediction: I think the Saints will either keep three or four guards. Because I think they may keep extra tackles this year with the left tackle spot somewhat uncertain, I'm leaning towards guessing they'll keep three. The battle for the #3 spot in my estimation is squarely between Olsen and Tiller. I'm going to predict Andrew Tiller turns some heads and becomes the primary interior backup. Olsen is the favorite due to experience, though. It's possible they'll keep both, too. I don't see Henry, Warren or Lelito with any chance of making the 53 man roster.  Your thoughts?
Original Story:
http://www.thesaintsnation.com/2013-a...
THE BACKYARD
BEST OF MAXIM
RELATED ARTICLES
With the torture of Bounty-gate firmly behind them and Sean Payton back at the helm, the New Orleans Saints are ready for a fresh start, beginning when training camp opens in Metairie, LA August 25. Camp promises to be a busy time for The Black and Gold: players and coaches will be installing the team's third defensive system in three years and re-adjusting to Payton's...
Marques Colston has long been adored for Saints fans. He's one of the team's top wide receivers. He's the author of his own children's book. And he looks like this in a bathtub. Yet even with all that, Colston has found a way to out-marvelous himself. Today he's hand-delivering a check for $103,000 to Children's Hospital of New Orleans. The money will be put toward...
QB Drew Brees (New Orleans) There was concern about how Brees would do without Sean Payton last season, but he did fine, completing 63.0% of his passes for an average of 7.7 YPA, 43 touchdowns, and 19 interceptions, while leading the NFL's #3 ranked scoring offense. He's now thrown for 5000 yards in 3 of the last 5 seasons, including the past 2, the first quarterback in NFL history...
The Saints head into training camp next week bolstered by a strong session of OTA's earlier this summer, when every single player showed up. It was the first time in Sean Payton's NFL career that he saw 100 participation for optional training. As helpful as that period was, Payton is ready to see his players in padded action, especially the Black and Gold's new defense...
New Orleans Saints defensive back Jabari Greer has already won a Super Bowl ring. Now, he's about to fulfill one of his other lifelong dreams. Greer will co-host a radio show called ""Jazz from the French Market," to be broadcast on New Orleans' nonprofit, community supported radio station WWOZ. He says he grew up listening to the likes of Miles Davis and Donald Byrd...
This will be a short post because the Saints currently only have two fullbacks on their roster. They are incumbent starter Jed Collins, and one year vet Austin Johnson. The fullback position is used by the Saints infrequently, but still carries some value. Jed Collins has been an underrated part of the offense, providing great lead blocking and 14 receptions (2 touchdowns) as a safety...
Gary Pinkel, the head coach at Missouri, is launching his own website. This is largely a "keep up with the Joneses" move that mirrors other sites of high profile coaches, and an attempt to grow the brand of Missouri football. The current video on the site, however, is something to behold. Let's start with the boilerplate. Via KansasCity.com, we get the standard announcement...
Who plays end, who plays outside linebacker, and who plays nose isn't going to be exact science at the moment with the team's switch to a 3-4. The Saints have some "tweeners" on their roster that could fit at multiple positions, which makes this exercise challenging. I'll rope the guys at the positions I think they likely stick (ie Will Smith at OLB) though...
This concludes the individual positions on the offensive side of the ball, though I wouldn't really consider this one a "battle". The Saints currently carry two "centers" on the roster, but like the fullback position they'll likely only keep one and use guys that play another position as depth. So the backup interior lineman (or guards) will likely spell...
Introduction How valuable is Head Coach Sean Payton? Well, if you look just at records, you could say he's worth 6 wins. Last season, the New Orleans Saints went 7-9 and missed the playoffs, a year after a 13-3 regular season. A lot of people blamed this on Sean Payton's absence with a yearlong suspension, but Payton comes from an offensive background and the offense was not...
Is Johnny Manziel number one overall NFL Draft pick material? I thought so. I don't think so today. The biggest problem with Manziel is his height. Johnny Manziel's lack of height could make him Rex Grossman or it could make him Drew Brees. You never know. However, Brees and Grossman never had character issues like Johnny Manziel. The Texas A&M signal caller has all college...
NFL News

Delivered to your inbox

You'll also receive Yardbarker's daily Top 10, featuring the best sports stories from around the web. Customize your newsletter to get articles on your favorite sports and teams. And the best part? It's free!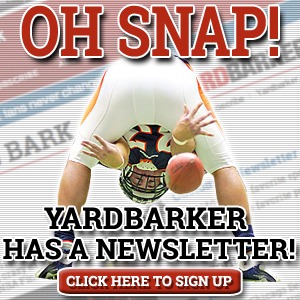 Latest Rumors
Best of Yardbarker

Today's Best Stuff

For Bloggers

Join the Yardbarker Network for more promotion, traffic, and money.

Company Info

Help

What is Yardbarker?

Yardbarker is the largest network of sports blogs and pro athlete blogs on the web. This site is the hub of the Yardbarker Network, where our editors and algorithms curate the best sports content from our network and beyond.