Posted November 29, 2012 on AP on Fox
Right from the start, the NFL said Gregg Williams was in charge of a pay-for-pain bounty system with the New Orleans Saints. The former defensive coordinator - who told the league about others' involvement - was being cross-examined Friday by lawyers for players appealing their suspensions in the case. And two of those players, Saints linebacker Jonathan Vilma and defensive lineman Will Smith, attended Williams' session. ''We all know why we're here today,'' Vilma said Friday on his way into the hearing. The hearing is part of the latest round of player appeals overseen by former NFL Commissioner Paul Tagliabue. Former Saints assistant coach Mike Cerullo faced questions Thursday, when lawyers for the league and for players spent more than nine hours in a Washington office building. Tagliabue and various lawyers declined to comment Thursday or Friday. Vilma and Smith traveled to Washington after playing in New Orleans' 23-13 loss at Atlanta on Thursday night. Neither player was required to attend Friday, but Smith said this week that ''part of the things that we wanted all along was to face our accusers.'' Vilma and Smith - along with two former Saints, free-agent defensive lineman Anthony Hargrove and Cleveland Browns linebacker Scott Fujita - were suspended by the NFL for the Saints' cash-for-hits program that the league says Williams ran from 2009 to 2011. Smith, suspended four games, and Vilma, suspended for the entire current season, have been playing while their appeals are pending. The NFL has described Vilma and Smith as ringleaders of a performance pool designed to knock targeted opponents out of games. The league has sworn statements from Williams and Cerullo saying Vilma offered $10,000 to anyone who knocked quarterback Brett Favre out of the NFC championship game at the end of the 2009 season. NFL Commissioner Roger Goodell issued the initial suspensions, which also included a full-season ban for Saints head coach Sean Payton. Lawsuits brought by Vilma and the NFL Players Association to challenge Goodell's handling of the case, including his decision in October to appoint Tagliabue as the arbitrator for the appeals, are pending in federal court in New Orleans. On Thursday, U.S. District Judge Ginger Berrigan gave the parties until Monday to answer questions about whether the NFL's collective bargaining agreement prevents a commissioner from handing out discipline for legal contact, and whether the CBA's passages about detrimental conduct are ''ambiguous, hence unenforceable.'' In March, the NFL announced that its investigation showed the Saints put together a bounty pool of up to $50,000 to reward game-ending injuries inflicted on opponents. ''Knockouts'' were worth $1,500 and ''cart-offs'' $1,000 - with payments doubled or tripled for the playoffs, the league said. According to the league, the pay-for-pain program was administered by Williams, with Payton's knowledge. At the time, Williams apologized for his role, saying: ''It was a terrible mistake, and we knew it was wrong while we were doing it.'' Later that month, Payton became the first head coach suspended by the league for any reason - banned for all of this season without pay - and Williams was suspended indefinitely. Williams was known for his aggressive, physical defenses as a coordinator for Tennessee, Washington, Jacksonville and New Orleans, and during his time as head coach of Buffalo. In January, he was hired by St. Louis to lead their defense.
Original Story:
http://msn.foxsports.com/nfl/story/ne...
THE BACKYARD
BEST OF MAXIM
RELATED ARTICLES
New Orleans Saints linebacker Jonathan Vilma and defensive end Will Smith attended a hearing Friday at Washington, D.C., law office during bounty appeals testimony that included former defensive coordinator Gregg Williams. Both players said they came away with a positive feeling after a day of cross examination by Vilma's lawyer, Peter Ginsberg, and Smith's NFL Players...
Drew Brees picked the wrong two weeks to have two of his worst games with the New Orleans Saints. And for those who can read between the lines, yes, using the word picks was definitely a pun intended. His seven interceptions over the past two weeks may have cost the Saints any chance of reaching the NFL Playoffs this season. The five yesterday in a crushing loss to the Atlanta Falcons...
Former NFL Commissioner Paul Tagliabue and lawyers for the league and the players' union have arrived for a hearing in the Saints bounties case. Tagliabue is overseeing the latest round of player appeals in Washington. Former Saints assistant Mike Cerullo, a key witness in the NFL's investigation, is scheduled to speak Thursday. Former New Orleans defensive coordinator...
ATLANTA A lingering media throng is a curious sight following ahistoric sporting event, conversing in hushed tones but bodies and eyes all facing one direction. On Thursday night in the Georgia Dome,those eyes faced the Saints locker room door, each pair straining to spot afuture Hall of Fame quarterback. After years of playing Atlantastormenter, Drew Brees feel back to Earth against...
Not only did the New Orleans Saints bus end up with egg on it, Drew Brees record did as well. The Saints were in Atlanta to face off against the Falcons Thursday night. While the team started off the season in pure struggle behind b0unty-gate, as of late they've shown signs of pulling things together. [...]
Atlanta has been buzzing all week with anticipation for this game, and this incident definitely just cranked it up a few notches. Christian Boone of the Atlanta-Journal Constitution reports that the airport workers that egged the New Orleans Saints team bus Wednesday night will be disciplined.  It also appears that the egging may have gone unnoticed, if Saints players [...]
The New Orleans Saints bus was allegedly egged...by Atlanta airport employees. First time my bus has been egged by opposing fans! Tomorrow should be fun!!#WhoDatNation— Will Herring... Full story at Bob's Blitz ~ http://www.bobsblitz.com
Coach Mike Smith is giving the Atlanta Falcons four days off following a victory over the rival New Orleans Saints. When they return to practice on Tuesday, Smith will have the offense focus hard on correcting third-down problems that could have cost them against the Saints. Atlanta, one of the NFL's most efficient offenses in third-down efficiency, converted none of its first...
QB Rankings Drew Brees and Matt Ryan are two of the top fantasy options at the quarterback position in week thirteen. The Saints struggle on the road and the Falcons excel at home which leads us to believe that the Saints may be throwing a little more thus leading to Brees being ranked ahead of Ryan this week in my rankings. RGIII has a date with the New York Football Giants on Monday...
ATLANTA -- Drew Brees' trip to Georgia began with the team bus getting egged and concluded with the rottenest performance of his illustrious career. The Atlanta Falcons snapped Brees' record 54-game streak with a touchdown pass, picking off the New Orleans quarterback five times in a 23-13 victory over the Saints on Thursday at the Georgia Dome. Michael Turner and Tony...
New Orleans Saints linebacker Jonathan Vilma and defensive end Will Smith have a busy few days coming up. Thursday night, they will play a crucial game against the Falcons in Atlanta. Friday morning, they will be in Washington, D.C., as part of their appeal of suspensions handed down in the Saints' bounty scandal. ESPN.com reported that the NFL Players Association will...
For the first 25 minutes of the half, the Saints laid dormant as the Falcons ran all over them. New Orleans' run D barely contested a run-heavy opening drive score that was so easy for Atlanta that Michael Turner didn't look like he weighed 400 lbs. for once. Brees responded by hitting a nearly impossible deep throw on 3rd down to get the New Orleans to the Atlanta side of the...
NFL News

Delivered to your inbox

You'll also receive Yardbarker's daily Top 10, featuring the best sports stories from around the web. Customize your newsletter to get articles on your favorite sports and teams. And the best part? It's free!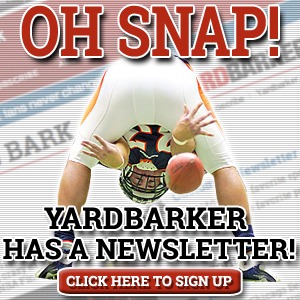 Latest Rumors
The Backyard

Today's Best Stuff

For Bloggers

Join the Yardbarker Network for more promotion, traffic, and money.

Company Info

Help

What is Yardbarker?

Yardbarker is the largest network of sports blogs and pro athlete blogs on the web. This site is the hub of the Yardbarker Network, where our editors and algorithms curate the best sports content from our network and beyond.