Found July 02, 2013 on Football and Futbol:
  CHECK OUT FOOTBALL AND FUTBOL'S BOOKSTORE   The 49ers are officially back. If you haven't noticed over the past few years they are no longer in other teams highlight reels. They have a strong core on both sides of the ball and continue to make smart little tweaks that have allowed the organization to play in back to back NFC Championships and the most recent Super Bowl. With training camp around the corner let take a look at the new look Niners that will again look to earn the top seed in the NFC. (Depth chart is projected) Let's start with both lines:   Right Defensive End: Justin Smith, Demarcus Dobbs, Tank Carradine, Lawrence Okoye Nose Tackle: Glenn Dorsey, Ian Williams, Lamar Divens Left Defensive End: Ray McDonald, Will Tukuafu, Tony Jerod-Eddie, Quinton Dial, Mike Purcell Justin Smith reworked his contract to stay a Niner for life and also free up some cap space. This is good because although the signing of Glenn Dorsey is a short term plus Smith and Ray McDonald will play their 200th and 100th NFL game this season. That added to limited depth behind them says they need to add a big time pass rusher in his prime in the next few years.   LT: Joe Staley, Kenny Wiggins, Carter Bykowski LG: Mike Iupati, Adam Snyder, Wayne Tribue C: Jonathan Goodwin, Daniel Kilgore, Sherman Carter RG: Alex Boone, Joe Looney, Al Netter RT: Anthony Davis, Patrick Omameh   When the Niners had two first round picks in 2010 and spent them both on offensive lineman it was a brilliant move that many saw would benefit them for years to come. This group had to protect two quarterback with very different styles of playing and did an exceptional job. With Staley and Iupati having some minor surgeries, the young group behind them, including rookie Kenny Watkins, has stepped it up and are now preparing for a full season with Colin Kaepernick taking first team snaps. Wide Receivers: Z-WR: Anquan Boldin, Ricardo Lockette, Quinton Patton, Kassim Osgood X-WR: Kyle Williams, A.J. Jenkins, Marlon Moore, Chuck Jacobs Slot WR: A.J. Jenkins, Chad Hall Michael Crabtree says he is ready to work out just six weeks after tearing his Achilles. He and Kaepernick had enough chemistry to knock Crabtree out of a three year funk and become the first rounder he was drafted to be. But with he and Mario Manningham out for the start of the season there is ample room for several veteran and rookie players to turn some heads. The off season signing of Anquin Boldin was potentially unbalanced deal in the Niners favor, but he needs another strong presence on the opposite side of the field to relieve the pressure he will feel. A.J. Jenkins, another first round selection, needs to make a bigger impact unlike last year when receivers who barely made the team were seeing more play time. Backs and TEs TB: Frank Gore, Kendall Hunter, LaMichael James, Jewel Hampton, D.J. Harper FB: Bruce Miller, Anthony Dixon, Jason Schepler TE: Vernon Davis, Garrett Celek F-TE: Vance McDonald, MarQueis Gray Though listed third on this potential depth chart, LaMichael James could have a breakout season this fall. With Tedd Ginn Jr gone, he could see the field more as a returner and as well as the top back up to a more recently healthy Frank Gore. Vernon Davis and Vance McDonald will be the safety valves for the nimble Kaepernick. Quarterbacks: Colin Kaepernick, Scott Tolzien, Colt McCoy, B.J. Daniels This is Kaepernick's team now. He is the face of the team and the player who needs to improve most to win it all. Signing McCoy will be beneficial because he knows newly acquired senior offense consultant's system and he will push the others as a recent starter. The chemistry with Kaepernick in the second half of the season completely took a 180 degree turn can only get better with the first team unit working hard during training camp.   Linebackers: ILB: Patrick Willis, Michael Wilhoite, Nick Moody ILB: NaVorro Bowman, Darius Fleming, Nate Stupar ROLB: Aldon Smith, Parys Haralson, Corey Lemonier LOLB: Ahmad Brooks, Dan Skuta, Cam Johnson One of the strongest, most versatile group of linebackers in the history of the NFL kept the Niners in several key games the past few seasons. Past the starters, they have some unproven players that, as the playoff games against the Falcons and Ravens showed, need to help more in the passing game.   Defensive backs: LCB: Carlos Rogers, Chris Culliver, Tramaine Brock, Marcus Cooper RCB: Tarell Brown, Nnamdi Asomugha, Lowell Rose, Darryl Morris NCB: Carlos Rogers, Perrish Cox, Michael Thomas, Darryl Morris SS: Donte Whitner, C.J. Spillman, Trenton Robinson, Ray Ventrone FS: Craig Dahl, Eric Reid, Darcel McBath, Michael Thomas   This was tested over and over in last year's playoffs. The Nnamdi Asomugha signing added needed depth after Dashon Goldson signed with the Buccaneers. Tarrell Brown is cemented as a starter, but the Carlos Rogers vs. Chris Culliver battle will be worth a watch. The safety positions also seem to be in flux as ex-Ram Dahl adds another serviceable veteran into the mix.   Kickers/Punters: After record setting seasons by David Akers and Andy Lee the year before, consistency has been hard to attain. Akers has injured for most of the season and despite being accurate in the playoffs he was released and the Niners signed Original Brown Phil Dawson. This unit looks solid for the 2013 season.   And finally coaches: The organization made a bold move in signing former defensive coordinator and head coach Eric Mangini as an offensive consultant. He will help the offensive understand how a defense prepares for versatile offenses, such as the Niners with now full-time starter Colin Kaepernick. His job will be to help the offense get those tough hard to get yards such as the last five in the Super Bowl.   Overall the San Francisco has the building blocks to win a championship. Jim Harbaugh is also a year older and hopefully he will be more big picture minded when it comes to crunch time.  
Original Story:
http://www.footballandfutbol.com/san-...
THE BACKYARD
BEST OF MAXIM
RELATED ARTICLES
WEDDING BELLS
Nnamdi Asomugha has not played particularly well the last few seasons, but he made a great catch here by marrying the gorgeous movie star.
CHECK OUT FOOTBALL AND FUTBOL'S BOOKSTORE   The 49ers special teams unit is going to look very different this year. They've brought in a new kicker in Phil Dawson, will add new punt and kick returners, and with new special teams beast Kassim Osgood leading the way on coverage the Niners special teams unit looks to be every bit as good as last years although, the faces may not...
The Santa Clara County District Attorney's Office hasn't quite decided yet if they'll be pressing charges against San Francisco 49ers linebacker Ahmad Brooks for his role in an incident in which Brooks allegedly struck 49ers nose tackle Lamar Divens three times in the head with a beer bottle, then punching him in the face during an argument over car keys outside Brooks...
Coming off a Super Bowl loss, 49ers players probably have a little extra anger this offseason to use as motivation. It appears that linebacker Ahmad Brooks may just be angry, period. Brooks hit teammate Lamar Divens over the head with a beer bottle three times during a June 8 incident outside Brooks' home in San Jose, Calif., according to the San Jose Mercury News and court documents...
The NFL has had more than enough problems with arrests this offseason, but another could be added to the tally if San Francisco 49ers linebacker Ahmad Brooks is arrested for allegedly assaulting a teammate. According to court documents obtained by the San Jose Mercury News, Brooks struck Niners nose tackle Lamar Divens in the head [...]
According to Black Sports Online, actress Kerry Washington from the hit show "Scandal" married 49ers cornerback Nnamdi Asomugha on June 24th in Idaho. Congrats to both Nnamdi and Kerry.  Now Asomugha will no longer have to be lonely and eat his lunch alone in his car like he did when he played for the Eagles.     Need NFL Tickets? The post Nnamdi Asomugha married "Scandal"...
Randy Moss 2007 Season - All 23 Touchdowns and Superbowl TD.mp4 (by mossfanpage)
No ''Scandal'' here: Kerry Washington is a newlywed. The star of the TV's ''Scandal'' married professional football player Nnamdi Asomugha (NAHM'-dee AH'-suhm-wah) last week in Hailey, Idaho. E! reported the nuptials Wednesday and posted a copy of the couple's marriage license online. The 36-year-old actress and 31-year-old athlete...
Not every NFL star trumpets his nuptials to the public (we're looking at you, RG3). Some still opt to go the more low-key, private route. Take San Fransisco 49ers defensive back Nnamdi Asomugha, who married actress Kerry Washington on June 24 in a secret ceremony in Hailey, Idaho, ENews! has confirmed. Neither star's representatives would comment on the reports. Asomugha...
Not every NFL star trumpets their nuptials to the public (we're looking at you, RGIII), and it seems that some still opt to go the more low-key, private route. San Fransisco 49ers defensive back Nnamdi Asomugha reportedly married actress Kerry Washington in late June, and no one had any  idea about it until now. Asomugha and Washington were wed on June 24 in a secret ceremony...
Seahawks and 49ers have the making a very good rivalry. 49ers head coach Jim Harbaugh made some comments about the Seahawks PEDs use, leading to Brandon Browner saying he wanted to choke him and these comments from his former Stanford player Richard Sherman. "I don't have a relationship with him," the cornerback said during an appearance on NFL Network. "I don't try to...
We got get these fatties movin' Juan… The First Lady Michelle Obama covers July's Sports Illustrated KIDS with San Francisco 49ers QB Colin Kaepernick, tennis superstar Serena Williams and Olympic sweetheart Gabby Douglas. They should have done the Kaepernicking pose instead. Colin Kaepernick and The First Lady Play Kiss the Bicep Colin Kaepernick's 87 MPH Fastball in Jeans
49ers News

Delivered to your inbox

You'll also receive Yardbarker's daily Top 10, featuring the best sports stories from around the web. Customize your newsletter to get articles on your favorite sports and teams. And the best part? It's free!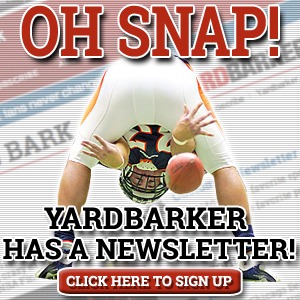 Latest Rumors
The Backyard

Today's Best Stuff

For Bloggers

Join the Yardbarker Network for more promotion, traffic, and money.

Company Info

Help

What is Yardbarker?

Yardbarker is the largest network of sports blogs and pro athlete blogs on the web. This site is the hub of the Yardbarker Network, where our editors and algorithms curate the best sports content from our network and beyond.