Found October 13, 2012 on 60 Max Power O:
The New York Giants are preparing to leave the comfortable confines of the Timex Performance Center and head out to California for a showdown with the 4-1 San Francisco 49ers. There is obviously no love lost between the these two organizations, especially after last year's NFC Championship game.
However, the day before the team is scheduled to depart, Giants offensive coordinator Kevin Gilbride couldn't resist getting in a backhanded compliment directed towards 49ers defensive end Justin Smith. Gilbride talked about how Smith's defensive holding allows him to control offensive linemen.
"Smith is a beast on the inside," Gilbride said. "He's strong. He does as good a job of grabbing a hold of offensive linemen and allowing those twists to take place. He never gets called for it, so he gets away with murder."
Smith is a strong defensive end with the ability to shift to defensive tackle is certain personal sets. His strength allows him to bull rush his opponent and create pressure from wherever he lines up. So when Gilbride talks about how Smith gets into the pads of an offense linemen and turns him around, he's saying that Smith illegally grabs linemen and moves them out of his way.
49ers head coach Jim Harbaugh took great exception to Gilbride's comments. Frankly, he escalated a conflict for no reason.
"Kevin Gilbride's outrageous, irrational statement regarding Justin Smith's play is, first, an absurd analogy," Harbaugh said. "Second, it is an incendiary comment targeting one of the truly exemplary players in this league. "It's obvious that the Giants coaching staff's sole purpose is to use their high visibility to both criticize and influence officiating."
Obviously, Kevin Gilbride did not literally mean Justin Smith was getting away with murder. In fact, that's a phrase that is used commonly in everyday life. However, Harbaugh is right in a sense that Gilbride's comments could have been an attempt to effect the officiating.
That being said, both comments were completely uncalled for. If Gilbride thinks Justin Smith was using an illegal tactic to gain an advantage, then he could have gone about it in a less public manner. He could have informed an official before kickoff, or even during the game.
With that, Harbaugh did not have to take the conflict to the next level. His scathing response created even more bad blood between two teams that already don't like eachother.
All things considered, this was an unecessary controversy that was escalated by a head coach who has a history of controversial interactions with opponents. There's been enough talk in the media about this game already, and it's about time things get settled on the field.
Be sure to check out other great articles at Sports Media 101.
Original Story:
http://www.60maxpowero.com/patriots/c...
THE BACKYARD
BEST OF MAXIM
RELATED ARTICLES
The San Francisco 49ers and New York Giants square off once again this Sunday at Candlestick Park. And while most 49ers fans have their take on what to expect, there is always an element of the unknown when it comes to these high profile games. We know the Giants are playing well right now, we know that they are coming off a dominating win versus the Cleveland Browns, we know that...
The last time a player disputed San Francisco 49ers coach Jim Harbaugh's judgment about the player's readiness for action, Harbaugh cut him. That was last year, when wide receiver Braylon Edwards never fully came back from knee and shoulder injuries. Edwards suggested he'd miss a game or two, but instead of telling Harbaugh, he told the media. Harbaugh eventually released...
San Francisco 49ers left tackle Joe Staley has been knocked out of today's game against the Giants with a concussion.This is a big loss for the Niners, Staley is one of the NFL's best left tackles.
The San Francisco 49ers enter this weekend's rematch of last season's NFC Championship Game against the New York Giants healthy. The team had three players listed on their injury report, but all are expected to play. Alex Smith sprained a finger on his throwing hand last weekend against the Buffalo Bills, but it didn't hamper him this week during practice. Smith...
WELL THAT'S A RELIEF
49ers cornerback Carlos Rogers has backed off his threat that he would steal Giants wide receiver Victor Cruz's patented salsa dance when the teams meet on Sunday.
San Francisco 49ers coach Jim Harbaugh says the comments Giants offensive coordinator Kevin Gilbride made about All-Pro defensive end Justin Smith are ''outrageous'' and ''incendiary.''
San Francisco 49ers head coach Jim Harbaugh responded Friday to New York Giants offensive coordinator Kevin Gilbride's comments on the way 49ers defensive end Justin Smith plays.Gilbride told reporters:"Smith is a beast on the inside.  He's strong, he does a good a job of grabbing a hold of offensive linemen and allowing those twists to take place."He never gets...
According to Ebenezer Samuel of the New York Daily News, San Francisco 49ers cornerback Carlos Rogers has told him that he "definitely" won't do Victor Cruz's salsa dance if he has the opportunity to.Earlier in the week Rogers was flirting with the idea of doing Cruz's dance and Cruz has already made it clear that it's not something he's very fond of.Rogers says he...
San Francisco 49ers cornerback Carlos Rogers told the New York Daily News that he will stop mimicking the salsa dance of Giants receiver Victor Cruz, according to a Daily News report. Cruz began performing his salsa touchdown celebration as a tribute to his late grandmother, Lucy Molina, who died recently. Molina had taught Cruz the dance when he was a child. Cruz performs the...
When former New York Giants wide receiver Mario Manningham signed with the San Francisco 49ers this past offseason, his new teammates told him that he wa's wearing their Super Bowl ring."Players were talking about it, like, 'You got my ring on,'" Manningham told USA TODAY Sports. "I'm like, 'Yeah, whatever.'"49ers tight end Vernon Davis says the loss from last...
Alex Smith, Carlos Rogers and Kyle Williams acknowledge what some of their other San Francisco teammates might not: Sunday's rematch with the New York Giants absolutely means a little more to the 49ers.
SAN FRANCISCO -- The New York Giants had to work overtime to beat the San Francisco 49ers 20-17 in the NFC Championship Game last season. In the rematch Sunday at Candlestick Park, the defending Super Bowl champion Giants took care of business early, handing the 49ers a convincing 26-3 defeat in a battle of NFC heavyweights. The Giants intercepted 49ers quarterback Alex Smith...
49ers News

Delivered to your inbox

You'll also receive Yardbarker's daily Top 10, featuring the best sports stories from around the web. Customize your newsletter to get articles on your favorite sports and teams. And the best part? It's free!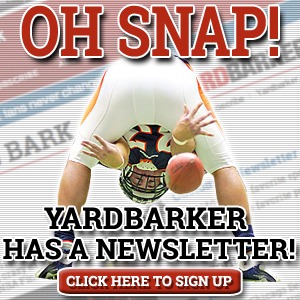 Latest Rumors
Best of Yardbarker

Today's Best Stuff

For Bloggers

Join the Yardbarker Network for more promotion, traffic, and money.

Company Info

Help

What is Yardbarker?

Yardbarker is the largest network of sports blogs and pro athlete blogs on the web. This site is the hub of the Yardbarker Network, where our editors and algorithms curate the best sports content from our network and beyond.