Found July 14, 2013 on isportsweb.com:
Well, these sure are the dog days as proven by the controversy that surfaced earlier this week regarding San Francisco 49er quarterback Colin Kaepernick and a hat.  That's right a hat. The 49er QB was photographed at a July 4th party sporting a Miami Dolphins hat.  Fans immediately showed their displeasure over this fashion choice via twitter which prompted Kaepernick to respond with a picture of him holding up the hat and saying "This is the hat y'all mad at?" Now I can see both arguments in this instance as being quite logical.  On one hand, Kaepernick is the face of the franchise.  One that has Superbowl aspirations.  It has to register in his mind somehow that wearing another teams hat will cause some sort of friction with the fans or with the organization.  Why even risk it?  It's a nice hat, sure but is it worth all the trouble he is now receiving?  The franchise has clearly been handed over to him so whether he likes it or not, he is going to be judged on everything he does.  Kaepernick is arguably one of the more popular NFL stars so his actions are going to be magnified significantly. On the other hand, it's just a hat who cares?  Kaepernick took the 49ers to the Superbowl last year and was within a few yards of holding up the Lombardi trophy.  His teammates don't seem to have a problem with it so why should anyone else.  His effort, work ethic or commitment to the team has never been an issue so his fashion statement shouldn't put his loyalty into question. ESPN's Herman Edwards asked if Joe Montana or Steve Young would ever wear a another teams hat.  Although that would be difficult to imagine, it has to be understood that this is a different era with the rise of social media.  Today's athletes are in the public eye a lot more than they were when Young and Montana played. Bottom line, Kaepernick's responses (specifically saying that he will wear whatever he wants) showed a little immaturity.  Given the level of success in the short amount of time, it's quite understandable.  Whatever hat he wears, or pants or shoes won't matter when the season starts however and in the end Kaepernick will only be judged on wins and losses.
Original Story:
http://feedproxy.google.com/~r/isport...
THE BACKYARD
BEST OF MAXIM
RELATED ARTICLES
ESPN's Ron Jaworksi believes 49ers quarterback Colin Kaepernick is a "special talent" even though he's yet to play a full NFL season.  He has him ranked as the 11th best signal caller in the league. "Normally 10 NFL starts is not enough for me to evaluate a player so highly, but this kid has special talent, is a dynamic dual-threat quarterback with a power arm and outstanding...
Charly Martin (AP Photo/Elaine Thompson) The San Francisco 49ers claimed wide receiver Charly Martin off waivers earlier this week.  Martin  is an undrafted third year player out of West Texas A&M .  Last year he only played in four games and had four receptions for 42 yards.  What's intriguing about this acquisition is the relationship between the 49ers and Martins previous...
Mike Singletary was never much of a Vernon Davis adherent. He went as far as to bench the polarizing tight end mid-contest in 2008 because of Davis' indifferent demeanor.Singletary's postgame rant concerning his disdain for selfish play resonated far beyond the final tally on the scoreboard."I would rather play with 10 people and get penalized all the way until we've got...
The San Francisco 49ers have signed undrafted punter and kickoff specialist Colton Schmidt to a three-year contract. The 49ers announced the deal Monday. Schmidt will compete against punter Andy Lee and kicker Phil Dawson, likely serving as the backup and providing breaks for each during training camp. Schmidt finished his career at UC Davis with 235 punts for 9,664 yards and a...
A lot of people wouldn't mind getting recognized as an NFL quarterback that led his team to last year's Super Bowl, but Saints first round draft pick Kenny Vaccaro is not one of those people. As you can see in the video below, the former University of Texas safety keeps getting mistaken for 49ers quarterback Colin Kaepernick in his new home of New Orleans. Watch as a camera crew...
Associated Press – The San Francisco 49ers have signed undrafted punter and kickoff specialist Colton Schmidt to a three-year contract. The 49ers announced the deal Monday. Schmidt will compete against punter Andy Lee and kicker Phil Dawson, likely serving as the backup and providing breaks for each during training camp. Bovada Sportsbook Schmidt finished his career at UC Davis...
2012 Record: 11-4-12012 DownfallDefense Cut to PiecesThe 49ers defense allowed just 17.1 PPG during the regular season, second best average in the NFL. In five games, their stellar D held opponents to seven points or less, including a 34-0 bludgeoning of the New York Jets in Week 4. But their stonewallings wouldn't last.By season's end, Seattle and New England were piling...
San Francisco 49ers star quarterback Colin Kaepernick is a different type of guy, so it was no surprise that Kaepernick had no problem posing nude for ESPN The Magazine's The Body Issue. Of course not everyone has the confidence or bravado to take their clothes off for all to see. Kaepernick's teammate and 49ers safety, Donte Whitner would not be able to take his clothes off...
Yasiel Puig seems to have taken to capitalism like a duck to water. Remember that just 14 months ago, the young Dodgers phenom was still in Cuba, planning to defect to the United States. However, now the 22-year-old is bona fide celebrity in America, and suffice it to say that's a significantly different lifestyle than living under a Communist dictatorship. As you may have heard...
San Francisco 49ers quarterback Colin Kaepernick caused quite the stir earlier this month when he was seen rocking a Miami Dolphins hat and later mocked fans for having an issue with it. Now, Cam Newton is sure to have infuriated Carolina Panthers fans with his own show of affection for an opposing NFL team. Newton, [...]
49ers News

Delivered to your inbox

You'll also receive Yardbarker's daily Top 10, featuring the best sports stories from around the web. Customize your newsletter to get articles on your favorite sports and teams. And the best part? It's free!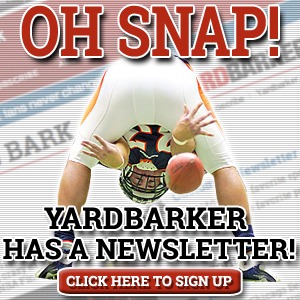 Latest Rumors
Best of Yardbarker

Today's Best Stuff

For Bloggers

Join the Yardbarker Network for more promotion, traffic, and money.

Company Info

Help

What is Yardbarker?

Yardbarker is the largest network of sports blogs and pro athlete blogs on the web. This site is the hub of the Yardbarker Network, where our editors and algorithms curate the best sports content from our network and beyond.