Found December 05, 2012 on Turn On The Jets:
Woody Johnson wanted Greg McElroy. GM Mike Tannebaum and OC Tony Sparano backed Mark Sanchez. Rex Ryan could have hitched his wagon to the owner while distancing himself from the embattled GM and quarterback. Instead, Ryan jumped into the lifeboat with all three. Now only Sanchez can save the crowded sinking ship. The mind boggling three quarterback controversy, that never really included Tim Tebow, grew in proportion when it became clear to Ryan that a switch would mean more than McElroy simply getting a late season start. It would signify the possible end of the Sanchez era. Due to one third quarter benching with no reprieve. A price that in the end, Ryan saw as too high to pay in one fell swoop. Sanchez was given a hefty extension prior to training camp and has had to endure a season with second rate personnel around him. While his two top targets Santonio Holmes and Dustin Keller, have been injured for most of the year. The greatest problem working against Sanchez has been his demeanor. Sanchez has looked doubtful, glum, and unsure. Too often appearing defeated. Resigned to the fate that the Jets inexperienced receivers will fail him. Traits that hardly bode well for a leader. The distraction of a Tebow-led wildcat package rotating in at any time, has not made life easy for Sanchez either. All have combined to erode Sanchez's focus. Like it did on Thanksgiving night, when after calling the wrong play, he tried to dive to the ground towards safety. Only to run into the backside of Brandon Moore, in what is now certain to become a blooper for the ages. Sanchez's three interception, 91 yard performance at Met Life Stadium against the lowly Cardinals, truly warranted a mid-game switch. Matching the God awful play of Cards QB Ryan Lindley, was no way to remind anyone about a resume that includes 33 career wins and four playoff victories as a starter. McElroy had nothing to lose and only a modest task to complete, when he entered the huddle as the Jets trailed 3-0 with 4:58 to go in the third quarter last Sunday. The second year pro simply had to engineer one touchdown drive and not turn the ball over after the fact. However, it was obvious from the minute Sanchez exited, that this was not a simple case of a substitution for a player having an off day. The energy of an entire team and stadium changed. Instantaneously. A fan base that craved seeing Sanchez holding a clipboard instead of a football, went into a frenzy as soon as McElroy began warming up. Key notions that in the end, failed to outweigh Ryan and Tannenbaum's commitment to Sanchez, as the final decision was being made. Tannebaum's future is up in air after a string of poor drafts, and minimal free agent talent brought in to replace important role players who have left. If Sanchez can settle down over the final four games, Tannenbaum may rest easier knowing that he can better justify the extension given. Ryan has had these past seventy two hours to go in a different direction. Away from his GM, and for a team that rose with McElroy for one quarter of play. He chose not to. The issues for the fourth year head coach are now twofold. Another vote of confidence may not kickstart a player who has none himself. The move may also now put Ryan on notice in the process. Sanchez is back in the pilot's seat, but will carry a bigger weight than before. Knowing that he has more than his own job to save. In what will be his final chance to prove that he is the long term answer in New York
Original Story:
http://turnonthejets.com/2012/12/sanc...
THE BACKYARD
BEST OF MAXIM
RELATED ARTICLES
Good news, Jets fans -- Rex Ryan has picked a starting quarterback for this week's game against the Jacksonville Jaguars. Bad news, Jets fans -- it's not who most of you have been clamoring for. Mark Sanchez, who has felt the wrath of the fans all season long and was benched in favor of third-stringer Greg McElroy on Sunday, will get the start Sunday, the team tweeted early...
The New York Jets announced on Wednesday that Mark Sanchez will once again be the team's starting quarterback against the Jacksonville Jaguars this weekend. Rex Ryan's decision to bench Sanchez after a three-interception performance in the first half against the Arizona Cardinals last weekend led to speculation that the Jets could move forward with Greg McElroy the rest of the...
While Greg McElroy may be the choice of New York Jets owner Woody Johnson, he is not the choice of head coach Rex Ryan, who has named Mark Sanchez as the team's starting quarterback for this Sunday's game against the Jacksonville Jaguars. Sanchez was benched in New York's Week 13 home win against the Arizona Cardinals after throwing three interceptions and failing to lead the...
JETS-SETTER
Jets coach Rex Ryan reportedly is expected to name Mark Sanchez the team's starting quarterback for its Week 14 showdown with the Jacksonville Jaguars.
The New York Jets will continue to start quarterback Mark Sanchez for a least one more game. Color a lot of people surprised, but not us. Jets coach Rex Ryan pulled the plug on Sanchez last week following a three-interception first half, replacing him with Greg McElroy, who threw a 1-yard touchdown pass in the win.Ryan then said Monday that he needed a little more time to decide...
According to ESPN's Adam Schefter, New York Jets head coach Rex Ryan has decided to go with Mark Sanchez as his starting quarterback for this week's game against the Jaguars. Rex Ryan told his team this morning that he chose Mark Sanchez over Tim Tebow and Greg McElroy. — Adam Schefter (@AdamSchefter) December 5, 2012 Ryan benched Sanchez last week in favor of Greg McElroy...
In the NFL, quarterback play determines if a coach ultimately keeps his job. It's a simple concept that most understand. If the quarterback plays well, the team has a better chance to win and the coach has a better chance to keep him job. In contrast, if the quarterback plays poorly, the team's chances of winning are dramatically reduced and the coach's job quickly begins to...
If one incident proved this week that, while class may be permanent form is certainly a favourable attribute to have, it was in New York as the Jets beat Arizona thanks to the unlikeliest of players. The Jets, on a 4-7 record heading into the game and outsiders in the NFL betting odds thanks to having one of the worst offences in the NFL, overcame fellow strugglers Arizona 7-6 in...
GROUNDED JET
According to a report, Jets head coach Rex Ryan may indeed make a QB change this coming Sunday. Mark Sanchez could be benched in favor for Greg McElroy.
This week the Jets travel to Tim Tebow's hometown to play the Jaguars, unfortunately for the legion of Tebow supporters who undoubtedly wanted to line up to watch him play quarterback, equally unfortunate for many Jet fans that Greg McElroy won't be getting the start either, as you know, since it's all that anyone has talked about the entire week, Mark Sanchez will remain...
The quarterback controversy in New York appears to have no end in sight. And another wrinkle just made it even more complicated. Mark Sanchez is keeping his starting job, for now. But after being benched for third-stringer Greg McElroy last week, and chants for Tim Tebow continuing to fill the stands at MetLife Stadium, Sanchez may not have that job for very long. Now, as the Jets...
After being pulled late in week 13′s matchup against the capricious Arizona Cardinals after throwing his third INT and generally being ineffective, Sanchez will get yet another shot in the saddle. Rex Ryan has named Mark Sanchez the starting QB for Sunday's game in Jacksonville, in what some would call an appalling display of "cement-headedness." This decision [...] [...
NFL News

Delivered to your inbox

You'll also receive Yardbarker's daily Top 10, featuring the best sports stories from around the web. Customize your newsletter to get articles on your favorite sports and teams. And the best part? It's free!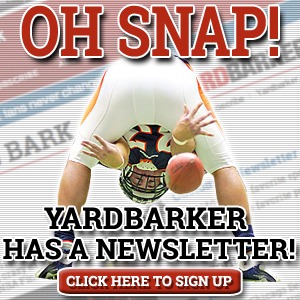 Latest Rumors
Best of Yardbarker

Today's Best Stuff

For Bloggers

Join the Yardbarker Network for more promotion, traffic, and money.

Company Info

Help

What is Yardbarker?

Yardbarker is the largest network of sports blogs and pro athlete blogs on the web. This site is the hub of the Yardbarker Network, where our editors and algorithms curate the best sports content from our network and beyond.