Found May 24, 2012 on The Other Paper:
On the first day of what will surely be many, many months of Mark Sanchez and Tim Tebow quarterbacking comparisons leading up to the regular season— Sanchez outplayed Tebow on day one of their first head-to-head competition open to the media.
While the New York Jets held their third OTA Thursday morning, it was the first look at the Tebow-Sanchez dynamic on the football field with both of them wearing Jets helmets.
Tebow worked with the second team just as the Jets said he would and took reps as the No. 2 quarterback behind the incumbent Sanchez.  He was also used on special teams, as the personal protector on the punt team— something he did on Monday for the first time.
At the quarterback spot, some of Tebow's passes came out a little high.  He was picked off on consecutive passes in 7-on-7 drills, by Bart Scott and new Jets safety Yeremiah Bell.  Tebow finished 6-for-8 in the nine snaps he took in 11-on-11 team drills.
Most reporters thought Sanchez looked a little sharper and was the better quarterback on the field.  His first three passes during 11-on-11s were incomplete, but that included a couple of drops by his receivers.  Sanchez did throw a 75-yard touchdown to Stephen Hill— who beat Kyle Wilson on coverage.  Sanchez finished 7-of-14 during the 11-on11 drills.
Sanchez probably felt more pressure to play well today so he can establish himself as the starter and not just someone hanging on to his job.  He sounded pretty relaxed about the scrutiny after practice.
"[Tebow's] popularity drives a lot of that," said Sanchez.  "At the same time, I wouldn't be in this position if I couldn't handle it.  And I'm prepared for it."
The fourth-year quarterback shrugged off the added media attention this off season.
"We've been to the playoffs around here," he said.  "We know what it 's like to have different media outlets.  When you get a guy as popular as Tim it's just natural.  It's good exposure for our team."
Tebow was less steady.  Maybe because his old college coach Urban Meyer was watching from the sidelines.
"Absolutely (it) had a competitive vibe," said Tebow.  "It was a lot of fun.  I feel like we have a very good pace.  We're getting in and out of the huddle... getting a lot of playoff, which is  something coach Sparano stresses.  So we want to have a good tempo.  I feel like we're very competitive."
It's early but the first day's tally is Sanchez-1, Tebow-0.  Keep your scorecards handy.
Original Story:
http://ihatelupica.blogspot.com/2012/...
THE BACKYARD
BEST OF MAXIM
RELATED ARTICLES
HEAT OF BATTLE
Mark Sanchez and Tim Tebow are in competition for the Jets quarterback job, so it's no surprise that Sanchez's agent is backing his client.
GOT YOUR BACK
Tim Tebow came to the defense of a high schooler who was punished for "Tebowing" during his senior graduation ceremony.
With organized team activities having begun this week across the NFL, the Tim Tebow watch is officially underway in New York. While it would take a training camp miracle for Tebow to earn the starting quarterback job over Mark Sanchez, he's a hard worker who has made that his goal. On Thursday, reports from Jets camp were that Sanchez looked extremely sharp while Tebow missed a...
Gotta believe Sanchez has INT bounties on Tebow after learning this morning that Baby Jesus went back-to-back in the INT department during his first OTA practice with the Jets. Seriously, wouldn't you throw some coin to the defense if you were Mark Sanchez? $5,000 per INT. $10,000 if you rip Tebow in a post-practice interview with WFAN. Maybe drop a "Mark Sanchez is looking sharp"...
Mark Sanchez was sharp in the New York Jets' first session of organized team activities open to the media, while backup Tim Tebow threw two interceptions in a three-play span. While it's only May, and the Jets have made it clear that Sanchez is the starting quarterback, it was an encouraging performance. The play of the day was Sanchez's 80-yard toss to speedy second...
A few weeks back we found out Tebowing will be in the Madden 13 video game after players make good plays.  Here is a preview of Tim Tebow doing his patented move in his new Jets jersey.  Gotta say I really hate the Jets, but I can see myself using them a lot more just so I can Tebow all over my opponents faces.  The game is set to release August 28.  Like this post? Check...
Tim Tebow may be finding out that he's not well liked by his own football team, because the New York Daily News is reporting that Tebow was made fun of by a few teammates during practice. Thursday morning, a few players awaited for Tebow to show up to the Jets training camp. When Tebow arrived, the players began to pick at the backup quarterback.According to the report, the...
Mark Sanchez looks stronger and healthy, coach Rex Ryan said. But all eyes at the Jets' first organized team activity open to the media were on the backup quarterback. Tim Tebow often appeared a step behind in the team's seven-on-seven drills and threw two interceptions on plays he later said were brand new. Linebacker Bart Scott, who drew praise from Ryan for "being...
Tim Tebow is a second string NFL quarterback for the New York Jets who is best suited as a special teams player who makes occasional wildcat appearances under center. LoLo Jones is a Unites States Olympic hurdler getting ready for the 2012 Summer Olympics in London, looking to bring home a gold medal. Aside from both being considered wildly popular in their respective sports, the...
Since Olympic hurdler Lolo Jones revealed that she is still a virgin on Twitter recently, people have been suggesting that she date Tim Tebow. Why? Because people are immature, and naturally any two virgins who are popular athletes and happen to be above the age of 24 would be perfect for each other. That's the way the world works. Rather than pretend she has not heard the suggestions...
Be sure to follow me on Twitter for more Broncos updates throughout the day. Denver Broncos News Denver Broncos Team Report | USA Today Broncos fans near and far saw the pictures and watched the video of Peyton Manning holding up a No. 18 Broncos jersey at his introductory press conference in March and could scarcely believe their eyes. Broncos are better off without Tebow in town...
If you weren't already enthralled by the manufactured Tim Tebow and Mark Sanchez quarterback competition that has been shoved down your throat by most media outlets yet, there's still time to get sucked in. The New York Jets opened up OTAs to the media for the first time today, and the media responded in a hilariously idiotic way. And yes, they still want you to believe that...
Jets News

Delivered to your inbox

You'll also receive Yardbarker's daily Top 10, featuring the best sports stories from around the web. Customize your newsletter to get articles on your favorite sports and teams. And the best part? It's free!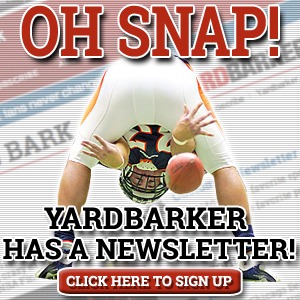 Latest Rumors
Best of Yardbarker

Today's Best Stuff

For Bloggers

Join the Yardbarker Network for more promotion, traffic, and money.

Company Info

Help

What is Yardbarker?

Yardbarker is the largest network of sports blogs and pro athlete blogs on the web. This site is the hub of the Yardbarker Network, where our editors and algorithms curate the best sports content from our network and beyond.