Found November 16, 2011 on Fox Sports:
PLAYERS:
Aaron Rodgers
,
Adrian Peterson
,
Andy Dalton
,
Joe Flacco
,
Ray Rice
,
Mark Sanchez
,
Matt Cassel
,
Carson Palmer
,
Matthew Stafford
,
Rex Ryan
,
Antoine Winfield
,
Christian Ponder
,
Ben Roethlisberger
,
Beanie Wells
,
Cedric Benson
,
Marshawn Lynch
,
Chris Ogbonnaya
,
Peyton Hillis
,
Montario Hardesty
,
Maurice Morris
,
Jon Beason
,
Jahvid Best
,
Chris Johnson
,
James Starks
,
Brandon Jacobs
,
Ahmad Bradshaw
,
Eric Decker
,
Tim Tebow
,
Greg Little
,
Colt McCoy
,
Roddy White
,
Matt Ryan
,
Denarius Moore
,
Mike Williams
,
Michael Crabtree
,
Frank Gore
,
Dustin Keller
,
Jermaine Gresham
,
John Harbaugh
,
Fred Davis
,
Rex Grossman
,
Kellen Winslow
,
Jimmy Graham
,
Owen Daniels
TEAMS:
Green Bay Packers
,
Minnesota Vikings
,
Cincinnati Bengals
,
Baltimore Ravens
,
New York Jets
,
Kansas City Chiefs
,
Oakland Raiders
,
Detroit Lions
,
Pittsburgh Steelers
,
Arizona Cardinals
,
Seattle Seahawks
,
Cleveland Browns
,
Carolina Panthers
,
Tennessee Titans
,
New York Giants
,
Denver Broncos
,
Atlanta Falcons
,
San Francisco 49ers
,
Washington Redskins
,
Tampa Bay Buccaneers
,
New Orleans Saints
,
Houston Texans
During our final week of byes, our Position vs. Fantasy Defensive Points Allowed tool will do its best help you find good matchups. It goes to sleep at night dreaming of ways to make your fantasy team better. As always, please remember that the players listed are mostly meant to be borderline guys, who need reasons for you to play or bench them. You won't see recommendations to start Aaron Rodgers and Adrian Peterson, because you should always start Aaron Rodgers and Adrian Peterson. Also, any league rankings mentioned reference fantasy ranking, and not real ones, unless otherwise noted. Note: The fantasy points per game (FPPG) referenced below are from FOXSports.com standard leagues. Week 11 Byes: Texans, Steelers, Colts, Saints Thursday game: Raiders at Chargers Quarterbacks Stay away: Andy Dalton, Bengals (at Ravens) The redheaded rookie has been racking up the touchdown passes lately, with seven in his last three games. However, he has completed only 56 percent of his passes and averaged 185 passing yards over that span, so everything isn't going so well. Dalton's upcoming road date with the Ravens matches him up against the league's stingiest team against opposing fantasy quarterbacks (10.1 FPPG). No, thanks. Also: - On the other side of the ball in Baltimore, Joe Flacco faces a Bengals' D that ranks sixth against opposing QBs, allowing 14.1 FPPG. Flacco has been putting up big passing numbers lately, averaging 267 yards over his last five games. But at some point, don't the Ravens have to increase the workload for underutilized RB Ray Rice? The bet here is that Rice carries the load this week, pushing Flacco into a supporting role in this difficult matchup. Play, play, play: Mark Sanchez, Jets (at Broncos) The Sanchize was in this space last week, and he didn't disappoint, throwing for 306 yards and a score while adding his third rushing touchdown of the season. On Thursday night, he faces a Bronco defense that has allowed more FPPG (24.1) than anyone in the league. Before shutting down Matt Cassel last week, they gave up 332 yards and three TDs to Carson Palmer in Week 9, as well as 267 yards and three TDs to Matthew Stafford in Week 8. To paraphrase Rex Ryan, %$#@ yeah! , you should start Sanchez. Also: - Speaking of Palmer, he has shown that he likes his speedy young wideouts, throwing for 631 yards and five touchdowns in his first two Raider starts. Next up for the Silver and Black is a porous Vikings' passing D that has allowed 23.7 FPPG (31st in the league) to opposing quarterbacks, and just lost CB Antoine Winfield for the season. If you picked up Palmer a couple of weeks ago, roll with him again. - Christian Ponder is a rookie on a big learning curve, but he hasn't looked too bad so far, and will confront a Raiders' defense that is allowing 21.3 FPPG (27th in the league) to opposing quarterbacks. Ponder isn't for everyone, but if you're desperate - like I am in one league, with Ben Roethlisberger on a bye and Matt Cassel out for the season - you can consider him due to the advantageous matchup. Running Backs Stay away: Beanie Wells, Cardinals (at 49ers) Is Wells' nagging knee injury hurting his production? He has 82 yards on 33 carries over the last two games, so it's fair to be skeptical. On Sunday, Wells and the Cardinals visit the league-best 49ers' rushing defense, which has allowed just 73.2 rushing yards per game and 10.2 FPPG to opposing runners. Stay away from Beanie if you can. Also: - Cedric Benson ... zzz. Benson is averaging fewer than four yards per carry this season, but because he's also averaging 19 carries per game, his overall numbers come out looking pretty good. However, even a busy Benson could be in for a long day in Baltimore. The Ravens got pummeled on the ground by Marshawn Lynch and the Seahawks last week, but otherwise have been near the top of the league in run defense (12.8 FPPG to opposing backs). - Chris Ogbonnaya ran for 90 yards last week, and as we've noted previously, there's value in being the last man standing in a backfield (Peyton Hillis and Montario Hardesty will both miss Week 11). Unfortunately, running against the soft Rams is a lot different than battling the eighth-ranked Jaguars (14.6 FPPG to opposing RBs). Don't get your hopes up for Ogbonnaya. Play, play, play: Maurice Morris, Lions (vs Panthers) When you're not such a great defense to begin with, and lose two of your three starting linebackers (including three-time Pro Bowler Jon Beason) early in the season, you're going to have a rough time against the run. The Panthers have been terrible, ranking last in the NFL with 26.2 FPPG allowed to opposing running backs. With Jahvid Best expected to miss at least one more game due to his concussion issues, look for Morris to step up with a strong outing. Heck, even Chris Johnson ran for 130 yards on these guys last week. Also: - James Starks has clearly emerged as the best back in Green Bay, totaling 253 rushing yards over his last four games while carrying 13 times in each outing. Starks' workload makes him a sometimes start rather than an all-the-time start for fantasy owners, but against the Bucs - who rank 31st with 26.1 FPPG allowed to opposing running backs - you should plan to get him in there. - Giants RB Brandon Jacobs had a tough day against the 49ers, but doesn't everyone? This week - assuming that Ahmad Bradshaw is still out - he'll have the much easier task of running against the Eagles, who rank 27th in the league with 21.8 FPPG allowed to opposing backs. If you're in a pinch, you can also consider D.J. Ware, who had 14 touches and 68 yards from scrimmage as Jacobs' sidekick in Week 10. Wide Receivers Stay away: Eric Decker, Broncos (vs. Jets) I don't care if Decker caught a 56-yard touchdown pass from Tim Tebow against the Chiefs, and has scored in three straight games. Tebow threw eight (!!!) passes against the Chiefs, and completed two (double !!!) of them. On Thursday night, Decker is likely to reside on Revis Island on the rare occasions when the Broncos pass. The Jets rank fourth in the NFL with 16.1 FPPG allowed to opposing wideouts. Sounds bad, right? Decker has too many factors working against him to be in your lineup this week. Also: - Browns WR Greg Little hasn't had the breakout rookie season that some people expected, but he is Colt McCoy's favorite target, and he had his best game of the season in Week 10 with six receptions for 84 yards. Unfortunately, the Jaguars (15.3 FPPG vs. opposing wide receivers, second in the league) stand ready to make Little's life difficult on Sunday. If you've been getting excited about him, you might want to calm yourself down when setting your lineup. - Bench Roddy White? Yeah, maybe. This year's first- or second-ranked draft-day receiver has been a disappointment, going 47-563-3 in his first nine games. White is still getting a fair number of looks from QB Matt Ryan, but not as many as he used to. Against the sixth-ranked Titans' defense (16.5 FPPG to opposing wide receivers), White could be held in check yet again. If you have another wideout that can do better than, say, five receptions for 70 yards, then play him. Play, play, play: Denarius Moore, Raiders (at Vikings) In many leagues, Moore has just been picked up off the free-agent wire. If you're one of this talanted rookie's owners, don't be shy about getting him into the lineup right away. Moore's breakout performance (five receptions, 123 yards, two TDs) against the Chargers in Week 10 was no fluke, as he was targeted 12 times by Carson Palmer against the Broncos in Week 9. Moore will again be in Palmer's sights against the Vikings, who rank 30th with 25.8 FPPG allowed to opposing wideouts. Also: - Mike Williams, again? I know, I know. He's been killing you, especially after catching just two passes for 23 yards against the Saints in Week 10. However, he had six receptions in each of his previous three games, and gets to face a Packers' defense that has given up 24.4 FPPG to opposing wide receivers (27th in the league). You should hope for a Packer blowout that will have Bucs QB Josh Freeman throwing to Williams throughout the second half. This strategy didn't work for Christian Ponder last week, but it's worth trying again. - Michael Crabtree is better in PPR leagues than standard formats, but he's worthy of everyone's consideration against the Cardinals, who rank 24th with 23.4 FPPG allowed to opposing wide receivers. With Frank Gore's status iffy due to a knee injury, the Niners may need to throw more than usual. Gore's status will have a direct effect on Crabtree's value this week. Tight Ends Stay away: Dustin Keller, Jets (at Broncos) Keller has been inconsistent this season, but you'll see some people recommending him this week due to the Broncos' weak pass defense (see Mark Sanchez's entry above). Though the Broncos have been too permissive against wide receivers, they've actually been solid versus opposing tight ends, allowing just 5.1 FPPG (fourth in the league). Keep Keller on your bench. Also: - Like the rest of the Bengals, Jermaine Gresham figures to have a hard time producing strong fantasy numbers against the Ravens. John Harbaugh's troops have allowed a microscopic, league-low 3.5 FPPG to opposing tight ends, and that's enough for me. Play, play, play: Fred Davis, Redskins (vs. Cowboys) Hang in there, Davis owners. Your guy has caught just seven passes for 70 yards in his last two games, which has to be very frustrating if you've been expecting him to become a fantasy stud (as many of us have). Davis has a friendly matchup coming against the Cowboys, who rank 30th with 9.9 FPPG allowed to opposing tight ends. Davis continues to get plenty of targets, and since the 'Skins are down to Davis, Jabary Gaffney, their 29th-string wide receiver and the retired Art Monk as receiving targets, Rex Grossman has to complete passes to someone. Keep the faith, and start Davis this week. Also: - Why should you trust Kellen Winslow, who has surpassed 44 yards in a game just twice this season? Well, "trust" is a strong word, but the Packers' bad pass defense is an equal-opportunity outfit, having allowed 9.3 FPPG to opposing tight ends. If you're hunting for a starter, maybe with the beastly Jimmy Graham or the solid Owen Daniels on byes, Winslow could be a nice plug-and-play option. Fantasy Football News and Notes | Week 11 Starts and Sits Gallery
Original Story:
http://msn.foxsports.com/fantasy/foot...
THE BACKYARD
BEST OF MAXIM
RELATED ARTICLES
OFF THE MARK
Time Keeps on Ticking, Ticking, Ticking...Is This the Future?Let me just get it off my chest. I'm starting to get more than a little frustrated with Mark Sanchez. Tomorrow night in Denver will do little to sway me one way or the other. However, I've tried to step back of late and really assess my thoughts on the quarterback the Jets selected with the #5 pick in the 2009 NFL...
Let's start with something comforting Despite a recent rough patch of games, Mark Sanchez still is on the exact same pace that Eli Manning was on to start his career and we see how Eli has turned out. Sanchez is not without blame, he is inconsistent, inaccurate and gets jittery in the pocket. However, I am still of the belief that he has the physical tools and leadership abilities...
Mark Sanchez brushed off the recent criticism from Jets coach Rex Ryan, saying the botched timeout against the Patriots was "a stupid play."
For Mark Sanchez, two AFC championship games in his first two years as a pro hasn't been enough to silence his doubters. Tim Tebow took over a 1-4 Broncos team that is now 4-5 under his leadership. Instead of admiring Denver's re-entry back into the AFC West race since Tebow got behind center, detractors question his ability to throw the football. When the Jets and Broncos take...
DENVER — Mark Sanchez couldn't beat Tim Tebow last night. And that's about all you really need to know about him. Blame him for the loss. He said so himself. "It's just an embarrassing day for me," Sanchez said after the Jets' 17-13 loss to the Broncos last...
QB Problem?  Who says the New York Jets have a QB problem?For head coach Rex Ryan, it's Mark Sanchez or nothing."Shoot, I'm extremely confident," Ryan said  about his quarterback on a conference call, Friday. "I'll go out there … [visit site to read more]Rex Ryan says Jets Sanchez will be QB "as long as I am here" - The Jet Press - The Jet Press - A New York Jets...
After a humbling defeat at home to division rival New England in prime time on Sunday, the Jets have ot man up for another AFC matchup on Thursday. Can Mark Sanchez and co rebound?
Top receiver dealing with hyperextended right kneeMuch has been made about the development of Cincinnati Bengals rookie quarterback Andy Dalton, and rightfully so.
Let's not sugarcoat anything from the New York Jets game last night. It was embarrassing to make the number of mental errors they did. The table was set perfectly for them to make a run for a AFC East title and they choked. Nobody played well. Nobody coached well. Now for some perspective: despite a missed chip shot field goal, a muffed punt, a tipped ball interception, horrific...
NFL News

Delivered to your inbox

You'll also receive Yardbarker's daily Top 10, featuring the best sports stories from around the web. Customize your newsletter to get articles on your favorite sports and teams. And the best part? It's free!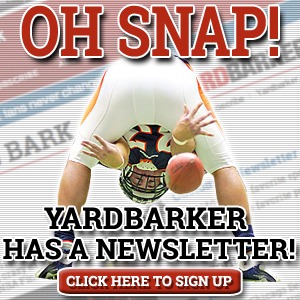 Latest Rumors
The Backyard

Today's Best Stuff

For Bloggers

Join the Yardbarker Network for more promotion, traffic, and money.

Company Info

Help

What is Yardbarker?

Yardbarker is the largest network of sports blogs and pro athlete blogs on the web. This site is the hub of the Yardbarker Network, where our editors and algorithms curate the best sports content from our network and beyond.