Found March 30, 2012 on Turn On The Jets:
Big bad Santonio Holmes is at it again. The poster boy for the New York Jets locker room dysfunction grabbed himself a front page of The Daily News by giving the following quotes to Manish Mehta in the middle of one of his off-season workouts in Florida -
"The media don't make me and the media don't break me…I am Santonio Holmes and that's it"
"You haven't seen Santonio Holmes stories in the news since the season was over"
"My offseason is just beginning"
"I don't care"
Yes, that's it. That is everything Santonio Holmes said, everything else that is being trumped as headline material was said by an unnamed player who trains with Holmes or his strength coach Tom Shaw. All those words about "chanting for Tebow" or wanting "the damn ball" didn't come from Holmes mouth, they came from yet another anonymous source or a strength coach.
Unfortunately, most people have been too lazy to make this distinction and are ripping Holmes for his continued selfishness. In reality, all he has done this off-season is stay out of the limelight and spend two weeks in Africa helping impoverished kids with Pros For Africa. Of course that received no media coverage…that received no headlines. Doing charity work doesn't sell newspapers unless you are Tim Tebow.
There is nothing wrong with Holmes saying the media doesn't break him, because it shouldn't. Just like he said, he shouldn't give a damn what is being written about him. All he is currently doing is minding his own business, staying out of trouble and working out in Florida to get ready for next season.
The guy made a mistake in the Miami game last year. He was frustrated from being given a number one receiver role and not receiving the looks he desired down the stretch. His behavior was unacceptable but one bad week shouldn't define his NFL or Jets career, just like we say three bad games last year shouldn't define Mark Sanchez's career. Holmes is a Super Bowl MVP and without his clutch play in 2010, the Jets get nowhere near the AFC Championship Game.
The media and fanbase love to pick villains and they have one in Holmes. Don't blindly hop the bandwagon without taking the time to comprehend what the media is trying to do with a story like this.
Original Story:
http://turnonthejets.com/2012/03/sant...
THE BACKYARD
BEST OF MAXIM
RELATED ARTICLES
New York Jets wide receiver Santonio Holmes made headlines for all the wrong reasons last season. Holmes reportedly had issues with quarterback Mark Sanchez throughout the season and was benched during the final game after arguing with teammates in the huddle. Veteran running back LaDainian Tomlinson cited Holmes - a team captain - for the discord in the team's locker room...
SO LET IT BE TWEETED
The new Jets quarterback broke an 18-day silence on Twitter to introduce himself to his new legions of fans in New York and to thank his fans back in Denver for all their support.
NOT SO FAST
Reebok was sued by Nike for selling Tim Tebow Jets jerseys, and it looks like Nike has won for now.
If Tim Tebow has his sights set on Mark Sanchez's job, the New York Jets backup quarterback is keeping it to himself. Tebow told 1050 ESPN Radio on Friday that he's ''not sure'' if he'll ever be a starting quarterback again, and that thought doesn't even concern him right now. ''I don't know what the future holds, but I know who holds...
Lost in all the hoopla surrounding the Tim Tebow trade and the "who will be the quarterback?" discussion in New York is Santonio Holmes. As the 2011 season progressed, the Jets big-money receiver grew increasingly unhappy with his lack of touches. If Rex Ryan and new offensive coordinator Tony Sparano plan to incorporate the wildcat this season and give Tebow 20 snaps per game...
While everyone in Jets Nation is wondering how Mark Sanchez will react with Tim Tebow as his back-up, Sanchez is busy training in Orange County, California with trainer Todd Norman. Who said Mark Sanchez doesn't work hard? #TeamSanchez all the damn way!
Darrelle Revis shattered any ideas that the Jets' locker room issues were a thing of the past. The star cornerback made a series of promotional appearances on a variety of television and radio shows Wednesday and talked about quarterbacks Tim Tebow and Mark Sanchez. But his most revealing comments were about the dysfunctional Jets locker room. On "SportsCenter," Revis...
Apparently, it's not bad enough to begin with that Tim Tebow is moving in on New York Jets quarterback Mark Sanchez's turf on the team's roster, now rumors are that Tebow is moving in on the incumbent Jets starting quarterback's neighborhood. CNBC reports (by way of Shutdown Corner) that Tebow is eyeing a luxurious rental [...]
If there are any Jets who are still apprehensive about the Tim Tebow trade, they can now cast their doubts aside. Their fearless leader has chimed in, and he has given the move his stamp of approval. The team's most famous (and insufferable) fan, Fireman Ed, has given the Tebow trade his blessing, even if it does turn up the heat on incumbent starter Mark Sanchez. "You got...
What better tour guide for Tim Tebow than the woman who sings "Like a Virgin." With the NY Jets, officially announcing the acquisition of Tim Tebow, Madonna has offered to show the quarterback around his new city. The hospitality first came up when Ryan Seacrest Tweeted Madonna: "Since @TimTebow is moving to ny now, will you show him around?" Madonna replied: "Id love...
Jets News

Delivered to your inbox

You'll also receive Yardbarker's daily Top 10, featuring the best sports stories from around the web. Customize your newsletter to get articles on your favorite sports and teams. And the best part? It's free!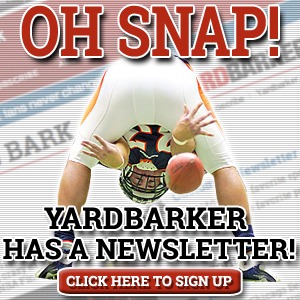 Latest Rumors
The Backyard

Today's Best Stuff

For Bloggers

Join the Yardbarker Network for more promotion, traffic, and money.

Company Info

Help

What is Yardbarker?

Yardbarker is the largest network of sports blogs and pro athlete blogs on the web. This site is the hub of the Yardbarker Network, where our editors and algorithms curate the best sports content from our network and beyond.