$.01—It wasn't the most compelling game of the week, but the Green Bay/Minnesota tilt wound up being the one with the most significance on the rest of the NFL season. That's because Aaron Rodgers left the game with a broken right (throwing) collarbone early on in the Vikings 23-10 home win.Rodgers is now out at least six weeks, and that's an absolute best-case scenario. If he needs...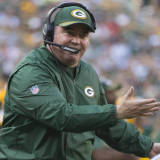 The NFL is going strong, and we're imagining a world where the NFL adds a hotline for players, coaches and GMs to call to complain about penalties, get clarification on rules and challenge replay challenges – just like the NBA. Of course, commissioner Roger Goodell may change the phone number at any time. All responses are about as authentic and real as Ezekiel Elliott's tackling...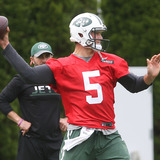 The legend of Christian Hackenberg continues to grow. And by legend, we mean the horrifying tale of ineptitude that plagues the former Penn State passer.We've already heard how bad Hackenberg's tape was from preseason last year — horrifying was how one scout described it. Apparently, he's not improved since last summer.According to Connor Hughes of NJ.com, in three OTA sessions open...
Want more news first thing in the day? Sign up for the Yardbarker Morning Bark newsletter here. Good morning and welcome to the YB Box Score, what we're reading while we wish the Giants and Nationals would just chill out for a second. Happy birthday today to Joe Namath, Jim Craig, Kenny Lofton, Dave Roberts, Matt Harpring, Jake Peavy and Nate Robinson!On this date in 1935, Babe Ruth...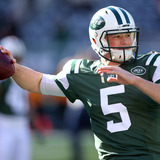 New York Jets legend Joe Namath is rooting for a rather surprising competitor to win the team's quarterback job.Namath is pulling for second-year quarterback Christian Hackenberg to take over the job instead of veteran Josh McCown."I'd like to see Hackenberg get a shot, and I'd like to see him win the job," Namath said Tuesday, via Rich Cimini of ESPN. "That would give us the [hope...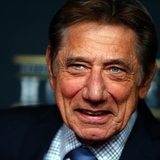 Joe Namath made one of the most famous predictions in sports history, and then went out and led his New York Jets to a shocking Super Bowl III victory over the heavily favored Baltimore Colts of the NFL. Since then, "Broadway Joe" has become a caricature of himself and made plenty of wild predictions that have not made much sense in the real world. Perhaps Namath was drunk in public...
Denver Broncos quarterback Mark Sanchez, who is playing with his third NFL team, has a firm believer in Hall of Fame quarterback Joe Namath. In attendance at a charity event in New York City, Namath shared his support for Sanchez, indicating that he believes the much-maligned quarterback will be around the league for quite some time: "My mind, my experience, sees a quality person...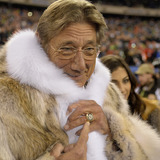 By Jesse Reed New York Jets legend Joe Namath is convinced he's found the cure for concussion-related brain damage. The Hall of Fame quarterback took his fair share of crushing blows to the head during his playing days. He was completely knocked out at least five times in his career "with no treatment except smelling salts," per ESPN's Peter Keating. As a result, Namath began experiencing...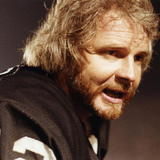 By Vincent Frank Despite a premature report earlier in the day that led to confusion surrounding the status of former NFL quarterback Ken Stabler, his family has confirmed that the all-time great passed away on Thursday at the age of 69. Here's part of the statement confirming Stabler's death: "He was a kind, generous and unselfish man, never turning down an autograph request...
Johnny Manziel was one of the most heavily scrutinized college football players of all time, and the criticism has carried over into the start of his NFL career. Manziel has been partying it up in Las Vegas in between workouts, which has given some the impression that he is not taking his career seriously. Not […]
MORE STORIES >>
NFL News

Delivered to your inbox

You'll also receive Yardbarker's daily Top 10, featuring the best sports stories from around the web. Customize your newsletter to get articles on your favorite sports and teams. And the best part? It's free!