Found July 18, 2012 on Down and Distance:
New York Jets wide receiver Santonio Holmes wants the New York media to be more supportive of the team (Credit: AP Photo/Julio Cortez)
During an appearance on an NFL.com podcast with Dave Damesheck, Santonio Holmes commented on his current relationship with Jets quarterback Mark Sanchez.
"One day you have a fight the next day you make up," Holmes said.
He also took some time to offer an interesting bit of advice to the New York media.
"If you guys want to be, and this is for the New York media, if you guys want to be a part of our team and want to feel so important, be there to support us, not to try to break us down," Holmes said. "Because [there's] not one day that we all step in that locker room and we try to break each other down, that we talk bad about the way that person played because it affects the team the way one person plays if they don't play to perfection.
"If the New York media wants to be a part of our team and wants to continue writing about us, write positive things, stay away from the negative because it doesn't do anything good for our team that you want to report all the negative things that happen and that's all you want to talk to us players about. We live for one thing and that's to play football and not to entertain you people in the media."
Holmes seems to be in the wrong city and most likely the wrong sport, if he expects the media to baby the New York Jets.
The post Santonio Holmes wants more support from New York media appeared first on DOWN & DISTANCE.
Original Story:
http://sports-kings.com/downanddistan...
THE BACKYARD
BEST OF MAXIM
RELATED ARTICLES
Santonio Holmes did an interview on the NFL Network last night, most of you probably saw it and more of you surely know about the interview and what he said by now. I don't normally like to write a piece on someone else's interview that everyone has access to, but like Will McAvoy from the new HBO show The Newsroom, "I'm on a mission to civilize."This isn'...
Shockingly enough the New York media and the mainstream media will occasionally twist headlines to generate some type of controversy. We will use this series of columns to review what was actually said and whether there is any reason to be up in arms about it. Today's topic is Santonio Holmes interview on the NFL Network last night - Here are the headlines that have been generated...
AIN'T NO SHERLOCK
Jets wide receiver Santonio Holmes recently requested that the New York media focus on only the positive stories about the team and stay away from the negative.
Santonio Holmes is entering his third season with the Jets, but apparently he is still somewhat unfamiliar with the way things work in New York. The media are not your friend. Writers and reporters may try to build close relationships with the players so they can get quotes for their stories and successfully do their jobs, but they are just as happy with a locker room that is in...
Jets receiver Santonio Holmes knows all about getting bad press. Mainly because he has a penchant for doing things that causes the media to write negative things about him. For example, remember just last season when he supposedly quit on the Jets in the final two minutes of their season-ending game? Holmes apparently even got into a shouting match with teammate Wayne Hunter during...
Getty Images New York Jets wide receiver Santonio Holmes was a guest on the NFL Network via ProFootballTalk.com and said that having two quarterbacks taking the first-team reps won't work in the NFL. "I don't think so," Holmes said. "Because you have to allow one quarterback to get in the rhythm of a game. And it starts from the preparation of practice." Holmes believes...
Last night Santonio Holmes appeared on NFL Network, and stated that in his estimation, a NFL team can't win using two QBs. "No, I don't think so," Holmes said. "You have to allow one quarterback to get into the rhythm of the game. It starts from the preparation in practice, knowing the first couple of [...]
Jets mercurial wideout Santonio Holmes shared his thoughts with the NFL network crew on how he thinks Mark Sanchez and Tim Tebow will coexist in New York.
Unlikable New York Jets wide receiver Santonio Holmes said yesterday on NFL Total Access that a two-quarterback system featuring Mark Sanchez and Tim Tebow can't work. "You have to allow one quarterback to get into the rhythm of the game," … Continue reading →
"Hello God, are you there? It's me, Santonio."New York Jets wide receiver Santonio Holmes likes to talk. A lot. And sometimes when he speaks, he says something that is either less-than-smart or can be misconstrued and manipulated into something stupid. So it shouldn't surprise anyone that Holmes gave the sports media more firepower than it already needed when he told...
Ir is highly unlikely that the Jets brought in Tim Tebow simply to be a backup quarterback or a contributor on special teams. As Rex Ryan and the New York coaching staff have mentioned, Tebow is expected to receive several snaps per game and be a big part of the team's offense. He may be bluffing, but Ryan has made it clear that opponents should be ready for a dose of both Mark...
With less than a week to go before the New York Jets report to Cortland for the start of training camp, there have been countless topics and stories emerging on the Gang Green front, some good, some not so good. Regardless of what most sports books are predicting, we are carrying on as usual here at Turn On The Jets. For this week's edition of New York Jets Fact Or False, we'll...
Jets News

Delivered to your inbox

You'll also receive Yardbarker's daily Top 10, featuring the best sports stories from around the web. Customize your newsletter to get articles on your favorite sports and teams. And the best part? It's free!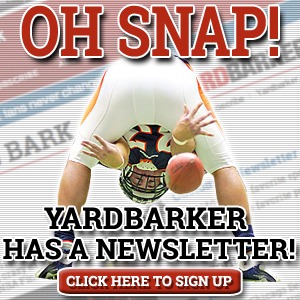 Latest Rumors
The Backyard

Today's Best Stuff

For Bloggers

Join the Yardbarker Network for more promotion, traffic, and money.

Company Info

Help

What is Yardbarker?

Yardbarker is the largest network of sports blogs and pro athlete blogs on the web. This site is the hub of the Yardbarker Network, where our editors and algorithms curate the best sports content from our network and beyond.