Found July 25, 2012 on Fox Sports Arizona:
PLAYERS:
BenJarvus Green-Ellis
,
Mark Anderson
,
Andre Carter
,
Jonathan Fanene
,
Trevor Scott
,
Chandler Jones
,
Dont'a Hightower
,
Tavon Wilson
,
Joseph Addai
,
Stevan Ridley
,
Shane Vereen
,
Danny Woodhead
,
Kevin Faulk
,
Brandon Lloyd
,
Josh Mcdaniels
,
Wes Welker
,
Ras-I Dowling
,
Sterling Moore
,
Julian Edelman
,
Santonio Holmes
,
Matt Light
,
Ted Thompson
,
Marshall Newhouse
,
Derek Sherrod
,
Chad Clifton
,
Aaron Rodgers
,
Jeff Saturday
,
Peyton Manning
,
Scott Wells
,
Randall Cobb
,
Greg Jennings
,
Jordy Nelson
,
James Jones
,
Donald Driver
,
Nick Perry
,
Jerel Worthy
TEAMS:
New England Patriots
,
New York Jets
,
Green Bay Packers
,
St. Louis Rams
,
Mississippi State Bulldogs
To get you fully prepared for the unofficial start of the 2012 NFL season, we're ranking every team from worst to first in the weeks leading up to the opening of training camps. Every day, we'll be previewing two teams, one from each conference, analyzing them from top to bottom and giving you all you need to know to be an informed fan. What's the major storyline heading into camp? What's the key training camp battle to watch? Who's the young guy to watch? Is there any hope? Today's two teams: The New England Patriots and the Green Bay Packers. No. 2 New England Patriots Training Camp Site: Gillette Stadium, Foxboro, Massachusetts Training Camp Start Date: July 25 BetOnline.com Preseason Super Bowl Odds: 6-1 What I Like About You: Brady, Belichick, Gronk and the addition of some top flight wide receivers and pass rushers. What I Dont Like About You: The team got by despite a third-tier defense last season, the offensive line still has some issues, and the running game could take a step back without BenJarvus Green-Ellis. The Burning Question: Whats up with the pass rush? For the second straight season, the Patriots struggled in getting to the passer last year. Though Mark Anderson and Andre Carter had a surprise seasons, there wasnt much else in terms of pass rush, and neither guy is back for 2012. So the Pats signed Jonathan Fanene and Trevor Scott and drafted a slew of defensive players including Chandler Jones, Donta Hightower and safety Tavon Wilson. Theyve got the personnel. Now, lets see how they execute. Key Training Camp Battle to Watch: No. 1 running back: Joseph Addai vs. Stevan Ridley vs. Shane Vereen vs. Danny Woodhead: The past few seasons, the Patriots have employed a successful running back-by-committee attack, with guys like Woodhead, Kevin Faulk and others pitching in when and where necessary. But the "bell cow" and main guy has been BenJarvus Green-Ellis. The Human Law Firm finally got paid big bucks this offseason by the Bengals, leaving a bit of a hole at running back. Lets not underestimate BJGEs impact on the offense the guy scored 24 touchdowns the past two seasons. Both Ridley and Vereen are entering Year 3 of their careers and are expected to step up (or at least, do something). Addai could be the guy, though. Picked up for next to nothing (relatively, at least), he could end up being the No. 1 back in this offense. The New Veteran in Town: Brandon Lloyd, wide receiver: After incredible media hype in the offseason, Ochocinco caught only 15 balls in the regular season. Insert Brandon Lloyd, whose signing received considerably less media attention this spring. Lloyd has a leg up on Ocho hes had great success working in Josh McDaniels offense in the past. Look for him to have a big year, working opposite of Wes Welker. The Young Gun To Watch: Ras-I Dowling: Dowlings been the forgotten man for some time now, having gone on injured reserve and missing the bulk of the 2011 NFL season. But the man can play. Theres a reason he was taken so early in the 2011 NFL Draft and that reason is his coverage capabilities. This was a patchwork defensive backfield last season (Sterling Moore! Julian Edelman!), and Dowlings return is greatly anticipated. A big corner, he can go against players like Santonio Holmes and Stevie Johnson in the AFC East and more than hold his own. He just needs to stay on the field. He just needs to stay healthy. Schrager Prediction: Matt Light, Mark Anderson and BenJarvus Green-Ellis were solid players, but this team will be more than fine without them. The addition of Chandler Jones and Hightower to the defense, the Lloyd acquisition, and the motivation of losing a second Super Bowl to the Giants in five years will keep this train rolling. I think the Patriots not only go back to the Super Bowl, but they do so without any real challenge in the playoffs. Final Prediction: 1st place, AFC East No. 1 Green Bay Packers Training Camp Site: St. Norbert College, Green Bay, Wis. Training Camp Start Date: July 25 Preseason BetOnline.com Super Bowl Odds: 6-1 What I Like About You: Everything. The offense is a juggernaut, the defense improved during the offseason and the coaching staff is among the leagues best. Add in a collective chip on the shoulder for the way last season ended, and this should be a team you dont want to face. Ever. What I Dont Like About You: The pass defense. For as many sacks and interceptions as this team racked up last season, teams threw the ball all over them. The unexpected case of the "dropsies" that stung the entire receiving corps in the playoff loss to the Giants was worrisome, too. Burning Question: Can they defend the pass? The Packers allowed a league-record 4,796 net passing yards last season. A league record! And they still went 15-1. Now, just imagine how good theyd be if they could actually stop someone from throwing passes all day long. Granted, a lot of those yards came against teams putting up big numbers in garbage time, but even still, 4,796 passing yards? Thats a ton. So Ted Thompson did what good GMs do. He loaded up on defensive talent. Green Bay spent its first six yes, six draft picks on defensive players. The Packers should be better against the pass this year. Hell, they cant be any worse. Training Camp Battle to Watch: Left tackle: Marshall Newhouse vs. Derek Sherrod: After 12 seasons in the league, Chad Clifton was unceremoniously let go by the Packers this offseason. Thats the business. The heir apparent is Newhouse. Though he struggled at times last year, he also showed great promise. The challenger, however, will be Sherrod, the teams first round pick out of Mississippi State in 2011. After breaking his leg late last season, Sherrod missed what will end up being his second straight springsummer session on the field. Sherrod never got caught up to speed with the offense and made little impact in his rookie year. If healthy and in shape by training camp, he could be the surprise choice to protect Aaron Rodgers blind side in Week 1s highly anticipated bout with San Francisco. The New Veteran in Town: Jeff Saturday, center: Everyone just kind of assumed Saturday was going to enter the world of broadcasting (hes high up on every networks list of future ex-players) or the Broncos with Peyton Manning. Instead, he signed with Green Bay. And not a one-year deal, but a two-year contract. Any questions about Saturdays age (hes 37) should be offset by the fact that hes started every game the last three seasons of his career. Beyond being the voice of the Colts offensive line, Saturday was the voice of the players during the NFL lockout. There are a small handful of player respected by peers as much as Jeff Saturday. He brings bite, skill and leadership to a Packers offensive line that lost both Clifton and Scott Wells this offseason. The Young Gun to Watch: Randall Cobb, wide receiverkick returner: The Packers are loaded with young talent at receiver. Both Greg Jennings and Jordy Nelson are coming off monster seasons, James Jones had some big days and Donald Driver is well, Donald Driver. The fifth guy on the list could end up being the very best Randall Cobb. Cobbs blowing everyone away this offseason and should continue to do so in training camp. A lethal kick return man who played both quarterback and wideout in college, hes been working on routes all summer and is expected to play an even larger role in the offense in 2012. Watch out. Schrager Prediction: Super Bowl champions. Anything short of that goal will be deemed a failure. Rodgers had an all-time season (45 touchdowns, 6 interceptions) a year ago, but came up short in the playoffs. I dont see it happening again. This is the best team from top to bottom in the league. If the young guys Sherrod, rookies Nick Perry and Jerel Worthy, and Cobb can elevate their games, the Packers could be even better in the 2012 regular season than they were in 2011. Final Prediction: 1st place, NFC North
Original Story:
http://www.foxsportsarizona.com/07/25...
THE BACKYARD
BEST OF MAXIM
RELATED ARTICLES
GREEN BAY, Wis. -- There will not be 90 healthy players ready to go when the Green Bay Packers begin training camp Thursday morning. Coach Mike McCarthy revealed Wednesday that tight end Andrew Quarless (torn right ACL, MCL) and offensive tackle Derek Sherrod (broken right leg) are still recoverying and did not pass their pre-training camp physicals after suffering injuries last...
GREEN BAY, Wis. -- With throngs of reporters gathered around his locker, NFL Most Valuable Player Aaron Rodgers met with reporters after Day 1 of Packers training camp. Five question-and-answer highlights: 1. Coming off a Super Bowl last season, the Packers were the hunted. Now you're back to being hunters. What is the message to the locker room now? RODGERS:Well I think it...
New England Patriots Sign Tight End Visanthe Shiancoe (by MrHurriicane) Well this is an interesting way to get your Patriots news… while watching a merciless drive against the Jets? Yes please.
Being home to both the New England Patriots and the New England Revolution, Gillette Stadium regularly has different sports played within its walls. On Sunday, August 12, the New England Revolution, in partnership with Warrior Boxing and DiBella Entertainment, will bring boxing to the stadium as well. Framingham, Mass. native Danny O'Connor will headline a live professional boxing...
New England Patriots star Quarterback, Tom Brady may be a new daddy soon. Brady  along with his supermodel wife Gisele Bundchen appeared to have let a secret out of the bag when she showed up on the beaches of Costa Rica in her bikini yesterday. The couple has a two-year old son Benjamin but have not confirmed the second pregnancy even though the photo clearly shows that congratulations...
GREEN BAY, Wis. -- Charlie Peprah thought he had a good chance of starting for the Green Bay Packers this season, but the 29-year-old veteran safety was released by the team Wednesday afternoon. Earlier in the day, coach Mike McCarthy said he was waiting on more information from Peprah's physical. Apparently, the medical results weren't good. Peprah, 29, did not miss any...
As he prepares to be inducted into the Pro Football Hall of Fame next month, Curtis Martin is starting to make the press rounds.  At a recent press luncheon, Martin discussed playing through injuries as well as concussions. "This was just the mentality, it's no fault of the NFL or anything, it's just a part [...]
New York Jets Ready to Compete With Patriots Again: Enemy Week | NEPatriotsDraft.com: So let's...
NFL News

Delivered to your inbox

You'll also receive Yardbarker's daily Top 10, featuring the best sports stories from around the web. Customize your newsletter to get articles on your favorite sports and teams. And the best part? It's free!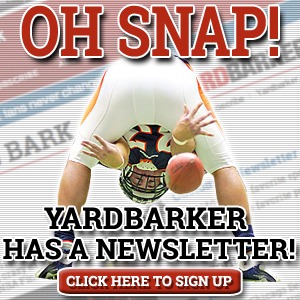 Latest Rumors
The Backyard

Today's Best Stuff

For Bloggers

Join the Yardbarker Network for more promotion, traffic, and money.

Company Info

Help

What is Yardbarker?

Yardbarker is the largest network of sports blogs and pro athlete blogs on the web. This site is the hub of the Yardbarker Network, where our editors and algorithms curate the best sports content from our network and beyond.