Found January 17, 2013 on NorthWest Sports Beat:
Back to Seattle The past week in the sports world has been crazy. From Chip Kelly heading to the Philadelphia Eagles to Manti Te'o's fake girlfriend to Lance Armstrong admitting that he used performance enhancing drugs, there has been plenty of stories for sports writers to write about. One story close to the heart of every Seattle Seahawks fan, a team that recently saw their miracle season come to a halt in Atlanta, is the departure of Defensive Coordinator Gus Bradley, who has become the Head Coach of the Jacksonville Jaguars. The loss of Bradley left the Seahawks needing to fill the role of much more than an "average" defensive coordinator. Bradley brought a certain swagger and fire to a defense that was one of the best in the league. On Thursday morning the Seahawks announced that they had hired Dan Quinn, most recently the Defensive Coordinator of the Florida Gators, to fill their open position. Quinn was previously with Seattle from 2009-2010, when he filled the role of being a Defensive Line coach while helping out as an assistant coach as well. Though he was retained by Pete Carroll for a year, Quinn left the staff to become the Defensive Coordinator at the University of Florida. Coaching Background Quinn is one of those guys who can definitely fill the shoes that Bradley left behind. Besides being eerily similar in their physical appearances, the two coaches have a certain fire and tenacity that relates well to players. This attitude, coupled with a talented defense, has helped to make the Seahawks one of the more ferocious defenses in recent seasons. Dan Quinn is a familiar face to Seattle fans and Centurylink Field. Prior to his hire by the Seattle Seahawks in 2009, Quinn had spent all of his time in the NFL on the defensive side of the ball, more specifically working on the defensive line. He has worked with teams such as the San Francisco 49ers, New York Jets, and Miami Dolphins. During his time at the University of Florida as a defensive coordinator, Florida had one of the best defenses in the nation. They were physical up front and could lock down any opponent in the open field. The Gators just missed out on a chance to play for the BCS National Championship despite what some would call an atrocious offense. Initial Thoughts The great thing about the hiring of Dan Quinn, besides his attitude similarity to Bradley, is the fact that he has a lot of experience coaching defensive lines, a unit that the Seahawks will be looking for more production from in 2013/2014. Besides bringing that fire and tenacity to a defensive unit that will continue to be one of the best in the NFL, Quinn will likely play the same role as Bradley did with Carroll: he'll be the defensive coordinator but Pete Carroll will be heavily involved with the defense like he has always been. Though he has built strong offenses during his tenure, Carroll has always been a defensive guy at heart. The two will continue Carroll's bend-but-don't-break philosophy of defense, a defense that is geared towards keeping the play in front of Seattle defenders and not allowing explosive plays to occur. While opponents may get some yards, the Seahawks don't mind surrendering nine while stopping them on 3rd and 1. Quinn is a familiar face that fans will come to love, especially with the fire he will bring to the defense and the field. The loss of Bradley hurts, but Quinn is a great replacement. CLICK HERE TO CHECK OUT THE SEAHAWKS BLOG PAGE IN OUR CLUBHOUSE SECTION AT NWSB!
Original Story:
http://www.nwsportsbeat.com/seahawks/...
THE BACKYARD
BEST OF MAXIM
RELATED ARTICLES
Like any true sportsman (nod Lance Armstrong) you're out there trying to get an edge on your competition. First it was training with those Vibram five-fingered toe shoes but as comfortable and useful as they are it is impossible to walk around in them and not look a bit odd.  Thankfully, Vibram's former CEO has come up with a solution for us: Camel-toe shoes.  At...
First shunned, then vilified by Lance Armstrong, Mike Anderson had to move to the other side of the world to get his life back. Now running a bike shop outside of Wellington, New Zealand, Armstrong's former assistant watched news reports about his former boss confessing to performance-enhancing drug use with only mild interest. If Anderson never hears Armstrong's voice again...
Lance Armstrong, former winner of seven Tour de France titles as well as the former owner of an Olympic bronze medal, finally admitted to using performance enhancing drugs in a televised interview with Oprah Winfrey on Thursday night. When asked if he doped he said, quite simply: "I am sitting here today to acknowledge that and to to say I'm sorry for that." Armstrong admitted...
An independent panel preparing to investigate the International Cycling Union's links to Lance Armstrong is fighting back against the governing body's resistance to offer amnesty to potential witnesses. The three-member panel says it will soon hold a public hearing in London to examine if ''truth and reconciliation'' should be offered to riders and officials...
Admitting he cheated was a start. Now, it's all about whether Lance Armstrong is ready to give details - lots of them - to clean up his sport. Armstrong's much-awaited confession to Oprah Winfrey made for riveting television, but if the disgraced cyclist wants to take things further, it will involve several long days in meetings with anti-doping officials who have very specific...
- Here are WWE's dates for their next UK tour in November: RAW: November 6: Belfast, Ireland November 7: Dublin, Ireland November 8: Brussels, Belgium November 9: Birmingham, England November 10: Cardiff, Wales November 11: Manchester, England TV November 12: Newcastle, England November 13: Zurich, Switzerland November 14: Roeun, France November 15: Marseille, France SmackDown...
Before his abrupt U-turn in an interview this week with Oprah Winfrey, Lance Armstrong had, many times and in many forums, consistently denied that he used performance-enhancing drugs. Here is a sample of some of the cyclist's choicest comments on the subject before he finally admitted to doping: --- ''Luke's name is Armstrong and people know that name, and when...
After years of speculation and rumors, and almost a week after news broke that Lance Armstrong was finally he going to confess to doping, he did so in an interview with Oprah Winfrey. Armstrong, who was stripped of his seven Tour de France titles, admitted that he had cheated for years and fooled so many he had inspired. Part 1 of the two-day interview took place Thursday night...
Time was better spent eating a homemade dinner* and watching the season premiere of Archer and college basketball than watching Lance Armstrong pathologically mouth the right words but show no remorse and engage in an absurd attempt at a semantics lesson. Apparently this interview needed a level-headed lawyer type like Nancy Grace. It looks like we're not going to hear from Manti...
He did it. He finally admitted it. Lance Armstrong doped. He was light on the details and didn't name names. He mused that he might not have been caught if not for his comeback in 2009. And he was certain his ''fate was sealed'' when longtime friend, training partner and trusted lieutenant George Hincapie, who was along for the ride on all seven of Armstrong...
Oprah Winfrey's interview with Lance Armstrong is more than an illustration of a hero athlete tumbling from the heights. It's also a pivotal moment for a famous media figure trying to climb the ladder back up. Winfrey's OWN network is showing signs of life after a rocky start, and the Armstrong interview offered a chance for many more viewers to check it out. The former...
Sporting Kansas City CEO Rob Heineman says the loss of trust led the Major League Soccer team to sever ties with the cancer charity founded by Lance Armstrong. Heineman also said Wednesday the ''tumultuous environment'' that developed before the cyclist admitted to using performance-enhancing drugs also played into the team's decision to change Livestrong Sporting...
NFL News

Delivered to your inbox

You'll also receive Yardbarker's daily Top 10, featuring the best sports stories from around the web. Customize your newsletter to get articles on your favorite sports and teams. And the best part? It's free!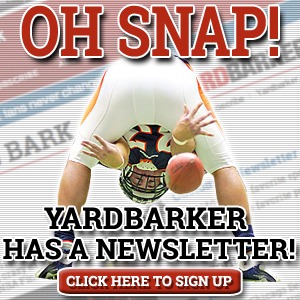 Latest Rumors
Best of Yardbarker

Today's Best Stuff

For Bloggers

Join the Yardbarker Network for more promotion, traffic, and money.

Company Info

Help

What is Yardbarker?

Yardbarker is the largest network of sports blogs and pro athlete blogs on the web. This site is the hub of the Yardbarker Network, where our editors and algorithms curate the best sports content from our network and beyond.