Found January 09, 2013 on Fox Sports:
PLAYERS:
Matt Ryan
,
Roddy White
,
Julio Jones
,
Tony Gonzalez
,
Peyton Manning
,
Dirk Koetter
,
Pete Carroll
,
Chris Clemons
,
Brandon Browner
,
Richard Sherman
,
Tyson Clabo
,
Marshawn Lynch
,
Russell Wilson
,
Ryan Longwell
,
Steven Hauschka
TEAMS:
Seattle Seahawks
,
Atlanta Falcons
Even with the surging Seattle Seahawks standing in the way, the Atlanta Falcons are confident they can end their recent playoff struggles. The top-seeded Falcons look to avoid a fifth consecutive playoff defeat while the Seahawks try to continue their postseason run with a seventh straight victory in Sunday's NFC divisional contest at the Georgia Dome. Atlanta (13-3) is 56-24 in five seasons under coach Mike Smith, but 0-3 in the playoffs over the previous four. The Falcons have totaled 441 yards and allowed 884 while being outscored 72-23 in their last two playoff contests, including a 48-21 loss to Green Bay two years ago when they also held the NFC's top seed. Though the Falcons' playoff futility has been a dark cloud hanging over Smith's otherwise successful tenure, they believe they've learned from the past playoff. "We're a much more mature team because of our experiences,'' Smith said. "I think you learn from your previous experiences in the playoffs. This is a team that has been very focused from the very beginning of the season and we've got a lot of guys who have experienced the playoff atmosphere. They're going to be able to help some of the younger guys who haven't.'' Paced by quarterback Matt Ryan, receivers Roddy White and Julio Jones, and future Hall-of-Fame tight end Tony Gonzalez, the Falcons were sixth in the NFL in passing (281.8 yards per game) and seventh in scoring (26.2 points). Ryan tied Peyton Manning with a league-best 68.6 completion percentage and recorded career highs of 4,719 yards and 32 touchdowns under first-year offensive coordinator Dirk Koetter. Ryan's teammates are confident he'll be that same quarterback and not the one who averaged 194.7 yards, threw three TDs, four picks and was sacked 10 times while posting a 71.2 rating and 0-3 playoff record. White feels Ryan, who threw four TDs and one INT while winning at Seattle in 2010 and 2011, has "been mentally prepared throughout the whole season for this stretch run." "He knows we have to win a playoff game," White added. "Everybody knows that, and not to put any pressure on him, but I just think that at this point in the season, everybody knows they have to play their best football right now.'' White and Jones combined for 171 catches with 2,549 yards and 17 touchdowns while Gonzalez is coming off the most productive of his four regular seasons in Atlanta with 93 receptions for 930 yards and eight TDs. Under first-year defensive coordinator Mike Nolan, Atlanta tied for fifth in the league with Seattle and Washington with 31 takeaways. Despite his team's recent playoff history, Smith does not plan to change much. "To me it's no different than any other game,'' he said. "It's 100 percent on our football team to go out and play our best. We feel like we accomplished what we needed to accomplish to get here and we are looking forward to playing against Seattle.'' Though Atlanta has won three straight against the Seahawks (12-5), the visitors are filled with confidence heading into the teams' first postseason meeting. After winning its final five regular-season contests, Seattle overcame a 14-0 deficit to snap an eight-game road playoff skid with a 24-14 victory at Washington last Sunday. The Seahawks are in the midst of their longest winning stretch since an 11-game run Oct. 9-Dec. 24, 2005. "We haven't been as solid as we are now,'' coach Pete Carroll said. "We're much more solid in our thinking and mentality and just the resolve about everything we're doing.'' Though the Seahawks will be without sack leader Chris Clemons (torn ACL), it was a group effort that helped them allow 15.3 points per contest, the fewest in the league. Their stout defense, which features big cornerbacks Brandon Browner and Richard Sherman, against Atlanta's potent passing attack figures to be the game's most intriguing matchup. "I might be in the minority, but I look at it as strength on strength,'' Koetter said. "Heck, let's go. They've got a good defense, and we have a good offense. I know their team is running hot right now, and I know our guys are looking forward to the challenge.'' While the Seahawks try to join the 1989 Los Angeles Rams as the only West Coast teams to win back-to-back playoff games on the East Coast, the Falcons don't think travel will make their opponent any less formidable. "It's not like they're going to be going to the moon or anything,'' tackle Tyson Clabo said. "They have a schedule they follow when they travel and I'm sure they're going to keep it the same.'' Seattle started 1-5 on the road before outscoring Chicago, Buffalo and the Redskins 97-48 to win the last three away from home. Paced by Pro Bowler Marshawn Lynch and rookie quarterback Russell Wilson, the Seahawks have averaged 223.3 rushing yards in those contests. Lynch, who tied a franchise playoff record with 132 yards on 20 carries at Washington, has averaged 116.8 and 6.9 per carry while topping 100 yards in each of the last five contests. Wilson threw for 187 yards with a TD and rushed eight times for 67 last week. The Falcons know they are in for a challenge trying to stop Wilson, who passed for 3,118 yards and ran for 489 while posting a 100.0 passer rating - fourth in the NFL - during the regular season. Wilson threw 17 TDs and just two INTs over his final nine games, and his 116.9 passer rating since November is the league's best. "You have to keep covering guys for a long time on the back end,'' said Nolan, whose defense ranked 21st in rushing at 123.2 yards per game. "That's one of the tougher things about him because when he's running around, you'd better stay with your man.'' Clemons, meanwhile, wasn't the only Seahawk to suffer a season-ending injury against the Redskins. Seattle on Wednesday signed veteran kicker Ryan Longwell after placing Steven Hauschka on injured reserve with a calf injury. Hauschka made all 23 attempts from inside 50 yards this season. Longwell, who last kicked with Minnesota in 2011, is 17 of 23 on field-goal attempts in the playoffs throughout his 15-year career.
Original Story:
http://msn.foxsports.com/nfl/story/Se...
THE BACKYARD
BEST OF MAXIM
RELATED ARTICLES
AUDIOTASTIC!
It's no secret that Seattle Seahawks cornerback Richard Sherman is one of the finest trash talkers in the NFL. He did his share of it during the widl card playoff game against the Redskins and, lucky for us, two things happened: 1. Trent Williams got mad enough to confront Sherman after the game and punch him in the face. 2. Richard Sherman was mic'd up.  We get to hear the...
Atlanta Falcons quarterback Matt Ryan has played in three postseason games since being drafted in 2008, he's 0-3, but says he's not feeling the pressure to win.  "I don't worry about it. I don't think about it," Ryan said Wednesday before practice. "My focus is for this locker room and for the guys and the coaching staff that we're all together. We want to...
It was almost destined to happen. On Sunday afternoon, the sixth best passing offense will face the sixth best passing defense. Two should-be Pro Bowlers face up against two should-be Pro Bowlers. The battle to appear in the NFC Championship Game could come down to two matchups — Seattle cornerbacks Richard Sherman and Brandon Browner against Atlanta wide receivers Roddy White...
Ian Rapoport reports that the Seattle Seahawks will sign DE Patrick Chukwurah. Chukwurah has been the leader in sacks for the past two seasons while playing in the United Football League. The Seahawks also brought in Aaron Maybin, Ray Edwards, and C.J. LaBoy for tryouts, but Chukwurah wound up beating all of them out for the job. The move was made after they lost DE Chris Clemons...
The Seattle Seahawks are set to sign veteran kicker Ryan Longwell in an effort to add a replacement to their roster in case Steve Hauschka is unable to suit up this weekend, reports Ian Rapoport of NFL.com. NFL.com's Ian Rapoport confirmed Tuesday that the team will sign veteran kicker Ryan Longwell. Longwell was a 15-year veteran entering the 2012 season, but he has not...
The former Boston College quarterback has had his share of criticism. Matt Ryan was known as a clutch player in college, his comeback against Virginia Tech throwing two touchdowns in the final two minutes in 2007 caught NFL executive's eyes. However, the postseason hasn't been kind to Ryan and 2012 will the second time in Ryan's career that the Falcons will have entered as...
FLOWERY BRANCH, Ga. That's incredible! Around the Falcons' headquarters, the player to whom coaches most compare Seattle rookie quarterback Russell Wilson is Pro Football Hall of Famer Fran Tarkenton, another quarterback smaller in stature. With the Falcons gunning for their first playoff win on Sunday in their fourth try during head coach Mike Smith's five seasons...
The slowmotion video that surfaced of Washington Redskins offensive lineman Trent Williams punching Seattle Seahawks defensive back Richard Sherman after the Seahawks defeated the Redskins last week did not do the incident justince. It has been brought to our attention that not only was the incedent caught on film, it was caught on the mic that Sherman was [...]
Of all of the games this weekend, this might be the hardest one for me to write because I think it's going to be the best game of the lot. On one hand you have the hottest team in the NFC right now fresh off of an upset win in Washington. On the other, the team with the best record in football and a quarterback with an amazing track record at home. Something has to give as the...
Russell Wilson vs. Matt Ryan. One guy is a rookie, kind of that "other guy" in the Rookie of the Year discussion, but when you watch him, maybe he is "the guy" of the same discussion. The guy who has led the Seahawks to a surprising 11-5 record and, as of late, has his team playing [...]
By now we've all seen the video of the incident between Richard Sherman and Trent Williams after the Seahawks vs. Redskins playoff game. What we haven't seen is the mic'd up version. Seahawks CB Richard Sherman was mic'd up for the entire playoff game. This video shows that he was still mic'd up when Williams confronted Sherman after the game. All I can say after watching...
It's finally here! Let's be honest, we all knew we would be here come January. The only question was the seed number and whether or not we can finally get over the playoff hump. This week I want to give you my thoughts on the game and discuss the different factors at play. In my biggest installment of the Friday Blitz this season, I call out Atlanta to RISE UP! Jacksonville...
NFL News

Delivered to your inbox

You'll also receive Yardbarker's daily Top 10, featuring the best sports stories from around the web. Customize your newsletter to get articles on your favorite sports and teams. And the best part? It's free!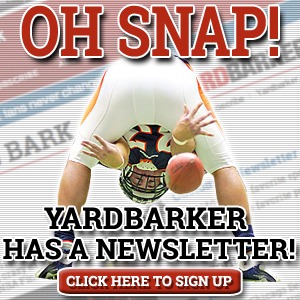 Latest Rumors
The Backyard

Today's Best Stuff

For Bloggers

Join the Yardbarker Network for more promotion, traffic, and money.

Company Info

Help

What is Yardbarker?

Yardbarker is the largest network of sports blogs and pro athlete blogs on the web. This site is the hub of the Yardbarker Network, where our editors and algorithms curate the best sports content from our network and beyond.