Found November 06, 2012 on NorthWest Sports Beat:
PLAYERS:
Marshawn Lynch
,
Mark Sanchez
,
Tim Tebow
,
Adrian Peterson
,
Russell Wilson
,
Andrew Luck
,
Bobby Wagner
,
Bruce Irvin
,
Robert Griffin III
TEAMS:
Seattle Seahawks
,
Minnesota Vikings
,
New York Jets
,
Washington Redskins
,
Stanford Cardinal
Fearless Prognostications! Seven games remain for the Seattle Seahawks to make their run in the NFC. They're 5-4 on the year, and they're coming off a solid ten-point victory over the Minnesota Vikings. Currently second place in the NFC West, the Seahawks can make a push toward the postseason with three divisional opponents left on their schedule. These are the five ways they can leave their mark on the 2012 NFL season. 1. Expect Revenge Going 0 for 3 in divisional play is not ideal, especially for a team trying to win their division as the Seahawks are. Fortunately, the Seahawks' stellar 5-1 record outside the division has kept them in the race— they're only one win behind the San Fransisco 49ers (6-2). The 49ers, Rams, and Cardinals all took care of business against Seattle with victories of seven points or less. The second time through will be a different story, as all three opponents will come to Seattle and leave with a loss. 2. Century Link Will Not Witness a Loss Prediction No. 1 takes care of 75 percent of prediction No. 2, but it must be said that next week will yield a similar result. Marshawn Lynch has a chance to finish the season as a top-3 running back in the NFL. The New York Jets are going to get stomped on by Seattle. Expect déjà vu moments throughout Sunday's game as the Jets attempt to run the ball—with some success as the Vikings had—but be let down by their abysmal passing game with Mark Sanchez or Tim Tebow. 3. Marshawn Lynch Will Be a Top-3 NFL RB He may not finish No. 1 in yards, but Beast Mode is in full effect. Averaging just under a hundred yards per game, this season has helped put Seahawks fans' minds at ease over the new contract. More often than not, running backs are not worth the big contract—we saw two exceptions on Sunday (Adrian Peterson and Marshawn Lynch)—and Lynch will continue to reward the 12th man. 4. A Rookie of the Year Will Come From Seattle Although I do not think it will be Russell Wilson who takes home the trophy with the numbers Robert Griffin III and Andrew Luck are putting up this season, it may be difficult for voters to look past him if he leads his team to the postseason—especially if the Redskins and Colts fall short of the playoffs. In reality, the Defensive Rookie of the Year will definitely be wearing Seahawks colors this season. Linebacker Bobby Wagner is on pace for over 120 tackles this season, with 72 through nine games. Even with only two sacks, the Defensive Rookie of the Year does not need to be flashy, and his presence and on-the-field leadership could push him to the top. If in fact, the voters do only look at the "flashy" stats, a teammate of Wagner's may take votes away from him. LB Bruce Irvin only has 8 tackles, but five of them are QB sacks. If Bruce Irvin gets over 10 sacks, he might make a push for the award. 5. Seahawks will finish 11-5 This record projects a healthy 6-1 stretch to end the season, but a very late bye week and important games at home make this possible. I see the one loss at Chicago. Russell Wilson is getting better, but that defense will teach him a few new lessons. An 11-5 record will put the Seahawks in a very close race to win the NFC West. With the 49ers playing tough games against Chicago, at New Orleans and at New England, this could get interesting and include some fun tie-breaking scenarios to see who gets a home playoff game. CLICK HERE CHECK OUT THE SEAHAWKS BLOG IN OUR CLUBHOUSE AT NWSB!
Original Story:
http://www.nwsportsbeat.com/seahawks/...
THE BACKYARD
BEST OF MAXIM
RELATED ARTICLES
The Seattle Seahawks have announced Tuesday that wide receiver Charly Martin has been released. Martin had only four catches for 42 yards this season.  He primarily played on special teams.  With a spot open on the roster in mind, note that cornerback Walter Thurmond has been back in practice the last two weeks after being on the PUP list.  Thurmond broke his left leg last October...
Home sweet home The Seattle Seahawks are finally back in the win column, after a big win at home against the Minnesota Vikings on Sunday. This marks the start of a weaker second half of the season, and a chance for the Seahawks to make their move up the standings. Read more about this here. With the win on Sunday, the Seahawks are once again over the .500 mark, and are making head...
Pete Carroll called it a textbook example of how the Seattle Seahawks want to close out a victory, with the ball in their hands and the final seconds ticking away. It only came after Carroll watched Adrian Peterson gash his defense for the entire first half. The Seahawks' 30-20 win over Minnesota on Sunday snapped Seattle's two-game losing streak and continued its run of...
Seattle Seahawks running back Marshawn Lynch set the standard for what is known as "beast mode".What it means is that a runner is running with such ferocity and power, that the very Earth trembles beneath it every time they carry the ball.I chose those words on purpose, because for me the first time I saw Lynch go "beast mode" was in a Wild Card playoff game following...
[Note: This article was supposed to go up late last week, but due to other concerns it had to go unfinished until now.  But while the subject matter is a bit past tense, if nothing else I figured it'd serve as a nice frame of reference when I take a look at the game tape for the Vikings game.] The Seahawks' pass coverage against the Lions was ugly, and looking at it on...
Earlier today, the Seahawks released wide receiver Charly Martin.  It's presumed that the move was made in order to make room for cornerback Walter Thurmond, but Thurmond still hasn't been officially activated off of the physically unable to play list. As much as I like the idea of having Thurmond available again, I'm a bit torn about cutting Martin.  He isn'...
Marcus Trufant has played in a Super Bowl and a Pro Bowl, and is now in his 10th season with his hometown team. Yet for all those experiences, one of the most special moments in his football career with the Seattle Seahawks will come this weekend when he takes the field against his younger brother Isaiah of the New York Jets, and after youngest brother Desmond, a senior at Washington...
Seattle returned home to end a two-game losing streak, while the Cardinals once promising season continues to slip away.
The tough part is done Starting with this past weeks matchup with the Minnesota Vikings, the Seattle Seahawks have officially gotten into the weak part of their schedule. Of course with three conference games remaining, and the away game at Soldier Field, nothing is a gimme. The Seahawks have been scoring in droves the past two weeks, and next week's game against the New York...
I want to take you back to 1 minute and 45 seconds in to Seattle's game against Minnesota at CenturyLink Field on Sunday. The Vikings had won the toss and elected to receive, giving the Seahawks' defense the perfect opportunity to flex its muscles having been worn down and battered in road losses in San Francisco and Detroit over the previous two weeks. The home team had...
NFL News

Delivered to your inbox

You'll also receive Yardbarker's daily Top 10, featuring the best sports stories from around the web. Customize your newsletter to get articles on your favorite sports and teams. And the best part? It's free!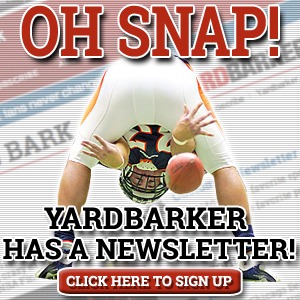 Latest Rumors
Best of Yardbarker

Today's Best Stuff

For Bloggers

Join the Yardbarker Network for more promotion, traffic, and money.

Company Info

Help

What is Yardbarker?

Yardbarker is the largest network of sports blogs and pro athlete blogs on the web. This site is the hub of the Yardbarker Network, where our editors and algorithms curate the best sports content from our network and beyond.