Found May 23, 2012 on NorthWest Sports Beat:
Even though the NHL playoffs is taking up a lot of attention along with the NBA postseason and the beginning of the MLB season, action in the NFL is heating up as OTAs, or Organized Team Activities as they are formally known, are taking place and the Seattle Seahawks are starting to look like we'll see in when camp starts up.

The Seahawks made a trade to pick up tight end Kellen Winslow from Tampa Bay for a seventh-round pick that can be moved up to the sixth round if Winslow can produce and a few sportsbook reviews may state that is a low-risk, high-reward deal for the Seahawks.

Winslow was an All-American at Miami and is the son of Hall of Fame tight end Kellen Winslow Sr., and he went to the Pro Bowl himself in 2007 with Cleveland before getting shipped to the Bucs. Winslow has been battling injuries over the past few years, but he still hasn't missed a game since 2008.

The Seahawks are looking to boost an aerial attack that was 22nd in the league and they've already added Matt Flynn at quarterback.

Winslow will push Zach Miller for a starting spot and the Seahawks may even use more two-TE sets.

Receiver Sidney Rice was hurt most of last year and Seattle's receivers aren't the greatest in the first place, and those are using sportsbook software will tell you that you need to be able to throw the ball in today's NFL.

Speaking of throwing the ball, there is an excellent chance that Tarvaris Jackson isn't going to be in Seattle next season, which may actually improve the Seahawks' online betting odds.

Jackson decided to skip the OTAs and that probably signed his slip out of town with head coach Pete Carroll, who is big on his players competing and if Jackson really wanted to fight for the starter's role, or even the backup role, he would have showed up. No word yet on if he's in practice today.

Flynn is probably going to start and the backup role will more than likely go to rookie Russell Wilson, who has been compared to New Orleans' Drew Brees by Seattle general manager John Schneider.

While that may be overstating it a little, Wilson is short like Brees and he is great at moving around in the pocket like Brees, and Schneider is trying to sell this pick to the fans that are paying to watch the team in 2012.

Seattle won't get past San Francisco in the lines for the NFC West, but they can firmly hold on to second and the OTAs are going to be a good place for you to see if the Seahawks are worth a wager in your online sportsbook.
Original Story:
http://www.nwsportsbeat.com/forums/se...
THE BACKYARD
BEST OF MAXIM
RELATED ARTICLES
Getty Images According to Seattle Seahawks owner Paul Allen, his team has acquired tight end Kellen Winslow Jr. in a trade with the Tampa Bay Buccaneers for an undisclosed 2013 draft pick. I'll admit, I was wrong. I really thought Winslow would be released, since it was believed that he didn't have much trade value. This is the second time in his career that he's been...
Getty Images According to NFL.com, a source close to the Seattle Seahawks, former Tampa Bay Buccaneers tight end Kellen Winslow Jr. will be used as a rotational player for the team. Translation: he's no longer perceived as a full-time player the way he was in Tampa Bay. The source told Adam Caplan of Sirius XM Radio that the Seahawks "just didn't think he could be more...
Seattle Seahawks newly acquired tight end, Kellen Winslow, made headlines this week after being traded from Tampa Bay. He's back again, after allegedly trashing a$9,000 a month, San Diego rental home, this, according to the San Diego Tribune. Winslow and his wife only rented the home for six months, but to the owners maintain that was enough to wreck the place and the furnishings.
     With all the controversy, self-centeredness, INJURIES, and all the baggage that comes with Kellen Winslow, the Seattle Seahawks have decided to take a chance on Winslow.  Was Seattle forced into this trade or do they like settling for average players with the "I" mentality.  Winslow is a former Cleveland Brown and now a former Tampa Bay Buccaneer, now nine seasons...
While Kellen Winslow is a good player, since joining the Tampa Bay Buccaneers and Josh Freeman, Winslow has failed to match the production he achieved in his two best seasons with the Cleveland Browns. In 2006 and 2007, Winslow recorded 171 receptions, 1,981 receiving yards, and eight touchdowns.   However, in 2009 and 2011 with Tampa Bay, Winslow recorded 152 receptions, 1,647...
Tight end Kellen Winslow Jr. was acquired by the Seattle Seahawks from Tampa Bay for an undisclosed 2013 draft pick. Winslow said earlier Monday that he had been told by the Bucs that he no longer fit into their plans and to not attending this week's offseason program. Tampa Bay then signed nine-year veteran Dallas Clark and moved quickly to deal Winslow. Winslow led the...
The Seahawks.com website is reporting the Tampa Bay Buccaneers have traded Kellen Winslow for an undisclosed 2013 pick to the Seattle Seahawks.Per ProFootballTalk.comWinslow, the sixth overall pick in the 2004 draft, becomes the seventh tight end on the team's roster. With the departure of John Carlson via free agency, Winslow could end up being the starter.Per a league source...
Tampa Bay traded noted soldier Kellen Winslow to the Seahawks on Monday, ending that brave, brave man's tenure with the Buccaneers. It's a shame he never lived up to the potential that he flashed in college, when he was routinely injuring people in an extremely soldier-like manner. I'm sure they'll miss him in Tampa, but Seattle knows now that they're getting a guy they...
Dallas Clark has a new NFL home in Tampa Bay after he spent nine seasons in Indianapolis.   Clark worked out for the Tampa Bay Buccaneers last week and once a spot opened up, as it did today, the team didn't hesitate to try and sign him. Clark will take TE Kellen Winslow's spot after he missed voluntary OTAs today.   The Buccaneers decided after Winslow was absent from...
The Seattle Seahawks just acquired tight end Kellen Winslow Jr. from the Tampa Bay Buccaneers for an undisclosed draft pick on Monday. The Seahawks already had a solid pass-catching tight end in Zach Miller who they signed from the Oakland Raiders just a year earlier. Miller only caught 25 passes for Seattle last year though after having 60 or more receptions in each of his last...
After trading Kellen Winslow for a 7th round pick to the Seahawks, the Buccaneers signed Dallas Clark to play the role they thought Kellen Winslow was too expensive to play. They will be using Clark as solely a pass catcher behind new starter Luke Stocker, a 2011 4th round pick. However, they will be paying Clark 2.7 million this season. Winslow would have only made 3.3 million....
The Tampa Bay Buccaneers have traded tight end Kellen Winslow Jr. to the Seattle Seahawks for a conditional late-round pick, FOXSports.com?s Jay Glazer reports.
NFL News

Delivered to your inbox

You'll also receive Yardbarker's daily Top 10, featuring the best sports stories from around the web. Customize your newsletter to get articles on your favorite sports and teams. And the best part? It's free!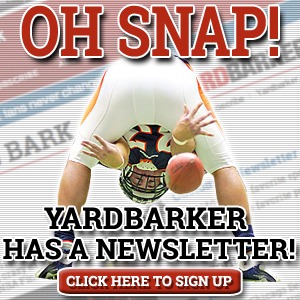 Latest Rumors
Best of Yardbarker

Today's Best Stuff

For Bloggers

Join the Yardbarker Network for more promotion, traffic, and money.

Company Info

Help

What is Yardbarker?

Yardbarker is the largest network of sports blogs and pro athlete blogs on the web. This site is the hub of the Yardbarker Network, where our editors and algorithms curate the best sports content from our network and beyond.