Found October 02, 2012 on NorthWest Sports Beat:
Playing to their level The Seattle Seahawks went into St Louis on Sunday looking to make a name for themselves in the NFC West. After starting off the year with a heartbreaking loss at division rival Arizona, the Seahawks couldn't afford to lose their second division game of the year.
Leave it to the Seahawks, though, and they'll surprise you in many ways. After looking stellar against power houses Dallas and Green Bay, Seattle marched into St Louis and allowed their kicker to single handedly beat them.
There wasn't much to love in the loss to the Rams, but I did find one thing. And you bet there was a LOT to hate about this game. Love 'em Marshawn Lynch & Robert Turbin The only bright spot of the day was the running game, anchored by Marshawn Lynch and complimented by Robert Turbin. With both of their running styles being as similar as they are, it's no wonder Turbin can step right in and succeed. This Seahawks team has built their offense around the ground attack and it has absolutely worked. In fact, Marshawn Lynch is currently the NFL leader in rushing through 4 weeks. Lynch ran the ball 20 times for 118 yards, which is an average of 5.9 yards per rush. Turbin had 6 for 45 yards which comes out to 7.5 yards per carry. The Seahawks look to that production to eat away the clock and tired the other team's defense. And it worked. Marshawn Lynch is currently the NFL leader in rushing through 4 weeks. These 2 are a perfect combo and despite the ugly losses on our record, these 2 backs are going to keep this team competitive. Hate 'em Play Calling Whether Pete Carroll is handcuffing Russell Wilson's offensive ability or not, what can't be denied is the fact that the play calling in this game was atrocious. Why does Darrell Bevell, on 3rd down and 2 to go, call a quarterback option? Why not go with one of your bruising running backs who are averaging a combined 5.3 yards per carry? Instead, you call an option where St Louis KNOWS that Wilson won't throw the ball. They flood the backfield and the play turns into a stupid call on astronomical levels. This was not the only terrible play call but was, by far, the worst this season. This is just the biggest example out there. Penalties The Seahawks has much fewer penalties this week than last week which is always a plus. What hurt them this week, though, was the timing of the penalties they received. When Seattle was flagged each time, it seemed like it either extended Rams drives to allow them to get into field goal range or it halted their own progress on a drive and moved them back into less manageable positions. The penalties need to stop, period. They're hurting this team. Interceptions Russell Wilson threw for 3 interceptions in the game. Those 3 should not be credited to him at all. I've been complaining for a long time that the NFL should change the interception stat to who is to blame on them. Russell Wilson threw for 3 interceptions versus the Rams The interception he threw while being hit in the backfield was a normal football play. Had his linemen done their job, the pass rusher would not have gotten to Wilson and he probably would have completed that pass. The throw to Doug Baldwin where he essentially gave up on the play and dropped the ball as he was tripping was a terrible interception. The Seahawks have had some drops issues and this is a sign that it is more prevalent than we thought. And the game losing interception was just atrocious. I'm hearing people analyze that and say that Wilson could have throw to a wide open Doug Baldwin down the middle instead of Anthony McCoy who slipped and allowed the ball to be picked off. If you've never played football, let me explain this notion to you. For starters, Wilson's pass was picture perfect. Had McCoy not slipped and fell on his cut during his route, that ball would have been in his chest, in stride, allowing McCoy to pick up extra yardage. It would have been a first down which is all Seattle wanted to continue running down the clock while moving into scoring position.
Second, though, is the fact that when Wilson threw the ball, Baldwin was covered. Many don't realize that quarterbacks have mere seconds to make decisions.
He looks at each receiver for a split second and moves on to the next one. If somebody gets open after the QB has already looked at him or thrown the ball, it's null and void. Those picks were not on Russell Wilson. CLICK HERE TO CHECK OUT THE SEAHAWKS BLOG PAGE IN OUR CLUBHOUSE SECTION AT NWSB! © Brandon Choate for North West Sports Beat, 2012. | Permalink | No comment | Follow NWSB on Twitter or join US on Facebook for real-time updates OR... | Share This on Twitter | Share NWSportsBeat.com on Facebook Post tags: Darrell Bevell, Love Em Hate Em, Marshawn Lynch, NFC West, NFL, Robert Turbin, Russell Wilson, Seahawks, Seahawks Blog, Seahawks vs. Rams, seattle, Seattle Seahawks, Seattle Seahawks Blog, Seattle vs St Louis
Original Story:
http://www.nwsportsbeat.com/seahawks/...
THE BACKYARD
BEST OF MAXIM
RELATED ARTICLES
Despite Seattle's offensive struggles in its first four games, the Seahawks are sticking with rookie Russell Wilson as their starting quarterback. Coach Pete Carroll told The News Tribune of Tacoma, Wash., that Matt Flynn, the team's big offseason acquisition, wasn't ready to play because of an elbow injury that has limited him in practice. But Carroll later backtracked...
Last week: 17 (+0) As they always do, the Seahawks fell flat on the road last week. Now there are calls for Russell Wilson's job after his 3 pick performance (none of which were ruled touchdowns strangely) just a few weeks after he was the media darling who "beat the odds." They've got a great defense and they're great at home, but their offense isn't very good and they...
Don't give up now The Seattle Seahawks have found themselves embroiled in quarterback controversy since last season ended. With the loss of Charlie Whitehurst and the signing of Matt Flynn, things got really interesting in Seattle. Then draft day rolled around and the Seahawks grabbed another QB – Russell Wilson from Wisconsin. So began the 3 headed race that never was to be...
Despite the continued struggles of the Seattle Seahawks offense and the worst passing game in the NFL, Pete Carroll is not ready to make a switch from rookie Russell Wilson at quarterback. Any decision to perhaps go to backup Matt Flynn is also complicated by the Seahawks being unsure whether a sore elbow that limited Flynn at the end of the preseason would be fully able to handle...
The better team won I should re-phrase that, the team that played better on Sunday won.  Hats off to the St. Louis Rams for the big divisional win.  The Rams coaching staff put together a great game plan that put the team in position to win. The players executed the plan and that is why they won.  On the other side of the field, the Seattle Seahawks entered the Edward Jones Dome...
Silence of the lambs With everything going right in the Seahawks world going into Sunday's divisional matchup with St. Louis, the Hawks sure picked a bad time to let their true colors show. Now the world can really see that the win the previous week was a fluke, and we are the the laughing stock of the NFL community. Sure, there are worse teams that us, but to ride high with...
NFL News

Delivered to your inbox

You'll also receive Yardbarker's daily Top 10, featuring the best sports stories from around the web. Customize your newsletter to get articles on your favorite sports and teams. And the best part? It's free!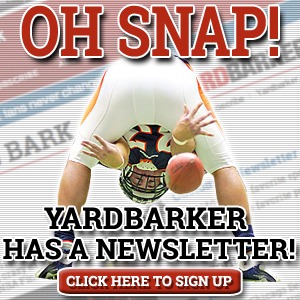 Latest Rumors
Best of Yardbarker

Today's Best Stuff

For Bloggers

Join the Yardbarker Network for more promotion, traffic, and money.

Company Info

Help

What is Yardbarker?

Yardbarker is the largest network of sports blogs and pro athlete blogs on the web. This site is the hub of the Yardbarker Network, where our editors and algorithms curate the best sports content from our network and beyond.