Found November 05, 2012 on Fox Sports Southwest:
The day started off poorly for Cowboys coach Jason Garrett and ended even worse. Garrett was greeted with the news Sunday morning that the contract extension signed by New Orleans Saints coach Sean Payton was voided by the NFL. That means Payton can sign with any team after the season. Payton is a former Cowboys assistant. Payton and his family still live in the Dallas area. Payton has a Super Bowl ring. You get the picture. Cowboys owner Jerry Jones denied any interest in Payton before Sunday nights game in Atlanta. Then the Cowboys went out and played a typical game under Jason Garrett. They showed flashes. They made a lot of mistakes. They played just well enough to lose and did, 19-13. The Cowboys are now 3-5 and the stench of another 8-8 (or worse) season is starting to circulate around the team. The loss makes Garrett 16-16 overall as a head coach. The Cowboys are 4-9 since last December. The best the Cowboys have ever looked under Garrett was the four games in 2011 just prior to the current 4-9 stretch. That was when they faced a pillowy soft quartet of Seahawks, Bills, Redskins, Dolphins. Two of the Cowboys last four wins have come against the Tampa Bay Bucs. Another was against Carolina. The Cowboys did knock off the Super Bowl champion Giants to open the season, but with each week that looks more and more like a fluke. And through it all, Garrett has been a broken record of saying the team is making progress, working on all three phases and how its all a process. What you never hear is Garrett publicly criticize a player. In most instances, its smart to keep those things in-house, but at this point the players might even welcome some public flogging. There certainly arent any outspoken leaders in the locker room. Tony Romo has been known to bark at teammates on the sideline, but in front of the media he prefers to be seen as just one of the guys. He insists on conducting his mass interviews in front of his locker, just like everyone else. DeMarcus Ware has the respect of his teammates but is too soft spoken. Jason Witten is also an acknowledged warrior, but hes more boy scout than bully. The Cowboys need a strong persona at head coach to make things work, to point out the sloppiness and suppress the aura that comes with the star on the helmet. Thats hard to do when Jones personality dominates the organization, but Jimmy Johnson and Bill Parcells left no doubt who was in charge. Jones may be the mayor of Cowboyville, but Johnson and Parcells were the sheriffs. Garrett has tried to assume that role and alter the culture at Valley Ranch. Hes demanded players be on time and dressed for success. But when the games start, penalties and mistakes continue to plague his team even when they win. Its not too late for things to change under Garrett, but those of us who have watched the Jones-era Cowboys know when things are starting to take a turn. Or rather a downward spiral. Things could look better immediately because of the schedule: Philadelphia, Cleveland, Washington, Philly again and Cincinnati. Thats the kind of stretch a playoff drive can be built upon, but heres betting most of those will be a struggle for the Cowboys. Bad NFL teams make every game a struggle. The Cowboys couldnt have been expected to win at undefeated Atlanta on Sunday night, but the game was winnable. And they found a way to lose it. A Cowboys defense that had played well all night suddenly couldnt get the Falcons off the field when they needed to the most. The Dallas offense only looked crisp on its one drive in hurry-up mode, when Garrett has the least influence on the play-calling. For now, its far-fetched to think Jones would go after Sean Payton, or that Payton would entertain a Cowboys offer. But its not too soon to ponder whether were at the beginning of the end of the Garrett era. This may not be a Super Bowl team, as Jones says every year, but it is a talented one. So far, that talent is not being maximized. Follow Keith Whitmire on Twitter: @Keith_Whitmire
Original Story:
http://www.foxsportssouthwest.com/11/...
THE BACKYARD
BEST OF MAXIM
RELATED ARTICLES
Dallas Cowboys coach Jason Garrett said he ignores the speculation that Saints coach Sean Payton could take his job while also saying the Cowboys are close to turning things around. Garrett addressed a number of issues during his Monday press conference, less than 24 hours after a 19-13 loss to the Falcons, but the most tension-filled moments came when he was asked about the Payton...
Well, we're officially halfway through the 2012 season and we're sitting two below .500 at 3-5. What's next for this team is anyone's guess, what I do know is that Jason Garrett should either relinquish his play calling duties or they should be stripped in favor of Bill Callahan. For the remainder of the season, we should roll with Callahan and see where he can take us. There...
After last night's prime time loss – in which many folks are choosing to focus on whether or not Atlanta did enough to wow us, rather than on how Dallas failed to take advantage of an Atlanta squad that they held out of the 'wow zone' – those who are fans of the Cowboys are questioning their team, their quarterback, their owner and their coach. Nothing new there… but...
Take it for what it's worth, but there has been chatter within NFL sources this morning that Sean Payton was visiting the Cowboys' team hotel earlier today.  News swept the sporting world this morning when reports surfaced that the NFL voided his contract with the Saints. Almost immediately, speculation about Payton and the Cowboys began given his previous time with Dallas...
According to Mike Freeman of CBS Sports, New Orleans Saints owner Tom Benson is considering making Sean Payton the highest paid NFL head coach. Patriots head coach Bill Belichick is currently the highest paid head coach in the league by earning $7.5 million per season. Benson, I'm told, has long thought of Payton as the best coach in football. It was Payton, of course, who made...
Embattled coach Payton remains committed to New Orleans despite recent reports.
ESPN's Adam Schefter reports that NFL has voided the contract of Saints head coach Sean Payton. Payton signed a three-year extension that had him under contract through the 2015 season. The league voided the deal because it included a clause that would have allowed Payton to walk away from the deal if GM Mickey Loomis was suspended, fired or left the New Orleans organization...
As reported by ESPN, Saints head coach Sean Payton's contract was voided by the NFL which makes the  suspended head coach a free agent when this season comes to an end.  FOX NFL insider Jay Glazer spoke to Payton earlier today to get some more details. "Sean said that this had been going on for about a year and a half because the NFL never really ratified his contact extension...
Sean Payton's multiyear contract extension, which he signed in 2011 with the New Orleans Saints has been voided by the NFL because of the language in it, making the suspended coach a possible free agent after this season, according to the NFL.com. "Our office has made no determination on Sean Payton's's contract status with the Saints for next year," NFL...
sr_adspace_id = 1000010603807; sr_adspace_width = 180; sr_adspace_height = 90; sr_ad_new_window = true; sr_adspace_type = "graphic"; Earlier today, ESPN's Adam Schefter reported that Saints head coach Sean Payton's contract will be voided and he'll become a free agent at the end of this season. Payton told Jay Glazer of FOX Sports that he's not going anywhere...
NFL commissioner Roger Goodell confirmed Sunday that the multi-year contract extension the New Orleans Saints gave to suspended coach Sean Payton in September of 2011 was voided by the league, ESPN.com reported. If a new contract is not worked out by the end of the season, Payton will be a free agent. "The one contract that was sent into us ... we told him what the issue...
NFL News

Delivered to your inbox

You'll also receive Yardbarker's daily Top 10, featuring the best sports stories from around the web. Customize your newsletter to get articles on your favorite sports and teams. And the best part? It's free!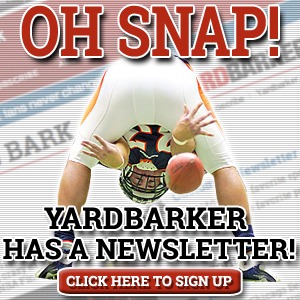 Latest Rumors
The Backyard

Today's Best Stuff

For Bloggers

Join the Yardbarker Network for more promotion, traffic, and money.

Company Info

Help

What is Yardbarker?

Yardbarker is the largest network of sports blogs and pro athlete blogs on the web. This site is the hub of the Yardbarker Network, where our editors and algorithms curate the best sports content from our network and beyond.