Denver, CO. Although the Denver Broncos have lost more games than they have won through five weeks of the regular season, they have to feel ok about where they are at this point. 2-3, losing to three of the best teams in the NFL, and just one game behind the leader of the AFC West. If you are a glass half full sort of fan, you could point out how this Broncos team has been very resilient in each of their losses, fighting back in the second half of each contest only to come up a bit short against a high quality opponent. You could also focus on how Peyton Manning continues to look better and better, and the rust from missing all of 2011 is still being chipped off more and more as each week passes. If you are a glass half empty kind of Broncos fan, it would be easy to look at their three losses in five games and be very concerned that they just aren't a true contender in 2012. You could also focus on the fact that although the defense has shown glimpses of being better than they have been in recent years, they are still giving up too many big plays in key situations. Regardless of where you might stand on the Denver Broncos right now, week 6 poses a true litmus test, and truly the first very big game of this season. Yes, they have played "big" games so far, but this matchup at San Diego is different, and much more important than any other game thus far. It's a divisional tilt, against the team who is just above them in the standings, and will really show if this Denver squad is ready to be an AFC power this year. The Chargers have had their moments of looking very good this year, but have also shown at times to be very average. This AFC West has quickly become a two team race, as Oakland and Kansas City have been awful for the most part, and just simply don't have what it takes to stay in the hunt. So as the Denver Broncos travel to face their rivals in San Diego for Monday Night Football, this game could very well be an early indicator of who will win end up winning this division. There is no reason to think that this matchup won't be close, and it should be decided in the 4th quarter. Although the Chargers are at home, and have what it takes to win this game, here are the 7 reasons why the Denver Broncos will squeak out a road win in Southern California……
1 – Battle-Tested Broncos – Everyone knows the schedule that Denver has had to deal with. 2 of their 3 losses have come to teams who are still undefeated, and the other one was on the road in Foxboro. This team has faced the cream of the crop in the NFL so far, which should only aid them for the rest of the season. On the other hand, the Chargers have faced the Titans, Raiders, and Chiefs, who have a combined 4 wins now. Factor in a loss to a previously winless Saints team, and the competition they have dealt with is nowhere near the caliber of opponents that Denver has had so far.
2 – Desperate Denver – The Broncos know how big this game is for them. It is also big for San Diego as well, but not quite as much. With a loss, the Chargers would still be tied atop the West at 3-3. But for the Broncos, a loss for them would put them at 2-4 with a bye week coming up. Denver really doesn't wanna have to think about digging out of a 2-4 hole for the next two weeks. This game is almost a must-win for the orange and blue.
3 – Broncos comfortable in So-Cal – The Broncos have typically done fairly well playing at San Diego, and this road game is never the most difficult on their schedule. Denver has won 2 of their last 3 at Qualcomm Stadium, and they usually have plenty of their own fans who infiltrate that building. The nice weather helps too, and is much more fun for Mr. Manning than somewhere like Foxboro.
4 – Better Broncos Talent Level – Top to bottom, Denver just simply has more talent than do the Chargers. San Diego still has some top-notch players, but not like they have in recent years. The receivers are not as good, the offensive line is iffy, and the defense doesn't have many playmakers. Yes, they have had some nice moments so far, but against bad competition. We all saw what Atlanta did to San Diego a few weeks in their house. Although the Broncos may not have the overall team that the Falcons do at this point, it is close. Denver just has a better roster, and it will show on Monday.
5 – Fraudulent Chargers – I have stated it a few times already, but San Diego has beaten…..nobody…..Three wins against the Raiders, Chiefs, and Titans. Those teams have a combined 4-11 record. This team has all the makings of going on a mid-season slide, beginning in week 6 vs Denver.
6 – Hot Peyton Manning – Manning is getting better every week, and has not thrown an interception in any of the last three games. If he was an "A" as a Colt, he has to be considered a "B+" right now so far through 2012. His rapport with his receivers is progressing, and his timing is only improving. The Chargers secondary is just ok, so Peyton should put together a nice aerial show in front of a national TV audience.
7 – Deflated Chargers – San Diego probably should have won at New Orleans against a winless Saints team. They had a second half lead, but failed to hold on versus a team that had every reason to fold once again. The Chargers have to be questioning themselves just a bit, and have to know they aren't as good as their 3-2 record might indicate. Monday should expose this team for who they really are…..a team that has some explosiveness, but has too many holes and is too undisciplined to win the AFC West in 2012…..Broncos win a very close one that kick-starts them for the rest of this season.
Denver Sports by J Simp
The post 7 reasons why the Denver Broncos will defeat the San Diego Chargers appeared first on Denver Sports Chat.
Original Story:
http://feedproxy.google.com/~r/Denver...
MORE FROM YARDBARKER
Chargers News

Delivered to your inbox

You'll also receive Yardbarker's daily Top 10, featuring the best sports stories from around the web. Customize your newsletter to get articles on your favorite sports and teams. And the best part? It's free!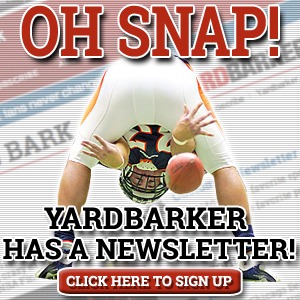 Latest Rumors
Best of Yardbarker

Today's Best Stuff

For Bloggers

Join the Yardbarker Network for more promotion, traffic, and money.

Company Info

Help

What is Yardbarker?

Yardbarker is the largest network of sports blogs and pro athlete blogs on the web. This site is the hub of the Yardbarker Network, where our editors and algorithms curate the best sports content from our network and beyond.