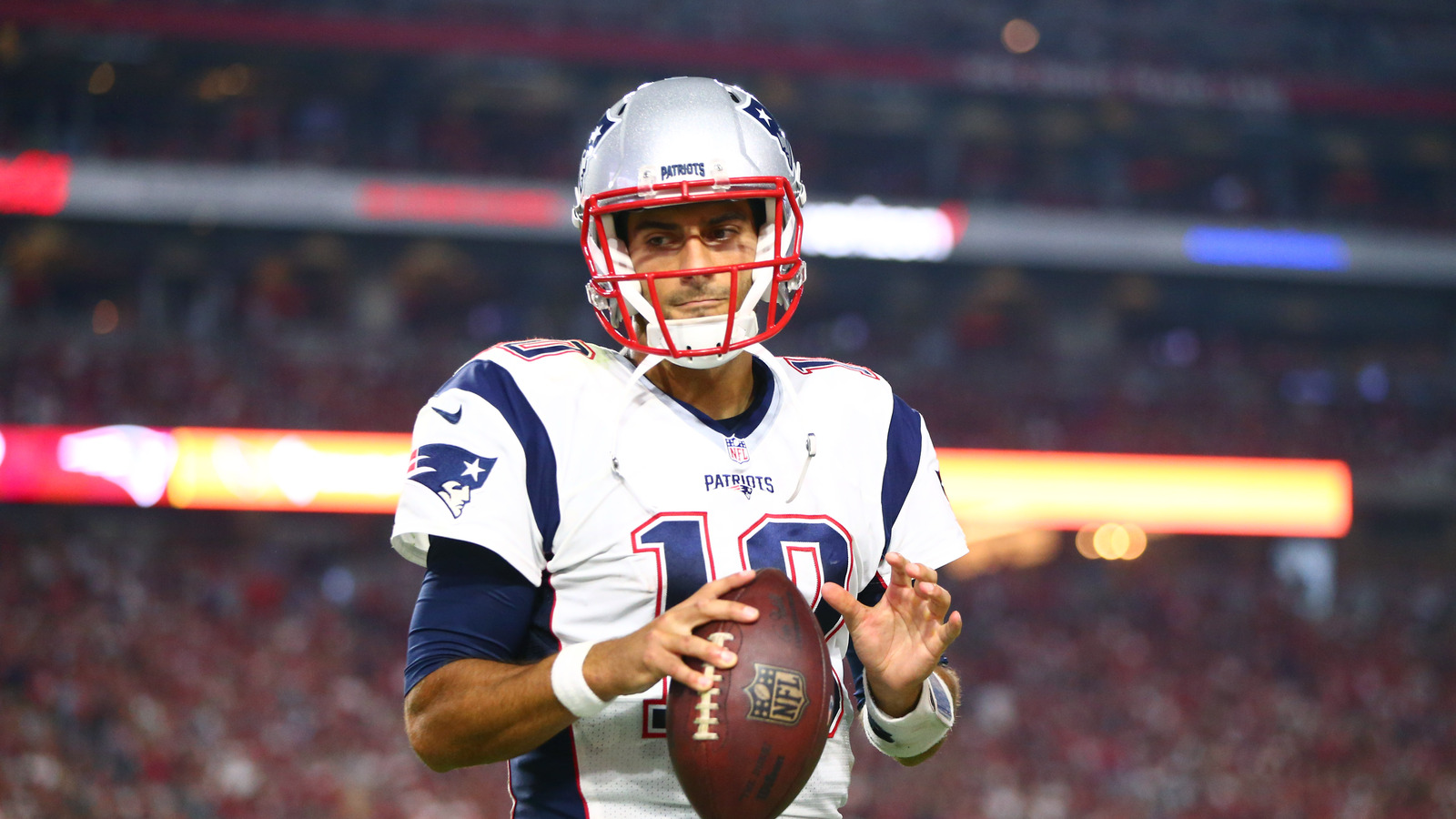 Could the Patriots still move Jimmy Garoppolo?
Mark J. Rebilas-USA TODAY Sports
More than anything, the past couple NFL drafts have been defined by trades. Last year saw the first two picks in the annual event moved before the draft itself even took place. The year prior saw a ton of movement towards the middle of the first round.
While we have not seen a lot of trades take place prior to next week's draft in Philadelphia, we can expect it to be filled with some rather interesting deals.
The defending champion New England Patriots may look to recoup some of the picks they have lost in recent trades. On the other end of the spectrum, the bottom-feeding Cleveland Browns could take advantage of their stockpile of selections to add a veteran quarterback.
These are among the teams expected to be busy on the trade front as the draft gets going. Here's a look at six 2017 NFL Draft day trades that should happen.
Patriots trade Jimmy Garoppolo to the Texans for first-round pick
If the Houston Texans are seriously contemplating using their first-round pick on Pat Mahomes, the team would be better off offering up something of substance to see if they can pry Garoppolo away from the Patriots. While a first-round pick itself won't be enough, adding some change to the mix will make the Pats think twice about having their backup on the untouchable list.
From Houston's standpoint, this makes even more sense when we take into account Bill O'Brien's presence on the sidelines in Houston and how he has patterned his offense to meet what the Pats do. Remember, O'Brien coached with Bill Belichick from 2007-11, finishing up his tenure as New England's offensive coordinator in 2011 before taking the Penn State job.
The Texans already admitted they made a mistake by signing Brock Osweiler last offseason. Do they really want to exhaust a first-round pick on a potential project quarterback? That's a question the team will be asking itself heading into the draft.
When it comes to New England, this is rather simple. Sure the team would love to keep Garoppolo around as insurance for Tom Brady, but at what cost?
The former second-round pick is slated to become a free agent after this upcoming season, at which point New England would be forced to place the franchise tag on him in order to avoid the young quarterback hitting the open market. Is Belichick and Co. really willing to do that? Why not grab a first-round pick and some change for the talented backup? It just makes too much sense.
Seahawks trade Richard Sherman to the Raiders for Gabe Jackson and second-round pick
Now that Marshawn Lynch is likely headed to Oakland, there's a strong indication that the team wants to team him up with Sherman. Oakland has been bandied about as a possible landing spot for the All Pro corner. It has the need in the defensive backfield. And more than that, general manager Reggie McKenzie has the capital to get something done here.
That capital would include sending a Pro Bowl-caliber guard in Gabe Jackson to Seattle — a team that's in desperate need of help on the offensive line. Drafted the same year as Derek Carr and Khalil Mack, one really has to wonder whether the Raiders can afford to pay each of these youngsters top-end money moving forward. Heck, it's easy to conclude that wouldn't be financially sound.
By adding a second-round pick to the mix here, Oakland would enable the Seahawks to move up in the first round for a corner of their choice or nab a corner in the second round. Remember, it remains an extremely deep class at this position despite a recent rash of injuries. In return, the Raiders would solidify their defense and make themselves a legit Super Bowl contender.
Jets trade Sheldon Richardson and sixth pick to the 49ers for the second pick
We already know the 49ers were looking at defensive tackle help in free agency. The team was linked to the likes of Dontari Poe and Brandon Williams. Even after signing Earl Mitchell, this is an area San Francisco will look to address in the draft. In fact, rumors continue to circulate that general manager John Lynch and Co. are interested in Alabama product Jonathan Allen at two.
Why not add a Pro Bowl-caliber defensive lineman to the mix instead? Richardson has long been on the trade block and it wouldn't be an absolute shocker to see him traded during the draft. That's taken to a whole new level when we realize New York already boasts Muhammad Wilkerson and Leonard Williams along the defensive line.
There's two major points to make here. First off, San Francisco would still be able to nab an elite-level talent at another position of need with the sixth pick. It could target Ohio State corner Marshon Lattimore as a replacement for the released Tramaine Brock. The team could also pick up a natural center fielder at safety — something both Lynch and head coach Kyle Shanahan covet. Heck, one of the top receivers will be on the board with that pick.
From a Jets perspective, it's rather simple. If they are indeed looking to go quarterback in the first round, they could guarantee themselves the top player on the board at that position, whether it's Mitch Trubisky or someone else. The asset the team would be moving here is someone it can easily replace, creating a more well-rounded rebuild after a disastrous 2016 campaign. It just makes too much sense.
Patriots trade Malcolm Butler to Saints for 32nd pick and change
New England doesn't necessarily have to move Butler now that he signed his tender, but that has not been thrown out the window as of yet. In order for the defending champs to actually trade their Pro Bowl corner, they would have to get something of worth in return. It's in this that New Orleans — unwilling to move the 12th pick — offers up the 32nd pick (originally from New England) as well as its original third-round pick (76th overall).
It just makes too much sense for both sides. The Saints would nab one of the top corners in the NFL to help rebuild a defense that's been downright disastrous over the past several seasons. Really, that's the only way the team can even come close to building a contender around Drew Brees as he enters the twilight of his career.
With recent questions surrounding Marshon Lattimore's health atop the 2017 NFL Draft as well as injuries to both Sidney Jones and Fabian Moreau, getting an impact corner immediately might be out of the cards. This could force New Orleans to look at the veteran market.
For New England, the idea of recouping picks might be too appealing to pass up on moving Butler. The defending champs added Stephon Gilmore in free agency at a high cost. Are they really willing to pay two corners top-end money in a system that doesn't rely on shutdown coverage on the outside? That's the real question here. Always thinking about the future, it surely wouldn't be a surprise to see Bill Belichick an Co. move Butler during the draft.
Panthers trade eighth pick to Eagles for 14th pick, Jason Peters and change
Sure, Carolina was able to add Matt Kalil to its offensive line in free agency. It's definitely a body, but the former Minnesota Vikings top-five pick has not been much more than that over the years. In fact, he graded out as one of the worst pass-protecting offensive tackles in the NFL prior to missing all of last season to injury.
The Panthers have some sort of false hope that a change of scenery will do Kalil good here. That's simply not going to be the case, and it's led to speculation that the team continues to fail Cam Newton big-time. Heck, the lack of protection for their franchise quarterback led to off-season shoulder surgery. That's not a sentence any NFL team wants to hear. While moving Kalil to right tackle might prove to be a difficult, something surely needs to be done here.
That's where nine-time Pro Bowler Jason Peters comes into play. He might be 35 years old and in the back-end of his career, but here's a dude that's coming off three consecutive trips to the Pro Bowl and remains one of the best blindside protectors in the league.
As to where Carolina needs someone of Peters' ilk, the Eagles already boast a franchise left tackle in the form of Peters. Rumors have circulated that the team will move on from him this summer. If so, why not package the potential future Hall of Famer in a deal to move up to the top 10?
This trade is two-fold. First off, both Carolina and Philadelphia are said to be looking at running back in the first round. The Panthers have been linked to Christian McCaffrey while there's a decent chance Philadelphia prefers Leonard Fournette. By making this swap, that could become a strong likelihood for both teams.
Bengals trade A.J. McCarron to the Browns for second-round pick
Trading a potential franchise quarterback within the division seems to be a bit absurd. That's until we realize it looks like Cincinnati is all aboard the Andy Dalton train. If so, the team would be smart to get something for McCarron before he leaves as a free agent next March.
This has been bandied about as a possibility, and it does make some sense. Cleveland boasts the most draft capital in next week's event. It also has a need a quarterback, which likely won't be addressed with the first pick. Instead of sitting back at 12 and hoping a top-end signal-caller in a weak class at that position falls on to their laps, the Browns should remain proactive on the veteran trade market.
In this scenario, Cleveland moves the second of its two second-round picks (52nd overall) to nab a quarterback that could start immediately and might very well boast more upside than any signal-caller it could get with that pick.
For the Bengals, this would be a no-brainer. If they are able to turn McCarron into a top-60 pick, it's something the team would have to do immediately. This specific trade might not happen until the second day of the draft, but it really does make a lot of sense.
MORE FROM YARDBARKER:
MORE FROM YARDBARKER
NFL News

Delivered to your inbox

You'll also receive Yardbarker's daily Top 10, featuring the best sports stories from around the web. Customize your newsletter to get articles on your favorite sports and teams. And the best part? It's free!