Found October 15, 2012 on Pro Football Zone:
Six thoughts on week 6 in the 2012 NFL season. Despite what the opinionated media will tell you, the AFC East is WIDE open. Remember when everyone was down on The Jets and calling for a new QB? Yea, they are at the top of the division. Remember how bad The Bills played in weeks 4 and 5 and how they were in contention for the top pick in the draft? Yea, they are tied atop the division. Remember The Patriots and Tom Brady being God's gift to football again. Yep, they have lost to both Arizona and Seattle and are tied atop the division. All of the AFC East teams are 3-3. The Patriots should still win the division but they have a lot of work left to do. The Contenders looked like pretenders this weekend. The Falcons and the Texans were undefeated, The Niners and Vikings had one loss but were steam-rolling the competition and The Patriots offense was firing on all cylinders. What happened? The Niners and Texans both were absolutely manhandled. The Falcons looked pretty bad but escaped with a win against The Raiders. The Patriots offense didn't look that great against a good Seattle defense. The Vikings were RG III'ed (can we just start using that already). A changing of the guard perhaps. There has been a rash of injuries and poor play by well respected veterans, particularly on the defensive side of the ball. Brian Urlacher hasn't been playing all that well this season. I made the argument they should have cut him (when injured leaving camp) and use that money to lock up Cutler. They didn't and it looks like they should have. Ray Lewis reportedly tore his triceps, but honestly hasn't been having that great of a year. Both Mendenhall and Benson have seemed slower than years past and have been battling injuries all season, the same could be said about Stephen Jackson. Are we seeing a changing of the guard from quality veteran players to their younger counter parts? Inconsistency rules the NFC East. The Eagles can't decide which team they want to be; come from behind winners or late game disaster squad. All six of their games have been decided by 3 points or less. The Giants give up a bunch of points to bottom feeder Cleveland and Tampa Bay teams and then almost blank The Niners. The Cowboys, oh The Cowboys. There aren't even words for their level of inconsistency. The Redskins have a great offense and a terrible defense. They can't decide which games they want to win. The Packers exploded (like I said). Aaron Rodgers went back to looking like Aaron Rodgers. The same could be said about Jordy Nelson. It will be interesting to see how Chicago and Minnesota respond to The Packers chasing them from behind for once. The Packers have a pretty easy schedule from here on out…the hardest game being against The Giants. Is AJ Green the best receiver in the league? I think he might be. He has a slightly better than average quarterback throwing the ball to him. The Bengals have an average running game. They don't have much to compliment him with when it comes to wide receivers. This kid still puts up superstar numbers. He may be the next great wide receiver for a long period of time.
Original Story:
http://feedproxy.google.com/~r/ProFoo...
THE BACKYARD
BEST OF MAXIM
RELATED ARTICLES
New England QB Tom Brady threw a season-high two interceptions and turned in his lowest QB rating of the year Sunday in a one-point loss to the Seahawks.Fantasy Spin:Despite the uneven performance, Brady still managed to throw for 300 yards passing, the fourth time he's been able to accomplish that in his last five starts.
Brady sure looks like a man who turned the 12thMan against us twitter.com/RSherman_25/st…— Richard Sherman (@RSherman_25) October 15, 2012He told me and earl to see him after the game when they win..... I found him after.... twitter.com/RSherman_25/st…— Richard Sherman (@RSherman_25) October 15, 2012Patriots fans mad lol... Talking bout Super Bowl rings.... What have u done...
The line went viral following Seattles stunning comeback against New England on Sunday. "U Mad Bro?"Seahawks cornerback Richard Sherman had words for Tom Brady following the game. Brady was asked about the incident and responded according to NFL.com's Gregg Rosenthal."(Sherman's) a very good player, and I have a lot of respect for that defense and certainly that secondary...
The guys find out why a winning Richard Sherman went after a losing Tom Brady Sunday and about an errant football finding a NFL Network reporter
Three games, three losses by 4 points, and a whole lot of mistakes at crucial times. This doesn't sound like New England Patriots football, but it's been the case so far this season. The introduction of the running game was supposed to help ground out tough yards to secure victories, but you have to use it to get it's benefits. Well within field goal range near the end...
There are many reasons not to like Tom Brady, so many that I don't feel like writing the novel on it.He's a competitive guy and that showed against the Seattle Seahawks as he was obviously frustrated at times cursing himself after he threw his two interceptions on the day.The Seahawks wanted to make sure they rubbed it in a little after the game on Sunday when cornerback Richard...
The Billy Beane Theory of Chaos is at play in the NFL nowadays, helping explain a lot of the ugly we have seen so far this season. Because whatever your particular NFL problem -- Chiefs, Norv, Sanchez or Cowboys -- Patriots quarterback Tom Brady almost assuredly has a hand in that blame. He has ruined NFL franchises. He has sold them hope, then watched as that fledgling spirit dies...
The Patriots lead the Seahawks 17-10 at halftime in Seattle. But New England left points on the board in the first half. An intentional grounding by Tom Brady with 1 second left in the half led to a 10-second run off, which ended the quarter. The Pats could've extended the lead to 20-10 with a Stephen Gostkowski field goal attempt.Aaron Hernandez and Wes Welker each have touchdown...
Andrew Luck, RGIII, Ryan Tannehill: All of these 1st round QB's were the talk of the league coming into this 2012 season. Surely, it would be one of these 3 young guns to win the Rookie of the Year award. But then came Russell Wilson, the rookie sensation in Seattle! Wilson, who was known in college for his great mobility and pocket presense, has showed off his laser rocket...
The New England Patriots blew a 13-point fourth quarter lead to lose 24-23 at the Seattle Seahawks. Russell Wilson found Sidney Rice for a 46-yard touchdown with 1:27 left to tie the game at 23. Steven Hauschka's extra point gave Seattle the lead, and after Tom Brady and the Patriots were stopped short on fourth down, the final margin was secure. New England falls to 3-3, while...
Through five games, the New England Patriots led the league in points per game with 33.0 and yards per game at 439.4.  But the way New England gained those yards was different than in recent years. The Patriots were ninth in passing yardage with 274.0 yards per game, down from second in 2011 with 317.8 yards per game. But the Patriots were third in rushing yardage with 165.4 yards...
Tom Brady has been doing more managing than throwing in 2012The term "game manager" has always been a sore subject in football circles. Normally, it has been reserved for okay quarterbacks on teams filled with talented players at every other positions who have one job and that job is to not make a major mistake. The ultimate game manager was Baltimore Ravens quarterback Trent...
NFL News

Delivered to your inbox

You'll also receive Yardbarker's daily Top 10, featuring the best sports stories from around the web. Customize your newsletter to get articles on your favorite sports and teams. And the best part? It's free!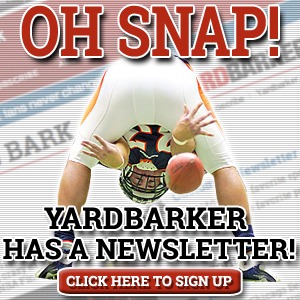 Latest Rumors
Best of Yardbarker

Today's Best Stuff

For Bloggers

Join the Yardbarker Network for more promotion, traffic, and money.

Company Info

Help

What is Yardbarker?

Yardbarker is the largest network of sports blogs and pro athlete blogs on the web. This site is the hub of the Yardbarker Network, where our editors and algorithms curate the best sports content from our network and beyond.