Found March 12, 2013 on Fox Sports South:
PLAYERS:
Tony Gonzalez
,
Matt Ryan
,
Thomas Dimitroff
,
Sam Baker
,
Brent Grimes
,
Todd McClure
,
Brian Finneran
,
Peter Konz
,
Roddy White
,
Asante Samuel
TEAMS:
Atlanta Falcons
,
New York Giants
FLOWERY BRANCH, Ga. Throughout the 2012 NFL season, Falcons tight end Tony Gonzalez maintained that he was 95 percent certain he would retire. If the Falcons had had to replace him, they could have gotten a good tight end in the draft or free agency, but none quite like Gonzalez, the league's all-time leader in receptions by a tight end, and certainly not one who has the near mind-melding chemistry that Gonzalez does with quarterback Matt Ryan. "I think it would be an understatement to say that it would be hard to replace Tony with someone in the draft or free agency," Falcons head coach Mike Smith said. "He's been such an integral part of our success through the last four years. But he has a great chemistry with Matt and the rest of the football team. He's one of our leaders and you guys who follow us know what he brings out on the field and he does it in the locker room as well. "When you get a leader and a mentor like that back on your squad, we've gotten a lot better and I think everyone realizes that." General manager Thomas Dimitroff also did not try to sugarcoat how big of a hole Gonzalez's absence would have created on the roster and significantly -- how the timing of Gonzalez's decision to return aided the Falcons as they continue to assemble their roster with Tuesday representing the start of the NFL free agency period. The draft is next month. "This is a very important moving part and we talked from the beginning about re-signing our own players versus going out and going hog wild in free agency," Dimitroff said. "You know that, that's always been our approach. I believe with Tony signing now soon and agreeing to terms, we can continue to focus on other areas and sign some players from some other areas." Dimitroff said Gonzalez had not yet agreed to a new deal but that he expected him to shortly. "This is something that was not an issue for us, as far as working out the terms in the agreement," Dimitroff said. "That was honestly a non-issue." If Gonzalez's contract resembles the one under which he played last season it was worth about 7 million the Falcons might have to restructure more players' contracts or cut more players. With a new 7 million deal, the Falcons would only have about 3 million left in cap room. Among the Falcons' key players who hit the open market on Tuesday afternoon were left tackle Sam Baker and cornerback Brent Grimes, a Pro-Bowler in 2010-11. Baker could command 7 million or more based on the deal signed by New York Giants left tackle Will Beatty last month. Grimes' deal could be trickier. He earned 10 million last season as the team hit him with their franchise tag but he tore his Achilles' tendon a serious injury to come back from -- in the first game and missed the rest of the season. Smith was asked if Gonzalez's return meant the Falcons would have to clear more cap room by cutting more players. "In terms of making moves, I've said it before: there's a cause and effect to every decision that you make," he said, hinting in that direction. "We're not anticipating anything, but this is the time you recalibrate your roster and Thomas does a great job, he and his staff providing us with the best players we can possibly have on our roster." One of the casualties might have fallen already with it appearing as if 14-year veteran center Todd McClure set to retire, most likely because the Falcons will not offer him a new contract. On Tuesday after the free agency period began, local radio personality Brian Finneran, who was a teammate of McClure's for 11 years, tweeted that McClure would be retiring. McClure was on a one-year deal and had talked about wanting to continue to play. Last year, the Falcons' second-round pick was a center, Peter Konz, who will likely replace McClure. Konz started 10 games at right guard last season. "Todd McClure -- Smitty and I talked about this recently -- we wanted Todd to announce his own retirement," Dimitroff said. "We agreed that Todd would announce any sort of retirement." The Falcons still have big holes now at defensive end and cornerback, but Tuesday was a celebratory day for the franchise. In his illustrious career, Gonzalez had never won a playoff game until this past season. He called his catch that set up the game-winning field goal against Seattle in the divisional round possibly one of the biggest out of the 1,242 in his career, second in NFL history. In the NFC Championship Game, the Falcons stood 10 yards away from a victory over San Francisco and a trip to the Super Bowl. On that final fourth-down play, Gonzalez was open in the end zone but because of pressure, Ryan did not see him and threw incomplete to Roddy White. It seems being so close was enough to bring Gonzalez back. "It is good to be back," Gonzalez said in a statement issued by the team. "After speaking with my family we decided to give it one more shot. Being part of such a great team and organization was too much to pass up. I would also like to say thank you to all of the fans for their support over the last several weeks." It had been reported that Gonzalez might not want to have to attend the full training camp. Smith dismissed the notion that Gonzalez would not attend the full camp, but also said the team would make exceptions for Gonzalez. Last year as cornerback Asante Samuel's mother was dying in Florida, the team allowed him to make trips to Florida to visit her during the season. "Let me make one thing clear: Tony is not a guy that wants to miss training camp," Smith said. "Tony's a team player. He has made some personal commitments to his family. We talked about working with him just like we've worked with other guys on our squad in terms of allowing them in certain situations to take care of their personal business and we'll do that with Tony as well." It's doubtful that that Falcons players would mind. They were said to try and prevail on Gonzalez to return. He had 93 catches for 930 yards and eight touchdowns last season during the regular season. Smith was asked if that campaign had proved effective. "I would imagine there was a groundswell," he said. "But I'm not fully aware of it. But I know that, again, the big thing about today and thing we're all excited about is we're better as a football team than we were this morning."
Original Story:
http://www.foxsportssouth.com/nfl/atl...
THE BACKYARD
BEST OF MAXIM
RELATED ARTICLES
The most noise Atlanta has made during free agency happened today with the signing of Steven Jackson. The Falcons are a team who has been on the cusp of getting to the Super Bowl recently, something every team would like to be year in, year out. They are remaining relavent with smart decisions like the ones they've made so far during the 2013 Free Agent signing period. If you have...
Tony Gonzalez will reportedly play football again in 2013. After all but saying he would retire following the 2012-13 season, the future Hall of Fame tight end is apparently ready to inform the Atlanta Falcons that he would like to return to the team next season. Jim Corbett of USA Today is reporting that Gonzalez will be back next season, and will play for the Falcons if the team...
Tony Gonzalez said he was done. Done playing football and done with the NFL. He promised his son he would move to California and started to make commitments. FoxSports.com's Jay Glazer has reported Tony Gonzalez will be returning for at least one more year to the Atlanta Falcons and will be putting off his retirement. While worried about his commitments, Gonzalez told Glazer the...
Last season, Atlanta Falcons tight end Tony Gonzalez said he was fairly certain that he would retire from football following the 2012 campaign. However, the Falcons are now "cautiously optimistic" that Gonzalez will return for another title run in 2013, according to Michael Silver of Yahoo! Sports. According to multiple team sources, the Falcons are cautiously optimistic that...
The ageless tight end wonder may be back for another season. Mike Silver of Yahoo! Sports reported Sunday that Tony Gonzalez is expected to return to the Atlanta Falcons next season if the team can accommodate two of his wishes. According to Silver, Gonzalez, who turned 37 last month, is looking to be paid $7 million next season, and he would like to miss some or all of training...
Yahoo Sports is the latest to chime in on the saga of Tony Gonzalez. We all know Gonzalez was set to retire at the end of the year but after tasting his first playoff victory and coming up just ten yards short of the Super Bowl, the Falcons are now "cautiously optimistic" about the return of Gonzo. Michael Silver cites multiple team sources saying that Gonzalez...
Here is the statement Gonzales released about his return courtesy of Pro Football Talk. "After discussing it with my family and really, truly struggling with this decision, I informed the Falcons that I would like to return for one more shot," Gonzalez told Glazer. "Considering how this season ended, I wanted to give it another run with Matt [Ryan], Smitty [head coach Mike...
Never believe an athlete is retiring until he files his paperwork with the league. Ya know, unless that player is Brett Favre. Atlanta Falcons tight end, Tony Gonzalez will be returning for his 17th season in the NFL, his fifth with the Falcons. Per Fox Sports' Jay Glazer: Tony Gonzalez told me he has officially informed Falcons he is coming back and they are working out a deal...
Today All-Pro Atlanta Falcons tight end, Tony Gonzalez said that he will return for the 2013 season. Last season Tony said it was going to be his last year in the NFL, but something made him come back. Once he passes a physical he will be set to be back on the team. Gonzalez spoke with Fox Sports saying, "After discussing it with my family and really, truly struggling with this...
In a move that comes as no surprise to me, Atlanta Falcons TE Tony Gonzalez will return to his team for the 2013 season according to a report by NFL insider Jay Glazer. This announcement is great news for both Gonzalez and the Falcons franchise. The soon to be Hall of Fame tight end had stated that he might retire after the 2012 season after winning his first ever playoff game, but...
The free agency period officially kicks off at 4pm EST today. During the last few weeks we've talked about the Falcons free agents that we think the team should re-sign, we've also discussed some pie in the sky options, some moves that could be in the cards as well as some value options. Yesterday, we touched on how important this off-season is for the Falcons. ...
NFL News

Delivered to your inbox

You'll also receive Yardbarker's daily Top 10, featuring the best sports stories from around the web. Customize your newsletter to get articles on your favorite sports and teams. And the best part? It's free!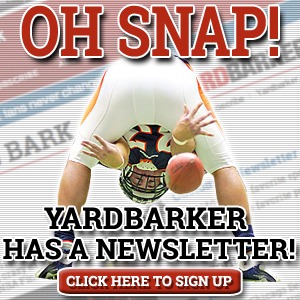 Latest Rumors
The Backyard

Today's Best Stuff

For Bloggers

Join the Yardbarker Network for more promotion, traffic, and money.

Company Info

Help

What is Yardbarker?

Yardbarker is the largest network of sports blogs and pro athlete blogs on the web. This site is the hub of the Yardbarker Network, where our editors and algorithms curate the best sports content from our network and beyond.