Found June 21, 2012 on Queen City Sports:
The Buffalo Bills are hitting the silver screen! Well, sort of. According to Deadline,
"Paramount Pictures has acquired Draft Day, a comic script by Rajiv Joseph and Scott Rothman that has Ivan Reitman attached to direct. Reitman will produce under his Montecito banner with Tom Pollock and Ali Bell. The script revolves around the general manager of the Buffalo Bills as he spends the day of the National Football League draft frantically trying to get the number one pick for his struggling team."
Two things came to mind right away when I heard the news about this film.
This could be awesome
Oh boy, this isn't good
Now, an explanation for each reason. The reason that this movie could be really awesome is simple — it could be really awesome. Think about it. Sure, It's a comedy and it involves the Bills, but it could be one of the funniest movies you ever see. And with Ivan Reitman of Ghostbusters, No Strings Attached, and I Love You, Man fame pegged to direct the flick, it very well could be a fantastic movie. On the other hand, it could be pretty awful. Not only can in just be turned into a film that mocks the organization as a whole, it could also mock the city itself. Will they make the people in the Buffalo front office out to look like complete morons who have no idea what they're doing? Or will they make the fans in Buffalo clammoring for the team to improve look like bumbling idiots.  I guess only time will tell. What say you? How do you feel about the potential for a Buffalo Bills centered movie? Leave a comment below and let me know!  
Original Story:
http://www.queencitysports.net/2012/0...
THE BACKYARD
BEST OF MAXIM
RELATED ARTICLES
One day of Bills minicamp down and though we've been hearing about Mark Anderson's dominant play in 11-on-11 drills (he caused numerous incompletions stampeding into the backfield), as well as Steve Johnson's return (he ran routes on about 10 plays, more or less feeling things out again), there was a much better story. T.J. Graham looks good -- really good. At NC...
Can Ryan Fitzpatrick take the Bills back to the playoffs in 2012? If there was one word used to describe the Buffalo Bills 2011 season it would be turbulent. Things got off to a great start, as the Bills opened the NFL season by winning their first three games on their way to a 5-2 start. However, at that point the wheels fell off the wagon and the Bills went into a tailspin, dropping...
Buffalo Bills defensive end Mario Williams has a new home and at least 53 new fans. By closing on a $2 million deal to purchase a mansion in suburban Buffalo, the Bills' high-priced free-agent addition helped a group of creditors recoup about $500,000 they were cheated out of by the home's former owner, William F. Savino says. Savino is a Buffalo-based attorney representing...
Back in March, Mario Williams broke the bank -- or, likely, a chain of banks -- when he agreed to a six-year, $100 million contract with the Bills. The deal, which included a whopping $50 million in guarantees, made him the highest-paid defender in NFL history. Now that he's settled in the Buffalo area, Super Mario is putting some of that money to good use. Per the Buffalo...
You know what doesn't make sense about the $2,000,000 mansion that Mario Williams just bought in Orchard Park, NY? The place has the biggest library we've seen in modern athlete house history. Who knew Mario was such a fan of hardbacks? Not us. The guy signs a $100 million deal with the Bills and decides he can't live without a two-story library. Hell yes, we'd rip out the...
The Buffalo Bills added free agent QB Vince Young this offseason, but according to reports, he is struggling to learn the base concepts of the team's offensive scheme. Despite telling reporters that he is impressed with Young so far this season, head coach Chan Gailey admits the signal caller is struggling with the concepts of the offense. "He has done a very good job , considering...
Receiver David Nelson sees no reason why the Buffalo Bills can't be one of the NFL's most productive offenses this season. In beginning to shed their adopted ''No-Name'' label last season, the Bills' collection of castoffs and journeymen showed signs of a spark in helping the team get off to a surprising 5-2 start before unraveling en route to a 6-10...
The Buffalo Bills had an impressive offseason, adding quality depth at positions of dire need including defensive end, linebacker, and offensive line. However, the remaining question is in regards to which of the Bills' wide receivers not named Stevie Johnson or David Nelson will emerge as the starter on the outside. Throughout Offseason Training Activities (OTAs), Bills' head...
The Buffalo Bills closed up their spring/summer practices and head off on a break until training camp. Head coach Chan Gailey sat down to talk about how he feels the team is doing.   "We got a lot done this week," said Gailey shortly after the final workout. "We got a lot of situations looked at. We got a lot of situational football done this week, which was great. We...
Mini camp is usually that grueling part of the offseason that most players, especially veterans, wish they could avoid. But when a team has as many new additions as the Buffalo Bills had this offseason, it's never a bad thing to get the team together. "Right now at mini-camp we are just going over the plays," Mark Anderson told Buffalobills.com. "Learning different...
For the last couple of months, fantasy football fans have had nothing but player news to keep them satisfied. Now that we are in full summer mode, however, fantasy fans are beginning to comb the internet for 2012 fantasy football rankings. We here at Fantasyknuckleheads.com are right there with you all! Each author here will be giving there own Top 50 fantasy football rankings...
Bills News

Delivered to your inbox

You'll also receive Yardbarker's daily Top 10, featuring the best sports stories from around the web. Customize your newsletter to get articles on your favorite sports and teams. And the best part? It's free!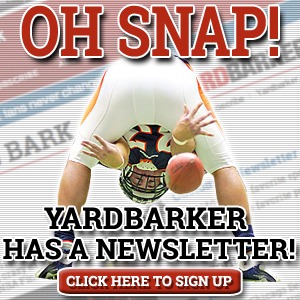 Latest Rumors
Best of Yardbarker

Today's Best Stuff

For Bloggers

Join the Yardbarker Network for more promotion, traffic, and money.

Company Info

Help

What is Yardbarker?

Yardbarker is the largest network of sports blogs and pro athlete blogs on the web. This site is the hub of the Yardbarker Network, where our editors and algorithms curate the best sports content from our network and beyond.