Found January 23, 2013 on The Bay Cave:
Former Oakland and Tampa Bay receiver Tim Brown sounds as if he is still hurting from the Raiders Super Bowl XXXVII loss to the Bucs a decade ago. So hurt that he can't remember if he said former head coach Bill Callahan sabotaged the game plan or not. Let's take a trip down memory lane. Here is what Brown said Saturday on SiriusXM NFL Radio: "We all called it sabotage . . . because Callahan and Gruden were good friends." Brown said that in reference to Bill Callahan changing the gameplan two nights before the Super Bowl. Former teammate Jerry Rice also agreed with Brown in an ESPN interview. Rice said Callahan may have decided to "let Jon Gruden go out and win this one." Well, after several interviews since Saturday, including one Tuesday with 98.7 The Fan in Tampa, Brown said he will never back down from what he said. Brown is doing just that, backing down: "I have never said that he sabotaged the game. All I'm saying is, all I was saying after the game was, you know, the question was asked about this situation, but no one ever said — and I said on the radio show last Saturday night — that's something that could never be proven." That was Brown Wednesday morning on the Dan Patrick Show via ProFootballTalk.com. Former teammate and Raiders' quarterback Rich Gannon said both Brown and Rice are out of line. Stated that the game plan changing dramatically is simply not true. And how does Callahan feel about these claims? He says he is "shocked, saddened and outraged" by what Brown and Rice have said. So much time has passed since this game was played. Nothing was said then about the game being thrown or "sabotaged" in any way until recently. One thing is certain, Warren Sapp did not like the comments: Does Tim Brown have any idea if Reid & McNabb threw the NFC champ game that year too — Warren Sapp (@WarrenSapp) January 22, 2013 Somebody tell Tim I want my helmet back! — Warren Sapp (@WarrenSapp) January 22, 2013   He's out of my collection w/ this BS #BoyItsOver — Warren Sapp (@WarrenSapp) January 22, 2013 (Photo credit: AP) The post So Tim, was the Bucs Super Bowl win sabotaged or not? appeared first on The Bay Cave.
Original Story:
http://www.thebaycave.com/2013/01/23/...
THE BACKYARD
BEST OF MAXIM
RELATED ARTICLES
Super Bowl XXXVII was known for being Jon Gruden's old team — the Raiders — against his new team — the Buccaneers. In the public's eye, Gruden couldn't go wrong with the results of the game. Either he built a Super Bowl winner, or he coached a Super Bowl winner. But if Tim Brown's allegations are true, it's possible he really couldn't go wrong with the results of...
Warren Sapp went hunting yesterday and killed himself some unidentified birds to our non-coloration knowning eyes. We quickly turned to our bird experts on Twitter to determine what birds gave their lives to this maniac. After much discussion, the experts have determined that those are dead quail, but there's a twist (see below). [via @WarrenSapp] Noted. Again, noted. Noted...
It's been ten years since the Tampa Bay Buccaneers faced off against the Oakland Raiders in Super Bowl XXXVII, a game that saw Tampa Bay pick off league MVP Rich Gannon five times, returning three for scores as the Bucs ran away with a 48-21 victory. Jon Gruden was the Raiders' coach from 1998-01 and [...]
It seems as if Jerry Jones and the Dallas Cowboys are trying to put the band back together. Monte Kiffin, Rod Marinelli, Bill Callahan and now possibly, the Cowboys are reportedly negotiating a buyout of the contract for special teams coach Rich Bisaccia. What do these coaches all have in common? Jon Gruden. Coincidence? Perhaps. Bisaccia served as the Tampa Bay Buccaneers special...
A curious story has surfaced on the 10th anniversary of Super Bowl XXXVII, a game that featured the Oakland Raiders taking on the Tampa Bay Buccaneers. The Buccaneers completed dismantled the Raiders 48-21 on their way to the franchise's first World Championship. Did the Oakland Raiders coaching staff sabotage their game plan in order to hand the Super Bowl to the Buccaneers? Former...
  Duke, the #1 college basketball team in the country, got the brakes beat off of them last night by conference foe Miami.     During the second half of one of the Blue Devils most lop-sided defeats in school history, Miami seized the opportunity to take a dig at the perennial hoops powerhouse by mocking their defensive floor slapping gesture; and none other than former NFL player...
Former Oakland coach Bill Callahan has denied allegations made by two of his former players that he ''sabotaged'' the Raiders in their Super Bowl loss to Tampa Bay 10 years ago. Former Raiders receivers Tim Brown and Jerry Rice both said in recent interviews they believe Callahan undermined his own team in the Super Bowl in 2003 because of his close friendship with...
Back when the 2002 season started, Steve and I discussed the prospect of the Buccaneers playing the Raiders in the Super Bowl. You see, that was the season that Jon Gruden was traded to the Bucs. Both teams were pretty talented going into the season, but if the teams played each other in the Super Bowl, that would just be a little too perfect, right? This led to a comparison of the...
Recently former Raiders wide receiver Tim Brown said that his old Raiders head coach sabotaged the team's chances for winning Super Bowl XXXVII. This started a huge media blitz to see if there was any truth to what Brown had said. Tim Brown said, "It's hard to say Callahan sabotaged the Super Bowl. You know, can you really say that? That can be my opinion, but I can't say...
It seems that the 2002 Raiders aren't exactly seeing eye to eye 10 years after they made, and lost, the Super Bowl. On Monday, Tim Brown told SiriusXM NFL Radio that he believed Bill Callahan sabotaged Super Bowl XXXVII because he didn't like the Raiders' organization, and because he was friends with Jon Gruden, the head coach of the Buccaneers, Oakland's opponent in the...
Three days after Tim Brown suggested that former Oakland Raiders coach Bill Callahan sabotaged his team in 2003, preventing them from winning Super Bowl 37, Brown's former teammate, Hall of Fame wide receiver Jerry Rice, supported Brown's comments. On Tuesday, Rice said on ESPN that he was surprised when Callahan changed the team's offensive gameplan three days before...
DALLAS-- Former Heisman trophy winner and NFL star Tim Brown dropped a bombshell of a story Monday on Sirius Radio, but he insists he's not breaking news. Apparently Brown has felt for years that current Dallas Cowboys offensive coordinator Bill Callahan sabotaged Super Bowl XXXVII as head coach of the Oakland Raiders, in part because of his disdain for the organization. During...
NFL News

Delivered to your inbox

You'll also receive Yardbarker's daily Top 10, featuring the best sports stories from around the web. Customize your newsletter to get articles on your favorite sports and teams. And the best part? It's free!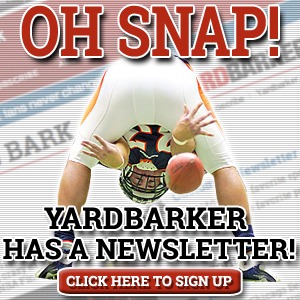 Latest Rumors
Best of Yardbarker

Today's Best Stuff

For Bloggers

Join the Yardbarker Network for more promotion, traffic, and money.

Company Info

Help

What is Yardbarker?

Yardbarker is the largest network of sports blogs and pro athlete blogs on the web. This site is the hub of the Yardbarker Network, where our editors and algorithms curate the best sports content from our network and beyond.