Found July 29, 2013 on Fox Sports Southwest:
The heat index in New Orleans for Monday's session of Saints Training Camp was 105 degrees. Loyal members of the Black and Gold's fan base sat quietly with damp towels draped over their necks, beneath umbrellas and sunglasses, attempting to hide at least partially from therelentless South Louisiana sun. But 11-year-old Ka'Nard Allen was a bundle of happy energy as he flitted from the stands, to the group of boys armed with a football mimicking the action on the field, to the side of his mentor Sonny Lee. Despite the Saints having their most promising day of practice yet, according to Coach Sean Payton, Lee was solely focused on the smile across Ka'Nard's face. Ka'Nard has survived being shot twice in his young life, but his smile has been one of the more visible casualties. The first time Ka'Nard was shot: at his 10th birthday party last May, when a man now indicted on gang racketeering charges is accused of opening fire during a drive-by shooting, wounding Ka'Nard in the neck and killing his five-year-old cousin, Brianna Allen who stood next to him, celebrating his birthday. Ka'Nard recovered physically, but in October of 2012, his father was stabbed to death, and Ka'Nard had another emotional hurdle to overcome. Then this May, during a traditional Mother's Day Second Line Parade in New Orleans' 7th Ward, a mass shooting broke out: 19 people were injured, including Ka'Nard, who was grazed on the cheek by a flying bullet. When 31-year-old Sonny Lee heard Ka'Nard's story, he hit the recruiting trail, so to speak, because he knew the young boy was a perfect fit for his program. Lee founded an organization called "Son of A Saint" in July 2011, when he was just 29-years-old. Lee lost is father, former Saints defensive back Bivian Lee, in 1984 to a heart attack. Bivian was 36-year-old. Sonny was just 3-year-old, but has been deeply impacted ever since. The loss of his father still haunts Lee, but it has also inspired him to help younger boys trying to navigate the world without a dad. "Son of A Saint" is a mentoring program for fatherless boys that teaches them how to tie a tie, shake hands, what silverware to use, how to throw a football. Lee and his volunteer mentors tutor their "kids" after school, show up in the classroom to check grades and lead them in community service projects. After the Mother's Day Shooting, Lee approached Ka'Nard's mother and asked if she would allow her son to join "Son of A Saint." It was an answer to prayer for the Allen family. That was just a little more than three months ago. "Ka'Nard was cautious and withdrawn," remembers Lee. "Now he's doing great: smiling a lot. He's always making suggestions about what to do. He's very, very hyper, which is a wonderful thing. He's got a lot of energy, and he's a great brother to the rest of the kids in Son of A Saint. They love having him around." Ka'Nard has spent much of the summer with Lee and his fellow "Son of A Saint" participants: "Riding horses, going to the movies, all types of stuff!" beams Ka'Nard. His favorite movie so far has been "Turbo." Ka'Nard has also learned to help others and become one of Son of A Saint's most dedicated volunteers. "He's doing community service with us. We go out and do community service once a month. He's loving doing that - just giving back to the community," says Lee. In fact, that's part of how Ka'Nard arrived at Saints camp Monday. Ten of the thirty participants in Son of A Saint attended camp, met team owner Tom Benson, ate lunch and watched their favorite players as a reward for completing a summer community service goal and a reading project. "We brought our kids out here as a reward for their behavior over the summer. This is the last treat before school starts. They all love football, They all love the Saints. We have some supporters who play for the Saints. They'll come out here and see the kids after practice," says Lee. "It's really cool," says ten-year-old Trey Hand, who sized up cornerback Keenan Lewis all day and reports "He looks pretty good." Hand also predicts the Saints will make another Super Bowl run this year. That remains to be seen, but no doubt there is a tremendous amount of winning happening off the field for one particular "Son of A Saint" and the young men whose lives he's changing.
Original Story:
http://www.foxsportssouthwest.com/sto...
THE BACKYARD
BEST OF MAXIM
RELATED ARTICLES
Ben Watson- The former New England Patriot and Cleveland Brown signed with the New Orleans Saints this past offseason. Though his signing didn't get much hype or attention, Watson may prove to be very important. Watson brings more skill and athleticism to the tight end position which already features the best tight end in the game. The pairing of Watson and Jimmy Graham gives the...
New Orleans Saints tight end Jimmy Graham is in the final season of his rookie contract so naturally his future has become a popular question. He's easily one of the best tight ends in the game and is lining himself up for a big payday. Most players in his situation would have held out to get his deal now but he hasn't. Graham's been a different breed, he simply wants to...
According to a league source, New Orleans Saints linebacker Martez Wilson has an elbow injury that will keep him sidelined for 2-4 weeks, reports The Times-Picayune. Wilson walked off the field with trainers, holding his left arm after attempting a tackle during Monday's practice. In his absence, the team will see a lot more of LBs Chase Thomas and Eric Martin in his place...
As a Saints fan, it's finally nice to have something resembling a normal offseason.  It's a great and liberating feeling to have a head coach back and Commissioner Voldemort's dark shadowy figure out of the picture.  Well... at least I thought this was going to be a normal offseason.  NFL Network accidentally broke some news this weekend by wondering where the Saints...
First, it looks like THE DIRTY is about to get the waitress fired. I want to make it every clear to management at Del Mar Rendezvous that Carissa DID NOT submit this receipt of cheapo Drew Brees. Contacts at the restaurant have told me you will be meeting with her tonight to discuss termination. Drew Brees is the 3 dollar tipper, don't fire her because of his actions.- nik Secondly...
The New Orleans Saints signed wide receiver Tim Toone to be a camp body, replacing wide receiver Brent Leonard. With the amount of quality wideouts in camp for the Saints, the odds of Toone breaking camp and making the 53-man roster is minimal at best. The post New Orleans Saints Sign WR Tim Toone appeared first on FFLockerRoom.
Nik Richie, of TheDirty.com fame, does not discriminate when it comes to outing the lowlifes of America. This includes beloved Saints quarterback Drew Brees, who Richie confirmed left a $3.00 tip on a $74.41 tab at Del Mar Rendezvous in Del Mar, California, earlier this month. Based on reports of the waitress being fired for publicly outing Brees' stinginess, Richie released a...
Drew Brees may donate millions to charity and host fundraisers for cancer patients, but apparently stiffing one California waitress is enough to overshadow all those pesky good deeds and earn him the label of "cheap bastard", according to one absurd website. The Dirty posted a receipt leaked by someone from Del Mar Rendezvous restaurant, which claims to show Brees left a $3...
I bartended and waited tables to put myself through college, so this is always a sensitive subject for me.  I'm guessing this was a to-go order or maybe Drew threw down some cash as well.  I'll give him the benefit of the doubt as he has always seemed like a guy who gives back.  Here is CC receipt in question C/O TerezOwens.  FYI, that server probably doesn't have a job...
I'm always making dreams come true Juan… Brees Hits Joe Morgan (Vine) Drew Brees Finds Lance Moore (Vine)
Darren Sproles Is Going To Have About 80 Of These This Year (Vine) Cecil Shorts Is Making Noise and You Should Take Notice
Saints News

Delivered to your inbox

You'll also receive Yardbarker's daily Top 10, featuring the best sports stories from around the web. Customize your newsletter to get articles on your favorite sports and teams. And the best part? It's free!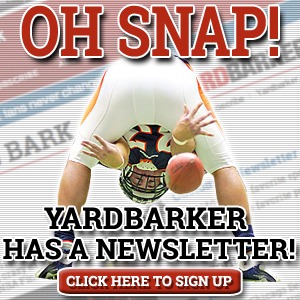 Latest Rumors
The Backyard

Today's Best Stuff

For Bloggers

Join the Yardbarker Network for more promotion, traffic, and money.

Company Info

Help

What is Yardbarker?

Yardbarker is the largest network of sports blogs and pro athlete blogs on the web. This site is the hub of the Yardbarker Network, where our editors and algorithms curate the best sports content from our network and beyond.