Found December 06, 2012 on Fox Sports Ohio:
PLAYERS:
Randy Lerner
,
Jason Pinkston
,
Josh Gordon
,
Trent Richardson
,
Brandon Weeden
,
Mitchell Schwartz
,
Phil Taylor
,
Jabaal Sheard
,
Greg Little
,
Joe Haden
,
T.J. Ward
TEAMS:
Cleveland Browns
BEREA -- Tom Heckerts future as General Manager of the Cleveland Browns could rest on whether he will have final say regarding the roster. Thats the word from several NFL insiders contacted in light of the recent reports that the Browns would bring in Mike Lombardi as GM, a move the insiders called not nearly as likely as its been portrayed. It seems possible Heckert could stay -- provided he retains control over the roster and the draft, which he has in his present contract. Sources said that new owner Jimmy Haslam and CEO Joe Banner have been impressed with Heckerts work, but Banner and Haslam also have said that Banner will be involved in personnel, and that football will report to Banner. What that means specifically has not been spelled out. If Heckert has control of football with Banner evaluating him, Heckert could stay. If Banner insists on being involved in personnel and having final say over the roster and the draft, it could lead to Heckerts departure. In the NFL, Banner is viewed as very effective managing the salary cap and in business matters. But hes not considered a personnel guy. Heckert is, and to stay he wants to retain what he has. If he doesnt stay in Cleveland, he would be in demand -- Carolina has a GM opening, and a team like San Diego might. The decision could come down to two factors: Banners willingness to cede control of football decisions to Heckert, and Haslams willingness to step in to ensure Heckert stays. The owner ultimately decides the organizational chart, so if Haslam decides Heckert deserves final say, thats the way things will work. Which might set up an interesting early scenario for the new owner: Does he back the guy he picked to be CEO, or does he back Heckert? Or does he simply find a way to bring both into a room and work out an agreement that would make both happy, a scenario more in line with the way he has said he would run the team. Heckert declined to comment, and Banner reiterated through the teams media relations department what he has previously said, that he would not get into discussions about the future while there is a GM in place and the season continuing. Banner previously told the Plain Dealer the Lombardi reports are wild speculation and unfounded and said somebodys taking a shot in the dark. Lombardi appeared on Philadelphia Daily News Live on ComcastSportsNet in Philadelphia (www.csnphilly.com), and was asked directly about Cleveland. Theres really not a lot of substance to the conversation, he said. Theres just a lot of rumors and innuendos. Theres really nothing to it. Lombardi said he hadnt talked to anyone with the Browns and hes content with the NFL Network. Ive had none of that interest yet, he said, and I dont think this is the time for it because people are still in jobs. Hub Arkush, the Publisher and Editor of Pro Football Weekly, started the Lombardi mill churning. Arkush is connected and respected, so he clearly is reporting what hes been told by his connections. The situation will play out when the season ends, but this is the time of year when chatter is prevalent, about coaches and GMs. Heckert tried to shrug off questions about his future when news broke on the first day of training camp that Randy Lerner was going to sell the team. But privately he, like everyone else with the Browns, knew he was facing uncertainty. He contacted friends around the league to discuss the future. His actions werent unusual, nor should they have been a surprise. Ownership change often brings upheaval. As the season progressed, Heckert became a little more vocal about wanting to stay, and that feeling has grown stronger as the season has progressed. Heckerts three drafts have produced 12 starters (counting injured guard Jason Pinkston and receiver Josh Gordon from the supplemental draft), with several others contributing. He made an old team young, and added depth in positions of need (like defensive line). His first two rounds have brought RB Trent Richardson, QB Brandon Weeden, OT Mitchell Schwartz, DT Phil Taylor, DE Jabaal Sheard, WR Greg Little, CB Joe Haden, S T.J. Ward and Gordon. Those players are the core of the Browns future, a future people in the league feel is bright. The past three years, too, Heckert has been hamstrung by the Browns refusal to spend money in free agency. The team has always denied they were stopped from spending on free agents, but the Browns went from being free spenders to barely signing anyone. The sale of the team from Randy Lerner to Haslam combined with empty suites and seats might indicate the Browns had a cash-flow issue. Haslam will infuse money, and a new attitude. Though he has yet to go through free agency, it would be a surprise if the free agency reins werent loosened. Will Heckert stay? It depends on him keeping what is already in his contract: The ability to be the man in charge of football and roster decisions.
Original Story:
http://www.foxsportsohio.com/12/06/12...
THE BACKYARD
BEST OF MAXIM
RELATED ARTICLES
Kansas City Chiefs running back Peyton Hillis shot back at his former teammate, tackle Joe Thomas, who in a lenghty tirade, blasted Hillis for susposedly selling out on his team in his pursuit for a new contract. In a nutshell, Thomas accused Hillis of not always play hard during his time in Cleveland, while creating a "toxic" environment in the locker room by thinking...
Browns GM Tom Heckert has a chance to stay as the team's GM after the season, per Fox. Rumors abound as to whether or not Michael Lombardi will take Heckert's job. "There's really not a lot of substance to the conversation," Lombardi said. "There's just a lot of rumors and innuendos. There's really nothing to it." Heckert was part of the staff that drafted key contributors...
I was glancing through the headlines yesterday and today of all the places covering Joe Thomas' comments on Peyton Hillis and something just didn't sit right with me. ESPN said Joe Thomas "blasts" Peyton Hillis. Dawgs By Nature said that Thomas "Rips Into" Peyton Hillis. ESPN Cleveland said Thomas "tees off" on Peyton Hillis. This is not to criticize any of these...
BEREA, Ohio (AP) -- Kickoffs have defined Josh Cribbs' career in the NFL, and made him an invaluable weapon for the Cleveland Browns. So the thought of the league abolishing the exciting play irritates the return specialist. "They need to call it a different league if they do that," Cribbs said. "It'll change the game drastically." Earlier this week, Commissioner...
Their record won't be an indication, but the Cleveland Browns are slowly starting to turn things around. They likely won't make the playoffs, unless they win out and have a ton of help, but that doesn't mean they are going just to roll over for teams. Rookies have played huge roles for the Browns this [...] [[ This is a content summary only. Visit my website for full links...
Browns offensive tackle Joe Thomas called former teammate Peyton Hillis ''a terrible distraction'' last season, and said the running back put his contract situation ahead of the team. Hillis is returning to play in Cleveland this week with the Kansas City Chiefs. Thomas unloaded Wednesday on Hillis, saying he didn't always play hard and called his time with the...
Greetham dissects the Tom Heckert tenure as Browns GM and comes to a conclusion on what the Browns should do with Heckert moving forward.
Last week: 24 (-1) Record: 4-8 Net points per drive: -0.15 (20th) DVOA: -13.6% (26th) Weighted DVOA: -10.0% (24th) Studs LT Joe Thomas: Allowed 1 quarterback hit on 38 pass block snaps WR Josh Gordon: Caught 6 passes for 116 yards and a touchdown on 7 attempts on 35 pass snaps, 5.7 YAC per catch, 1 interception when thrown to CB Sheldon Brown: Allowed 5 catches for 54 yards on 13...
KANSAS CITY, Mo. (AP) Peyton Hillis lashed back at former teammate Joe Thomas on Thursday, comparing the Browns' offensive tackle to a "crazy ex-girlfriend" after he made disparaging comments about the Kansas City Chiefs running back. Thomas told reporters in Cleveland on Wednesday that Hillis didn't always play hard during his time with the Browns. He also accused...
This week's Average Joe William Green is hailed for his legendary Forest Gump-like scamper that clinched a playoff berth and is more widely known for a love triangle involving a DUI, weed, a stabbing, and one shoe and one sock. Say hello to a man who was supposed to let his athletic ability be the future of the Cleveland Browns, but let his lack of brains get in the way. Some...
Chiefs running back Peyton Hillis responded tersely to comments by former teammate Joe Thomas, likening him to a ''crazy ex-girlfriend'' who won't move on. Thomas, the Browns' offensive tackle, said Wednesday that Hillis didn't always play hard during his time in Cleveland. He referred to Hillis as ''toxic'' and accused him of putting...
Browns News

Delivered to your inbox

You'll also receive Yardbarker's daily Top 10, featuring the best sports stories from around the web. Customize your newsletter to get articles on your favorite sports and teams. And the best part? It's free!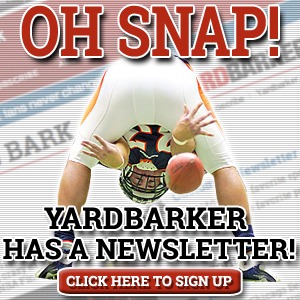 Latest Rumors
The Backyard

Today's Best Stuff

For Bloggers

Join the Yardbarker Network for more promotion, traffic, and money.

Company Info

Help

What is Yardbarker?

Yardbarker is the largest network of sports blogs and pro athlete blogs on the web. This site is the hub of the Yardbarker Network, where our editors and algorithms curate the best sports content from our network and beyond.