Found December 05, 2012 on Fox Sports Arizona:
TEMPE, Ariz. Maybe somebody should roll out Herman Edwards infamous postgame press conference for Cardinals defensive tackle Darnell Dockett. You play to win the game! Hello?! You play to win the game! Give Dockett credit for facing the media on Wednesday, as a team captain should do. Give Dockett credit for apologizing to teammate Kerry Rhodes for an altercation of which details are still unclear following Sundays loss to the New York Jets. Yet, in spite of those stand-up acts, Dockett still didnt seem to grasp the point of what Rhodes was trying to tell him or the coaching staff, for that matter. Neither Dockett, Rhodes nor coach Ken Whisenhunt would discuss exactly what happened or why it happened, but it was clear in Docketts interview that he was upset the Cardinals were trying to let the Jets score late to take a 14-6 lead so that Arizona could get the ball back and have a chance, albeit slim, to win the game. Me and Kerry had a very heated argument at a very heatful time in the game, Dockett said. I apologized to Kerry, Kerry forgave me, and thats it. It was a situation that we totally didnt agree on. At the end of the day we did what was best for the team to give our team the best chance to win the game. And that was the point in a nutshell. New York was smart and made certain not to get into the end zone. The Jets ran out the clock. But the only way, repeat, the only way the Cardinals had a chance to win was if they let the Jets score and got the ball back. Its just something that I dont believe in, Dockett said. I didnt understand. It was frustrating at the time. At the end of the day, I am never ever going to lay down and quit. Ive been playing football for over 20 years. Ive given this organization, Ive given Florida State and my high school everything Ive got. I love the game. I play with passion, and Ill never quit. Passion and heart are great. Playing with intelligence is also necessary, and thats what Rhodes and the staff were trying to do. As for whether Dockett will face disciplinary action for the altercation, Whisenhunt would not say. Were moving on, Whisenhunt said. Thats an in-house matter. Weve handled it in-house. Were going to move forth. Were not going to discuss an in-house situation. Rhodes did not speak to the media on Wednesday, but on Tuesday, he released a statement emphatically denying that Dockett spit on him, as was reported. Were both moving on and Ill leave it at that, Rhodes said.
Original Story:
http://www.foxsportsarizona.com/12/05...
THE BACKYARD
BEST OF MAXIM
RELATED ARTICLES
According to multiple media reports, the Cardinals fined defensive lineman Darnell Dockett a "six-figure" amount Friday for conduct detrimental to the team. XTRA 910 AM radio host Mike Jurecki first reported the fine According to NFL.com's Albert Breer, the amount of the fine was 200,000. The NFL.com report also states that the NFL Players Association has already...
Arizona Cardinals defensive tackle Darnell Dockett is likely to face disciplinary action from the team after an incident between Dockett and teammate Kerry Rhodes during Sunday's game against the Jets, KTAR radio in Arizona reported. Dockett spit in Rhodes' face during the game, according to ProFootballTalk.com. The incident occurred late in the fourth quarter. The Cardinals...
Arizona defensive tackle Darnell Dockett says he's apologized to teammate Kerry Rhodes for the pair's on-field run-in during the waning seconds of last Sunday's loss to the New York Jets. Dockett says Rhodes has forgiven him and the pair is moving on. What Dockett described as a ''very heated argument'' stemmed from Rhodes trying to persuade him to allow...
Arizona Cardinals defensive end Darnell Dockett was fined an amount of "six-figures" for an on-field incident involving teammate Kerry Rhodes, ESPN reported Friday. The exact amount of the fine is not known. Dockett reportedly spit on Rhodes during the incident, according to ESPN, citing a source. Rhodes denied that Dockett split on him. Dockett, who apologized for...
According to Mike Jurecki of XTRA 910 in Arizona, the Cardinals have fined defensive lineman Darnell Dockett six-figures for his incident with teammate Kerry Rhodes. I'm hearing that Darnell Dockett has been fined six figures from the Cardinals organization, & could have a limited role vs. Seattle. — Mike Jurecki (@mikejurecki) December 7, 2012 Dockett reportedly spit in...
There are moments that make you cringe to be a journalist. A ProFootballTalk.com report on Monday regarding the Cardinals is one such moment. Defensive tackle Darnell Dockett and safety Kerry Rhodes were allegedly involved in some sort of incident that drew plenty of chatter on Twitter following the Cardinals 7-6 loss to the New York Jets on Sunday in New Jersey. Citing a source...
Arizona safety Kerry Rhodes has confirmed he had a run-in with teammate Darnell Dockett at the end of Sunday's game against the New York Jets. Rhodes says in an email released by the Cardinals that there was an on-field ''disagreement'' but emphatically denies a report that Dockett spit in his face and says the two have agreed to move on. The dispute reportedly...
Kerry Rhodes has gone on record about the incident between he and teammate, Darnell Dockett from Sunday's game against the Jets. Initially it was reported that the altercation ended with Dockett spitting in Rhodes face. Rhodes has said via an e-mail released via the Cardinals, that while the two did have a situation, spitting was [...]
The Arizona Cardinals have fined Darnell Dockett $200,000 for spitting on teammate Kerry Rhodes and defying coaches' orders during the Cardinals' 7-6 loss to the New York Jets, according to Albert Breer of NFL.com. Dockett is appealing the fine, and the NFL Players Association has begun the process of filing a grievance on the players' behalf. "Thank God for the...
Things aren't so great for the Arizona Cardinals this season. The team has a current record of 4-8 with problems at the QB position. Now comes word out of Arizona that there was an on-field altercation between safety, Kerry Rhodes and linebacker Darnell Dockett that ended with Dockett spitting in Rhodes face. During Sunday's game [...]
NFL News

Delivered to your inbox

You'll also receive Yardbarker's daily Top 10, featuring the best sports stories from around the web. Customize your newsletter to get articles on your favorite sports and teams. And the best part? It's free!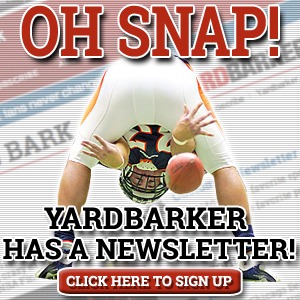 Latest Rumors
The Backyard

Today's Best Stuff

For Bloggers

Join the Yardbarker Network for more promotion, traffic, and money.

Company Info

Help

What is Yardbarker?

Yardbarker is the largest network of sports blogs and pro athlete blogs on the web. This site is the hub of the Yardbarker Network, where our editors and algorithms curate the best sports content from our network and beyond.