Found September 27, 2012 on Steelers Depot:
Below is the week 3 offensive line breakdown for the Pittsburgh Steelers game against the Oakland Raiders. Before we get to the grades, it should be noted that the pass protection as a whole in this game was excellent. Part of that stems from the concerted effort to focus on a shorter passing game and get the ball out the hand of quarterback Ben Roethlisberger. That being said, there were still a few times when the quarterback held the ball and the line did not let him down. As far as the running block went, there were lanes. Not huge lanes, but lanes nonetheless and I thought on 4 of the running Read more [...]
Original Story:
http://www.steelersdepot.com/2012/09/...
THE BACKYARD
BEST OF MAXIM
RELATED ARTICLES
Following the Pittsburgh Steelers 34-31 loss on Sunday to the Oakland Raiders, quarterback Ben Roethlisberger was quoted as saying that there were some plays that he called during the game that weren't in the current playbook. "There were plays out there that I called that weren't in our playbook," Roethlisberger said. "I know it sounds crazy; things we've had...
Be warned that there is a fake story making the rounds on the internet that states Pittsburgh Steelers quarterback Ben Roethlisberger broke both his legs in a car accident on Wednesday. The story is posted on a fake story generator website. I refuse to link to the site, as it would only bring them undeserved traffic. It is unfortunate that fake stories like this grow legs, and...
Through three weeks of the NFL season, the Pittsburgh Steelers have seen lofty expectations shattered, but even loftier expectations start to come to fruition. Steelers quarterback Ben Roethlisberger is playing at a level that puts him atop the NFL's list of passers. Now, I'm of the school of thought that says that it's never too early to make predictions and end up eating...
It looks as if most of the fines for this week have been handed out and it seems as if Oakland Raiders linebacker Phillip Wheeler will likely get away with lunging into the legs of Pittsburgh Steelers quarterback Ben Roethlisberger early in the second half of the 34-31 Sunday loss if no fine is announced today. As you can see in the animated gif below, Wheeler makes a last second...
Don't blame quarterback Ben Roethlisberger for Pittsburgh's slow start. Roethlisberger has been nearly unstoppable during the first three weeks of the season, averaging over 300 yards a game and throwing eight touchdowns against just one interception. He's currently second in the NFL in quarterback rating and has proven to be a quick study of offensive coordinator Todd...
Were you hanging out on Twitter today? If so, you may have seen the panic that was caused over Pittsburgh Steelers QB, Ben Roethlisberger. Ya see, a bunch of fans, and main stream media, were thrown into a frenzy about a report claiming that Big Ben had broken his leg in an automobile accident. This [...]
Have we been duped on the Internet? Of course. It happens when you're dealing with shady individuals. Have we ever been duped by a GeoCities-looking site saying Ben Roethlisberger broke both legs in a car crash? Nope. Ron Sirak of Golf Digest and Johnette Howard of ESPN.com are respected members of the mainstream media and today they fell for the GeoCities-looking site's hoax...
STANDOFF IN STEEL CITY?
After originally saying that he and Steelers offensive coordinator Todd Haley had "one little incident," Ben Roethlisberger later said the issue was blown out of proportion.
Steelers quarterback Ben Roethlisberger on Wednesday clarified his remark about using the 'old playbook' in last Sunday's game.
Affiliate – It has been a bumpy ride for the Pittsburgh Steelers in the first three weeks of the 2012 season.  They bounced back from a crushing loss to the Denver Broncos in week 1 to take down a promising New York Jets team, only to be beaten late in the game in week 3 by the Oakland Raiders.  The Steelers look to get some much needed rest in their week 4 bye so they can get...
By Christopher DiMarino How many Pittsburgh Steelers fans out there expected to be 1-2 going into the bye? Well, maybe a hard shot of clarity is exactly what this unit needs to come out of the bye week and re-establish themselves as the AFC North powerhouse that they are. The offense has definitely been stronger than the defense so far, but neither has been without flaws. The rushing...
The final score was 31-34 in Oakland, which is a place the Pittsburgh Steelers generally play poorly. However, if the Steelers were going to lose in Oakland most would have expected an offense that couldn't move the ball while giving up touchdowns on special teams and turnovers. While there were turnovers and special teams were leaky, that wasn't why the Steelers lost the game...
NFL News

Delivered to your inbox

You'll also receive Yardbarker's daily Top 10, featuring the best sports stories from around the web. Customize your newsletter to get articles on your favorite sports and teams. And the best part? It's free!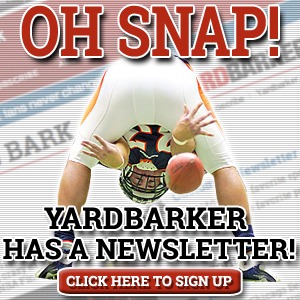 Latest Rumors
Best of Yardbarker

Today's Best Stuff

For Bloggers

Join the Yardbarker Network for more promotion, traffic, and money.

Company Info

Help

What is Yardbarker?

Yardbarker is the largest network of sports blogs and pro athlete blogs on the web. This site is the hub of the Yardbarker Network, where our editors and algorithms curate the best sports content from our network and beyond.