Found January 30, 2013 on Steel City Blitz:
The Pittsburgh Steelers have finally hired an offensive line coach after their former coach, Sean Kugler left a month ago to become the head coach at UTEP. Jack Bicknell, Jr. is your new offensive line coach Steelers' fans and my initial impression of the hire is clearly going to be a 'wait and see' approach. On the surface though, I'm not real impressed. Bicknell played offensive line for Boston College during the Doug Flutie years and then coached at the collegiate level. His NFL experience is all of four seasons worth and included three years as an assistant offensive line coach for the Giants followed by a year as OL coach in Kansas City. I can't argue much with his pedigree and his success running the ball in Kansas City last year. The Chiefs ranked fifth in the league in rushing despite going 2-14. What concerns me is that his offensive line gave up 40 sacks in 2012. That's just three more than Kugler's line gave up last season, but I fear this hiring goes a step further and i...
Original Story:
http://www.steelcityblitz.com/2013/01...
THE BACKYARD
BEST OF MAXIM
RELATED ARTICLES
The hiring of Jack Bicknell Jr. by the Pittsburgh Steelers Tuesday as their new offensive line coach means that we can probably expect to see a scheme slanted more towards zone blocking in 2013. The Steelers primarily used a man/power scheme the last several years under the tutelage of Sean Kugler, who left to become the head coach of UTEP following the season, and that included...
Florida Today is reporting Thursday that soon-to-be former Pittsburgh Steelers running back Chris Rainey pled no contest to disorderly conduct charges to settle his case from an early January arrest involving a dispute with his girlfriend. The report also states that Judge Walter Green withheld adjudication on Rainey, fined him $200 and imposed court costs of about $300. The...
Bob Labriola of steelers.com just completed his first interview with new offensive line coach Jack Bicknell Jr. on Tuesday and it included several great questions and answers. Bicknell was asked by Labriola during the interview what blocking scheme he preferred. "You have to be able to be multiple," said Bicknell. "It depends on what you have offensively and...
Veteran Steelers defensive end Brett Keisel believes his team will rebound from last year's dismal performance, but he looks at it as something that requires a substantial input from the young players. "We do have some really good young talent that needs to step up and start making more plays in order for us to win," Keisel said at an appearance in New Orleans with Los...
 Pittsburgh Steelers wide receiver Plaxico Burress is throwing a Super Bowl bash. You may remember Burress as the guy who caught the game-winning touchdown in Super Bowl XLII, which propelled the Giants to an improbable 17-14 victory over the heavily-favored Patriots. Still, others may remember the 35-year old as the guy who accidentally shot himself in the thigh in November 2008...
The Pittsburgh Steelers announced on Tuesday that they had hired former Kansas City Chiefs offensive line coach Jack Bicknell Jr. to be their next offensive line coach and that hiring means that the vacant special teams coach position is the only one that is left to be filled. The Steelers were granted permission on Monday to interview Danny Smith, the special teams coach of the...
AMERICA'S TEAM?
Sean J. Taylor of Facebook's Data Science department put together this nifty map of the United States showing NFL team loyalty, county-by-county, according to Facebook likes: Image by Sean J. Taylor, Facebook Data Science intern For some reason, South Carolina really likes the Pittsburgh Steelers. The map, which shows the most-liked team in each county, can be a bit confusing...
The Pittsburgh Steelers have named their next coach of the Offensive Line. Jack Bicknell Jr., who coached the line for the Kansas City Chiefs this year during the "Year of the Non-Quarterback". The Chiefs had a great season rushing the ball, ranking fifth and averaging just under 150 yards a game. Kansas City ranked last in the league in passing, but had no quarterback...
The Pittsburgh Steelers named Danny Smith, formerly of the Washington Redskins, as their new special teams coach on Wednesday and a few people have asked if I could post the kickoff and punting stats of Smith during his nine years in Washington in one easy to find place. I have pulled all of the stats in the tables below along with the Steelers stats during that same span of years...
With the season in the books, it's time to break down the Pittsburgh Steelers' roster, and we'll move along alphabetically in a 5-parter. Here's K through M:
So Facebook knows way too much about our lives, I'm sure...and in this case they started mining their data for good instead of evil. And by "good", I mean "good thing we know which counties in Ohio are occupied by cockroaches Pittsburgh Steelers fans. Obviously, the Browns dominate the smart part of the state, and the Bengals cover the southeast. But Pittsburgh...
  When debating whether or not an NFL quarterback is hall of fame worthy there isn't really a fine line. Either he's compiled a ton of stats that makes his entrance into Canton a mere formality or he's been the cornerstone of multiple championship offenses and is deemed hall worthy. Is Pittsburgh Steelers QB Ben Roethlisberger already a hall of fame QB? Big Ben does have a...
Steelers News

Delivered to your inbox

You'll also receive Yardbarker's daily Top 10, featuring the best sports stories from around the web. Customize your newsletter to get articles on your favorite sports and teams. And the best part? It's free!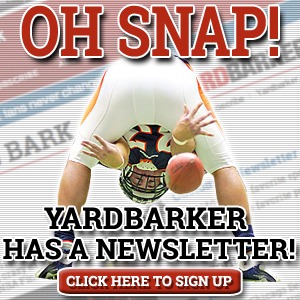 Latest Rumors
Best of Yardbarker

Today's Best Stuff

For Bloggers

Join the Yardbarker Network for more promotion, traffic, and money.

Company Info

Help

What is Yardbarker?

Yardbarker is the largest network of sports blogs and pro athlete blogs on the web. This site is the hub of the Yardbarker Network, where our editors and algorithms curate the best sports content from our network and beyond.