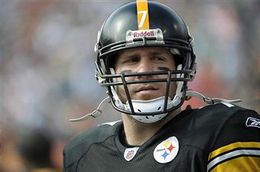 The offensive line breakdown report from the Sunday night game against the Baltimore Ravens is now complete and I had to even do this twice because of the tremendous grades that I gave the first time through. This was by far the best the offensive line has played as a unit all season and the best against the Ravens in some time. All 5 starters scored in the 90% range and that is just unheard of. The sack allowed on 3rd down however in the redzone can't be ignored though as it was a huge play in the game and the Steelers had to settle for a field goal because of it. Quarterback Ben Roethlisberger Read more [...]Steelers Ravens Week 9 Offensive Line Breakdown Report is a post from: Steelers Depot
Read the rest of this story...
MORE FROM YARDBARKER
NFL News

Delivered to your inbox

You'll also receive Yardbarker's daily Top 10, featuring the best sports stories from around the web. Customize your newsletter to get articles on your favorite sports and teams. And the best part? It's free!