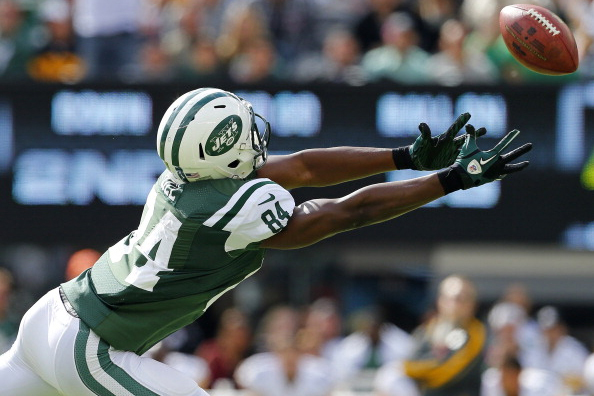 Former Jets WR Stephen Hill is speaking out against his old squad.
Getty Images
The New York Jets decided to part ways with Stephen Hill last weekend, and the former Georgia Tech star feels his release is everyone's fault but his own. Hill's agent has already said publicly that the third-year receiver was a victim of poor quarterback play from Mark Sanchez, Tim Tebow and Geno Smith. On Wednesday, Hill blamed the media.
Hill has nine dropped passes in 23 career games. However, he believes that the media created his reputation as a player who drops passes — not the dropped passes themselves.
"Well honestly that was New York Jets media that did that," Hill told Jonathan Jones of The Charlotte Observer. "If you really go back and look at it, there were guys at other facilities that dropped more than I did. As a receiver you're going to drop passes. You're going to catch footballs."
Again, we're talking about nine dropped passes in 23 games. That's a lot of butterfingers. Still, Hill feels the media simply wanted him out of town.
"Things like that happen; it's just that the New York media – and honestly this is me talking – did all that," he said. "They can say what they want to say about me, but I really don't care. I'm in a new place now. They tried their best to get me out of there."
Why the media would target the former second-round pick, we have no idea. Hill noted that he doesn't want the media or shaky quarterback play to serve as an excuse. Yeah, OK. While it couldn't have been easy to play with Sanchez, Tebow and Smith, Hill's unsure hands are his own fault. We'll see if Cam Newton and the Carolina Panthers can fix that problem.
MORE FROM LARRY BROWN SPORTS:
MORE FROM YARDBARKER
NFL News

Delivered to your inbox

You'll also receive Yardbarker's daily Top 10, featuring the best sports stories from around the web. Customize your newsletter to get articles on your favorite sports and teams. And the best part? It's free!