Found September 18, 2012 on Football Nation:
NFL icon Steve Sabol has passed today at the age of 69, after an 18-month battle with brain cancer.Sabol's father, Ed, founded what eventually became the industry standard NFL Films in 1962.The fledgling company's first major contract assignment was an in-depth look at the 1962 title game between the Green Bay Packers and New York Giants.The younger Sabol worked with his father every step of the way in building a brand that paved a glorious and enduring legacy that left imitators and viewers in awe.The death of such a legendary and monumental figure in the sport reminds us today of all things good about the league and sport with which we've grown up, and love to this day.With all the swirling conflicts that surround the game at this moment in time, from "bounty-gate" to concussion lawsuits, and of course the replacement official debacle, it is important to remind oneself of the beauty and richness the game of football provides.And in particular, all that Steve ...
Original Story:
http://www.footballnation.com/content...
THE BACKYARD
BEST OF MAXIM
RELATED ARTICLES
President of NFL Films Steve Sabol died of brain cancer at the age of 69 on Tuesday. Sabol was the creative force behind NFL Films' unique brand of storytelling and cinematography for five decades. "Steve Sabol was the creative genius behind the remarkable work of NFL Films," NFL Commissioner Roger Goodell said in a statement. "Steve's passion for football...
NFL To Honor Steve Sabol All Week - The NFL will honor Steve Sabol this week in the most appropriate way possible: on film. In every NFL stadium this week, a video tribute to the late NFL Films president will air prior to kickoff. Sabol spent his life glorifying football. He would not want his tribute to distract from the field, but it only seems right that his image will be seen...
If you enjoy watching football on television -- I assume this is most of you -- then you felt the enormous impact Steve Sabol had in his life as co-founder of NFL Films. Sabol may not have received as much credit as he deserved towards the popularization of the NFL while alive, but when news of his death broke, Twitter blew up with an outpouring of support. Current NFL players, hall...
The Autumn wind is a pirate Blustering in from sea With a rollicking song he sweeps along Swaggering boisterously. His face is weatherbeaten He wears a hooded sash With a silver hat about his head And a bristling black mustache He growls as he storms the country A villain big and bold And the trees all shake and quiver and quake As he robs them of their gold. The Autumn wind is...
Anyone that has followed the NFL for any length of time knows the name Steve Sabol. He was an integral part of how the NFL is watched today. His father, Ed Sabol created NFL Films and Sabol eventually became President of the company. On Tuesday, Sabol lost his battle with brain cancer. He learned in March of 2011 that the cancer was inoperable and he would eventually die from it...
A towering figure in sports television passed away Tuesday. Steve Sabol, whose fifty-year NFL broadcasting career included more than a quarter-century as president of NFL Films, died on Tuesday at age 69. The news came more than a year after Sabol was diagnosed with brain cancer. Sabol began his association with NFL Films from the very beginning, working the 1962 Packers/Giants NFL...
Steve Sabol left a lasting impression on NFL fans during his time at NFL Films. This week, fans will remember him in NFL stadiums across the country with a video tribute, NFL.com reports citing a league source. Each NFL stadium will air a video prior to kickoff. Sabol, who lost his 18-month battle with cancer on Tuesday, was the driving force behind NFL Films and was influential...
Steve Sabol's impact on the NFL will live on. Steve Sabol the president of NFL Films and son of Ed Sabol the founder passed away today of brain cancer at the age of 69. Many NFL fans on every team, don't realize how influential Sabol and his father were in the emergence of the NFL. NFL Films were the start of a massive move to romanticize the game in ways that are hard to define...
The sports media world is reacting with sadness to the news of the passing of NFL Films President Steve Sabol.  The 69 year-old Sabol passed away today following a long battle with brain cancer. Sabol rode along with his father Ed in creating NFL Films in the early 1960′s.  Together the pair devised many of
Steve Sabol, the president of NFL Films, died on Tuesday of brain cancer that had been discovered in 2011. He was a few weeks shy of turning 70. It's hard to overstate just how good NFL Films has been over the years. It's so good, I sometimes think the NFL doesn't deserve it. Kind of how I used to feel about Pixar and Disney before Pixar kind of started sucking. Part of...
Steve Sabol, Creative Force Behind NFL Films, Dies at 69 - NYTimes.com: What an amazing life!! The...
The death of Steve Sabol is being felt all over the league, as the former president of NFL Films was an inspiration to many in the professional football world. SI.com's Peter King, a titan of the industry himself, thinks he's got a fitting tribute for Sabol, who passed away on Tuesday at 69 after a battle with brain cancer. King penned a thoughtful piece on NFL.com about...
NFL News

Delivered to your inbox

You'll also receive Yardbarker's daily Top 10, featuring the best sports stories from around the web. Customize your newsletter to get articles on your favorite sports and teams. And the best part? It's free!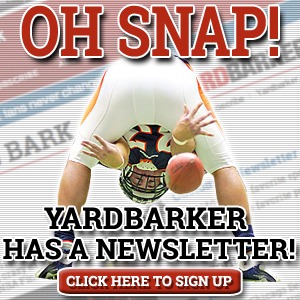 Latest Rumors
The Backyard

Today's Best Stuff

For Bloggers

Join the Yardbarker Network for more promotion, traffic, and money.

Company Info

Help

What is Yardbarker?

Yardbarker is the largest network of sports blogs and pro athlete blogs on the web. This site is the hub of the Yardbarker Network, where our editors and algorithms curate the best sports content from our network and beyond.