Found December 04, 2012 on Awful Announcing:
This week's Straight Outta Stockton focuses on ESPN's Monday Night Football analyst Jon Gruden.  We may have Gruden for a limited time, so we need to all enjoy his intense, zany antics while we can.  Outside of Dick VItale, I don't know if we've ever seen an analyst as enthusiastic about his sport and every player who takes part.  But the funny thing about Gruden is I'm never annoyed by it, it's actually entertaining to see just how far Gruden can go with his admiration of certain players, usually quarterbacks.  It's like its own game within the game.  And on the plus side, it gives us plenty of good material. Last night it was Redskins rookie Robert Griffin III who could not escape Gruden's embrace as he led Washington to a victory over the New York Giants.  If only ESPN3 could devote a feed to Gruden commentating on RGIII doing every day things like going to the supermarket and brushing his teeth. "This RGIII, I tell ya Mike, look at his fundamentals.  That circular motion is pivotal to his success and great hygiene.  Those molars don't stand a chance against a guy like this Robert Griffin.  Let me tell ya.  He is changing the way people brush their teeth.  He's a great brusher, a great leader, and just a great guy.  Wow." Here's the best tweets from last night's Jon Gruden-RGIII love affair... @NOTSportsCenter "OH MY GOD DID YOU SEE THAT?!?!? HOW AMAZING IS THIS GUY?!?!?"- Jon Gruden, reacting to RGIII taking a drink of water on the sideline #MNF @RobLoweSports If every Man was as into his Wife as much as Jon Gruden is into RGIII the Divorce Rate in the US would be down to 0% #NOTSCTop10 @AnonymousGamblr Jon Gruden loves @RGIII so much, I wouldn't be the least bit surprised to learn he has a back tattoo of his face. @SportsCenter "He's changing the game with the way he plays the position." - Jon Gruden on @RGIII   @mattufford "What a play by Griffin!" --Jon Gruden after Robert Griffin III fumbled   @ev_sporer Did Jon Gruden really just say the magic of RGIII after a fumble that his team was lucky to recover?   @Dwizzle3 Listening to Jon Gruden talk about @RGIII tonight is going to a broadcasting performance for the ages. "Let me tell you about this guy here"   @dmac002 After the game RGIII will officially put on his Facebook that he is "In a relationship" with Jon Gruden @MattAharris jon gruden acts like Robert Griffin is the second coming of Jesus and his team doesn't even have a winning record   @ryanofwaco I love that Gruden doesn't think of Robert Griffin as a proper noun. He always says "This RGIII..."   @AlecCampbell5 "This RG3." He's a human Jon. Just call him RG3 or Robert Griffin. #MNF #Gruden   @ethanfbutler Jon Gruden seriously has like a schoolgirl crush on RGIII.   @JerrrdD What Brett Favre was to John Madden, RGIII is to Jon Gruden.   @DaveLozo Jon Gruden just called a potentially crippling fumble by Griffin "the magic of RGIII." So much puke on my floor, guys. So much.
Original Story:
http://www.awfulannouncing.com/2012-a...
THE BACKYARD
BEST OF MAXIM
RELATED ARTICLES
According to Hub Arkush of ProFootballWeekly.com, via Dan Bernstein of CSNChicago.com, the Oakland Raiders are talking with Jon Gruden about a possible return. . @hub_arkush of @profootballwkly just told @boers_bernstein that Jon Gruden and the #Raiders are in talks to bring him back to Oakland. — Dan Bernstein (@dan_bernstein) December 4, 2012 This is a very interesting development...
The Oakland Raiders on Wednesday publicly dismissed a report that former Raiders coach and current ESPN analyst Jon Gruden was being discussed as a possible replacement for first-year head coach Dennis Allen. "There are two people on this planet that have the ability to make talks happen between Jon Gruden and the Raiders, with regard to him allegedly taking over the football...
Rumors have been surrounding former Tampa Bay Buccaneers and Oakland Raiders coach Jon Gruden basically since he decided to step away from the profession several years ago. After being connected to the Tennessee Volunteers and Philadelphia Eagles in the past couple of weeks, there are now reports that Gruden met with the Raiders to discuss a potential return, according to Hub Arkush...
RETURN OF CHUCKY
Rumor has it that NFL analyst Jon Gruden and the Raiders have been in talks to bring the team's onetime head coach back into the fold in Oakland.
Hub Arkush of ProFootballWeekly.com informed Dan Bernstein that the Oakland Raiders "are in talks" with Jon Gruden to return as their head coach. This is definitely a surprise, but it's hard to say whether or not this is an actual possibility. Gruden's name has been tossed out as a potential option for almost every available coaching job in the country. GM Reggie McKenzie...
'This ***** Gruden look like he on cocaine'. We didn't really notice that side of Gruden last night. What we did notice was his unhealthy obsession with anything and everything that RGIII did. Two yard run? Game changing. Fumble? RGIII's magic. It was getting bad. Twitter user @Steve_Foley3 noticed too: 'The dude fumbles and his teammate scores the touchdown Gruden says...
Former NFL coach Jon Gruden is in talks to return to the Oakland Raiders, Pro Football Weekly reported on Tuesday. The report comes a day after the current coach, Dennis Allen, left the team to attend the funeral of his father who died Monday. Early in November, Raiders owner Mark Davis voiced his frustration with the team, which is 3-9 after losing five in a row. In the past...
Jon Gruden may be committed to sticking with ESPN as an analyst instead of taking the head coaching job at Tennessee. But does that mean he's committed to stay at ESPN instead of taking a head coaching job in the NFL? Although Gruden just recently shot down rumors that he was headed to college football's coaching ranks, he's already in the middle of discussions about the Oakland...
If the rumors are true that Jon Gruden wants back in Oakland, perhaps he's crazier than we thought. You would be hard pressed to find a worse situation for the former Raiders and Buccaneers head coach to make his comeback. Surely Gruden has fond memories of his four years in Oakland. And he certainly has the fans' support, but despite the death of Al Davis, the Raiders are still...
http://www.youtube.com/watch?v=3VJg2zJoYxE The SEC Championship Game was so good, lets just watch the whole thing again The SEC Championship was all kinds of awesome [TSK] Should Georgia really have spiked the ball? [Smart Football]  It will be a battle of processes in the BCS Championship Game [AL.com] The full rundown of bowls for your reading enjoyment [SBNation] A full bowl...
NFL News

Delivered to your inbox

You'll also receive Yardbarker's daily Top 10, featuring the best sports stories from around the web. Customize your newsletter to get articles on your favorite sports and teams. And the best part? It's free!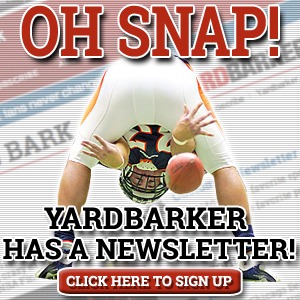 Latest Rumors
Best of Yardbarker

Today's Best Stuff

For Bloggers

Join the Yardbarker Network for more promotion, traffic, and money.

Company Info

Help

What is Yardbarker?

Yardbarker is the largest network of sports blogs and pro athlete blogs on the web. This site is the hub of the Yardbarker Network, where our editors and algorithms curate the best sports content from our network and beyond.