Found February 01, 2013 on We Talk Fantasy Sports:
Looking for a fun, cheap way to host the greatest Super Bowl party of all time?!  Well then download our Super Bowl Bingo Excel spreadsheet and print out some copies for your guests!Instead of BINGO we used XLVII and instead of numbers we used categories like:49ers FG, 49ers TD, Anquan Boldin 81, Beer Commercial, Colin Kaepernick 7, Food Commercial, Frank Gore 21, Heads, Joe Flacco 5, Patrick Willis 52, Ravens Fumble, Ravens Sack, Ray Lewis 52, Soda Commercial, TailsThere are more, and you can even edit them yourself or add more!It's all very simple:Download the excel templateCustomize boxes on the numbers tabEach sheet has three ******** F9 to have the BINGO board randomly selected 3 new games and print!  Repeat until you have enough sheets for all guests!Now it is far from a perfect desgin, but it will work!  Some cards might see the same category in a board or even the same row or column.  Feel free to just hit F9 again until you are happy with the random results!If you do indeed use these Super Bowl XLVII Bingo Boards, please leave a comment, and/or shout it out on twitter or facebook!  IF YOU HAVE ANY QUESTIONS PLEASE EMAIL ME keith@wetalkfantasysports.com OR TWEET ME @WeTlkFntsySprts OR FACEBOOK http://facebook.com/WeTalkFantasySports
Original Story:
http://www.wetalkfantasysports.com/20...
THE BACKYARD
BEST OF MAXIM
RELATED ARTICLES
  Amidst the unusual calm during the media frenzy the precedes the Super Bowl, one star dared to go against the "loose lips sink ships" mentality of his head coach and spoke what was really on his mind.  San Francisco 49ers WR Randy Moss told the media that he thinks he's the best receiver all-time. According to Moss, "I really think I'm the greatest receiver to ever...
The Super Bowl is here with the Ravens and 49ers facing off.  There are a lot of story lines in the game with the Harbaugh brothers facing off, Ray Lewis' last game and Colin Kaepernick's offensive gameplay.  The NFL is loving all this press.  Here's a last look at the game. These two teams are built with similar styles.  Both want to run the ball and...
After a rather peculiar offer, if Colin Kaepernick wins the Super Bowl on Sunday, he will receive free Red Robin for the rest of his life (Credit: AP Photo) For some, the best part of the week prior to the Super Bowl is all of the questions players are asked by the media. Last week, San Francisco 49ers quarterback Colin Kaepernick was asked by a financial adviser from New York where...
With the circus of media day finally coming to a close, it's time to get down to the truly important aspects of the Super Bowl — the bets. Betting on whether Colin Kaepernick can lead the 49ers to their first Super Bowl win since 1994 or if Ray Lewis will finish his career on top isn't nearly as satisfying as guessing correctly how many total rushing yards Ray Rice will...
San Francisco 49ers cornerback Chris Culliver has not made many friends during the week leading up to the Super Bowl. On Tuesday, Culliver made some extremely homophobic remarks that have led to an apology from him and somewhat of a public reprimand from the team. Seattle Seahawks punter Jon Ryan feels as though that is not nearly enough. Ryan tweeted on Thursday night that he believes...
Before trying to establish their ground game, the 49ers will face the key issue of how to deal with an excitable young quarterback guiding their offense. Colin Kaepernick is hoping to become the third player to win a Super Bowl in his second season in the NFL after Tom Brady and Ben Roethlisberger did so in Super Bowls 36 and 40. Their teams took different approaches in each game...
There are many reasons to be impressed with what Randy Moss has accomplished in his career, but his claim to be the best wide receiver of all time doesn't stand up in Jerry Rice's shadow.
After etching his name in the fraternity of draft busts, many questioned whether Ted Ginn Jr., who was selected 9th overall by the Miami Dolphins in 2007, could play in the NFL.Sunday, he'll be playing in the Super Bowl with the San Francisco 49ers. Well, maybe not playing. But he'll be there. "I knew one day that I was going to be here," Ginn told Ben Volin of the Palm...
Notable Top Bing Searches · Team: The San Francisco 49ers were the search darlings this Super Bowl, receiving twice as many searches as the Baltimore Ravens. · Quarterbacks: The 49ers quarterback, Colin Kaepernick, appeared to be the fan favorite quarterback among Bing searchers, surpassing Raven's QB, Joe Flacco, by more than 50 percent. · Harbaugh Brother: The most searched...
In simplest terms: the Ravens need to keep the "Smith Brothers" off Joe Flacco, and they need to beat up the 49ers (especially Kaepernick and his O-Line) on defense. But of course it's never as simple as that. An estimated $10 billion is projected to be bet on Super Bowl XLVII worldwide, and over half of all adult Americans are expected to bet on the game in...
For Ed Reed and Frank Gore, winning a Super Bowl is the final piece to each's impeccable resumes. The post Ed Reed, Frank Gore And Miami's Golden Children appeared first on The Sports Fan Journal.
NFL News

Delivered to your inbox

You'll also receive Yardbarker's daily Top 10, featuring the best sports stories from around the web. Customize your newsletter to get articles on your favorite sports and teams. And the best part? It's free!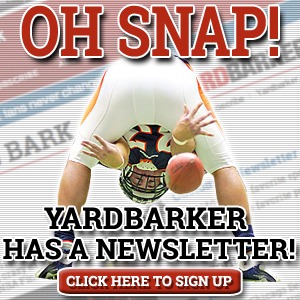 Latest Rumors
Best of Yardbarker

Today's Best Stuff

For Bloggers

Join the Yardbarker Network for more promotion, traffic, and money.

Company Info

Help

What is Yardbarker?

Yardbarker is the largest network of sports blogs and pro athlete blogs on the web. This site is the hub of the Yardbarker Network, where our editors and algorithms curate the best sports content from our network and beyond.