Found January 22, 2013 on The Money Shot:
                                 "I've always had the prettier boner." And here we are.  The ************* HarBOWL.  ******* gag me already.  Any human rooting for the Ravens in this situation can get their dick ripped out at the root.  The vision of Ray Lewis hoisting another Super Bowl trophy over his head is enough to make me want to dig out my eyeballs with a melon baller.  Lucky for all of you I happen to have a cousin that works for the Ravens organization.  He is a terrible, terrible human who happens to work closely beside John Harbaugh.  I'm pretty sure he has punted babies into lava pools at some point in his life.  After the Ravens had beat the Patriots on Sunday I received the following email from him.  Which is weird because we never talk to the point where you would think he doesn't even exist.  Enjoy. /John Harbaugh runs to midfield as the game expires. John: Nice game, dick lover! How did you like us ass ******* you
Original Story:
http://feedproxy.google.com/~r/TheMon...
THE BACKYARD
BEST OF MAXIM
RELATED ARTICLES
Jim and John Harbaugh have exchanged a handful of text messages, and they plan to leave it at that. No phone conversations necessary while the season's still going. No time for pleasantries, even for the friendly siblings. There is work to be done to prepare for the Super Bowl, prepare for each other, prepare for a history-making day already being widely hyped as ''Harbowl.''
Chalk up another loss for the Patriots and chalk up another Patriot wife who is having a hard time coping. The New England Patriots were manhandled by the Baltimore Ravens in the AFC Championship game on Sunday and it didn't take long for the Patriot family to respond. Anna Burns Welker, the wife of Patriot [...]
Over the next two weeks, the media will spend a tremendous amount of time focusing on Ray Lewis and the final chapter of his career with the Baltimore Ravens. Since the 13-time Pro Bowler announced that he will retire after the season, the Ravens have appeared to play with more urgency. However, he is hardly the only reason Baltimore is headed to New Orleans for Super Bowl 47. On...
FOXBORO, Mass. — The last ride isn't over just yet. The retirement clock on Route 93 in Boston may have run out, but Ray Lewis' retirement tour was extended Sunday night after he and the Ravens defeated the Patriots 28-13 at Gillette Stadium. The victory couldn't have been more perfect, as the Ravens made up for for last year's shortcomings and finally overcame their woes...
Get ready for the Brother Bowl. It'll be Harbaugh vs. Harbaugh when Big Bro John's Baltimore Ravens (13-6) play Little Bro Jim's San Francisco 49ers (13-4-1) in the Super Bowl at New Orleans in two weeks. As much chatter as there will be about the players involved - from Ravens linebacker Ray Lewis and his impending retirement to 49ers quarterback Colin Kaepernick&...
It made for great story lines all week. The upstart, emotional Ravens, playing for Ray Lewis' retirement, come to New England seeking revenge against a superior offense.Joe Flacco, set to prove that he is in the same league as Tom Brady, needs to repeat his performance from a week earlier in Denver; can New England's defense rise to the challenge, or are they as weak as everyone...
Et tu, Anna? Nary a year since Gisele Bundchen made herself famous among sports fans for her profanity-riddled defense of her husband, Wes Welker's new bride has jumped into the fray. Welker's wife, however, should get some credit for ripping the Patriots' opponents rather than the Patriots themselves this time. Anna Burns Welker jumped on the old Facebook after the Patriots...
8 a.m. ET: The day of reckoning is upon us, at least for those of us who intently follow the NFL. The NFL's conference judgment day will begin with the San Francisco 49ers' visit to Atlanta for the NFC crown, but all eyes will be peeled for the Ravens' trip to Foxboro to mark a repeat of last season's AFC title game. Tom Brady has been preparing for his chance at a sixth...
Olympic legend Michael Phelps reportedly has credited Baltimore Ravens linebacker Ray Lewis with helping him rediscover his motivation after the 2008 Beijing Games.
Greetings readers! Any of you read or hear about Wes Welker's wife bashing the F out of "Uncle" Ray Lewis on Facebook after her husband's team was demolished by the Baltimore Ravens on Sunday? So what if he has 6 kids from 4 different girlfriends? He's rich beeitch. Uncle Ray can afford it. Throw in the fact he has done more for the community than 99 percent of all players...
The Ravens will leave Foxboro, Massachusetts with an AFC Conference Championship trophy and a weeping, highly-respected leader, Ray Lewis. The teary-eyed leader has a chance to now retire from the game with a Super Bowl ring, the same way John Elway, Jerome Bettis, and Michael Strahan did after their illustrious careers. "Give the Ravens credit, they're a good football team....
If it ain't broke, don't fix it. The Ravens are doing just that. Coach John Harbaugh said the Ravens will be keeping Jim Caldwell as offensive coordinator for next season. Since Caldwell has taken over, the Ravens are 4-2 and are in the Super Bowl. Joe Flacco also looks like an entirely different quarterback. Additionally, the Ravens hired Eagles former defensive coordinator...
NFL News

Delivered to your inbox

You'll also receive Yardbarker's daily Top 10, featuring the best sports stories from around the web. Customize your newsletter to get articles on your favorite sports and teams. And the best part? It's free!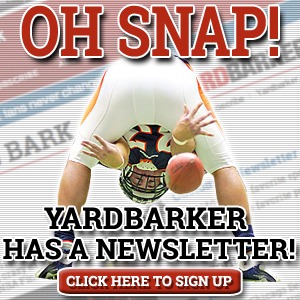 Latest Rumors
Best of Yardbarker

Today's Best Stuff

For Bloggers

Join the Yardbarker Network for more promotion, traffic, and money.

Company Info

Help

What is Yardbarker?

Yardbarker is the largest network of sports blogs and pro athlete blogs on the web. This site is the hub of the Yardbarker Network, where our editors and algorithms curate the best sports content from our network and beyond.