Found January 26, 2013 on NFL Draft Dog:
PLAYERS:
John Harbaugh
,
Jim Harbaugh
,
Randy Moss
,
Ray Lewis
,
Art Modell
,
Terrell Suggs
,
Joe Flacco
,
Justin Smith
,
Aldon Smith
,
Alex Smith
,
Colin Kaepernick
,
Paul Kruger
,
Frank Gore
,
LaMichael James
,
Patrick Willis
,
Navorro Bowman
,
Ray Rice
,
John Elway
,
Michael Strahan
,
Jerome Bettis
TEAMS:
Baltimore Ravens
,
San Francisco 49ers
,
Indianapolis Colts
,
Denver Broncos
,
Atlanta Falcons
,
Pittsburgh Steelers
,
New England Patriots
,
Green Bay Packers
Baltimore Ravens vs San Francisco 49ers Super Bowl XLVII (47) will be held in New Orleans this year on February 3rd. As with every year's Super Bowl, we have intriguing storylines, legacies on the line, up and coming superstars, and brothers coaching against one another. Well everything except for the last part. For the first time in NFL History and most likely the last, we have two head coaches (John Harbaugh of the Ravens & Jim Harbaugh of the 49ers) facing off against one another for the right to call themselves world champions. The media will romanticize this story in a hundred different ways so I won't speak on it for very long, although I would be remissed if I didn't mention it at least once. You are 3x more likely to become a U.S. Senator than you are a NFL head coach and the fact that brothers are facing off in the Super Bowl is nothing short of remarkable.As a lifelong football fan and a bit of a NFL history buff, this game is a match made in football heaven. These are two of the most physical teams in the NFL are led by their defense and who still predicate their offense around the running game. Each team has a first ballot hall of famer fighting for the chance to go out a champion - Randy Moss of the 49ers and Ray Lewis of the Ravens.Season summaries:Baltimore RavensThe Baltimore Ravens had more of a "storybook" season than the 49ers with plenty of ups and downs throughout the entire season. The Ravens former owner Art Modell passed away four days before the start of the regular season and the team dedicated the season in his honor. Baltimore began the year on a tear at 9-2 before losing 4 of their last 5 games to limp into the playoffs. The fans, media, and NFL circles thought this was going to be a short postseason for the Ravens. Terrell Suggs, the team's best pass rusher, went down with a torn achilles in the off-season and it was said that he would miss the entire season. Suggs came back quicker than any NFL player ever has from such a devastating injury only five months after the tear. Later in the season Suggs tore his bicep muscle and only missed one game. This is one of the least talked about storylines heading into the big game, but one of the more astonishing. What is even more incredible in that this wasn't the most amazing comeback from an injury this year or even on his own team. Ray Lewis tore his triceps muscle on October 14th and missed just ten games. Before Lewis returned from the injury he also announced that this would be his last season playing football. Lewis knew exactly what he was doing with the timing of his announcement. The team limped into the playoffs with no momentum. With Lewis's retirement at the forefront of the team's mind, it supercharged the entire franchise and infused a sense of urgency only a decision of this magnitude could have done. Not only was he coming back early from a normally season-ending injury, this was the last time #52 will suit up for the Baltimore Ravens. With emotions riding high entering the playoffs the Ravens went on to beat the Indianapolis Colts, the #1 seeded Denver Broncos & the red-hot New England Patriots - both on the road.At this point, Baltimore's team is being led by the most inspiring leader in sports history and a quarterback coming into his own in Joe Flacco. If you believe in momentum and emotion effecting the outcome of a game you have to give the edge to the Ravens. This team seems destined to end the year as world champions.  San Francisco 49ersThe 49ers have had a bit of a different journey to Super Bowl XLVII. The team had the #3 ranked defense in the NFL and ranked 6th in time of possession at 31:46 a game during the regular season. These two stats make up the basic identity of this team. The 49ers dominate at the line of scrimmage and have a stable of running backs to throw at you all game long. Their defense is led by imposing players on every level (defensive line, linebackers, secondary) and they are flat-out punishing. Defensive end Justin Smith partially tore his left tricep muscle in week 15 but opted against surgery in order to come back in time for the playoffs. His presence in critical for the 49ers and his toughness sets the tone for the entire unit. It also allows linebacker Aldon Smith to avoid double teams which gives one of the league's top pass rushers free reign to harass quarterbacks. Running the ball and playing great defense were the 49ers staples, that is until Jim Harbaugh made the gutsy decision to bench their starting quarterback Alex Smith for 25 year old 2nd year man Colin Kaepernick in midseason. While this was an extremely controversial decision that took serious conviction, it proved to be the absolute right decision. Kaepernick came on strong right away, playing with poise well beyond his years. These playoffs have made Kaepernick a budding superstar, headlined by his NFL record 181 rushing yards against the Green Bay Packers in the divisional round. At this point you can make the case that the 49ers are the most complete team in the entire NFL with their ability to pass, run, and play defense on an elite level. Key MatchupsLBs Terrell Suggs & Paul Kruger vs QB Colin Kaepernick - Since naming Kaepernick their starting quarterback the 49ers have incorporated the "Pistol" into their offense and NFL teams were nowhere near ready for what has ensued. Kaepernick has run this offense since college and is the ideal player for the system. The 49ers also run a zone read option out of this and it is predicated on what the outside linebackers/defensive ends do. Kruger and Suggs will be the keys to the entire game because they will have to decide to key on Kaepernick or whoever the running back is on the given play. The Green Bay Packers took away the running backs and Kaepernick set a NFL record for most rushing yards ever by a quarterback. The Atlanta Falcons decided to take away Kaepernick, so RB Frank Gore and RB LaMichael James took over instead. It will be fascinating to see which way the Ravens decide to go in defending the 49ers dynamic offense. LBs Patrick Willis & Navorro Bowman vs RB Ray Rice - When Baltimore's offense is at it's best, running back Ray Rice is the focal point. Whether it be Rice running the ball or catching it out of the backfield, he is the offense's workhorse and best player. QB Joe Flacco has proven he can get the job done, yet in a game of this magnitude it is crucial that Baltimore gets Rice going early. Linebackers Patrick Willis and Navorro Bowman are two of the best inside linebackers in the NFL today and one of them at a time will be tasked with shadowing Rice everywhere he goes. If Willis and Bowman can prevent Rice from being a major factor, their chance of shutting down the rest of this offense raise significantly. The final questions remain: Does Ray Lewis ride out into the sunset like John Elway, Michael Strahan, and Jerome Bettis did by winning a Super Bowl in his last game? Or does San Francisco win their record-tying 6th Super Bowl? This may be the only time Pittsburgh Steelers fans will be rooting for the Ravens in order to remain the only team in history with six Super Bowl victories. February 3rd can't come fast enough.Super Bowl XLVII prediction - Ravens 27 49ers 26. This is a matter of me going with my heart over my head. My logic tells me the 49ers have a better team but my heart tells me this is Baltimore's year. By Brandon Thorn +NFL Draft Dog 
Original Story:
http://feedproxy.google.com/~r/blogsp...
THE BACKYARD
BEST OF MAXIM
RELATED ARTICLES
Each year during the feeding frenzy that is the two weeks leading up to the Super Bowl, there are always a character or two from each team that provides a few moments of bizarre behavior and/or comedy.  The runaway winner this year thus far is Baltimore Ravens safety Bernard Pollard. Please Click Here To Read This Story The post Bernard Pollard takes a full frontal approach to...
Baltimore Ravens linebacker/special teams ace Brendon Ayanbadejo already has his plans prepared for Super Bowl week. No, he's not going to be visiting the finest restaurants and nightclubs in New Orleans. Ayanbadejo is planning to use the media blitz at the Super Bowl as an opportunity to express his views on gay rights and anti-bullying. Ayanbadejo is biracial and grew up in a...
Check out this guy's haircut that was created to look like Baltimore Ravens linebacker Ray Lewis. His barber ought to be an artist. The barber shaved an almost perfect portrait of Lewis on the back of the customer's head. He added Lewis' No. 52 on the side. Now that's a tribute.
CAUSE FOR CONCERN
Baltimore Ravens safety Bernard Pollard believes the future of the NFL is in question because of the safety factor. See what he's worried about.
Baltimore Ravens middle linebacker Ray Lewis told his teammates to make sure they didn't hoist the Vince Lombardi trophy prematurely. The trophy paid a visit to team headquarters when CBS wanted to tape the players interacting with the Super Bowl trophy Wednesday, but the former NFL Defensive Player of the Year told players it wasn't appropriate to do until or unless they...
Never has an athlete been more ready to grab the bully pulpit provided by the excessive word orgy that is the lead-up to the Super Bowl than Ravens linebacker Ray Lewis. The question is: Are we ready for what he has to say? Because if the Gospel according to Tebow led to unnecessary controversy, which it did, wait until they get a load of The Gospel according to Ray. He has been...
LEGAL ISSUE
49ers wide receiver Michael Crabtree will not be facing charges in the alleged sexual assault he was investigated for earlier this month.
David Akers' problems on the field for the 49ers this season are well-documented. More field goal misses than any kicker in the league (13). Second-lowest field goal percentage (69 percent). Had to go through a kicking competition just to keep his job for the playoffs. Akers is baffled as to what the problem has been, given his ability to convert with no problem outside of game...
(Updates. With AP Photos.) By DAVID GINSBURG AP Sports Writer When it comes to running the Baltimore Ravens defense, Dean Pees has no regard for history, tradition or statistics. Pees doesn't give a hoot about following in a long line of brilliant defensive coordinators such as Marvin Lewis, Rex Ryan, Mike Nolan and Chuck Pagano - all of whom used their work in Baltimore to...
Saturday Night Live decided to spoof Super Bowl bound Baltimore Ravens legend Ray Lewis.Keenan Thompson took on the duties in the "Weekend Update with Seth Meyers segment. Keenan donned Lewis' trade mark skully and thick eye black plus found a way to get Lewis' famous squirrel dance in. Check it out. video via Hula
San Francisco officials are taking tougher measures to prevent potential fan violence on Super Bowl Sunday when the 49ers battle the Baltimore Ravens in New Orleans. Police will be monitoring crowds and bars at multiple hotspots in San Francisco. More than 400 officers will be on duty, triple the number on a normal Sunday. Mayor Ed Lee is suggesting that bars limit liquor sales...
The teams and media are beginning to assemble in New Orleans for Super Bowl XLVII between the Baltimore Ravens and San Francisco 49ers.  There is plenty of national coverage on the game.  But we feel the best way to learn about the two teams is through the work of the local media covering each club.
NFL News

Delivered to your inbox

You'll also receive Yardbarker's daily Top 10, featuring the best sports stories from around the web. Customize your newsletter to get articles on your favorite sports and teams. And the best part? It's free!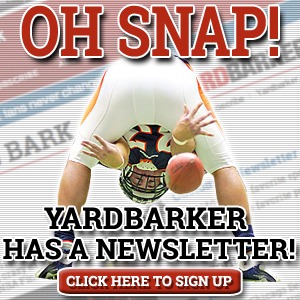 Latest Rumors
Best of Yardbarker

Today's Best Stuff

For Bloggers

Join the Yardbarker Network for more promotion, traffic, and money.

Company Info

Help

What is Yardbarker?

Yardbarker is the largest network of sports blogs and pro athlete blogs on the web. This site is the hub of the Yardbarker Network, where our editors and algorithms curate the best sports content from our network and beyond.