Found April 10, 2012 on Thoughts from the Dark Side:
The Raiders signed former Colts LB Philip Wheeler during free agency to a one year contract.  As a new addition to the Raiders squad, I watched game tape of two games to get an idea of his strengths and weaknesses as a player.
Linebackers are harder to evaluate than many positions because they work as a unit more than most other positions.  The scheme also plays heavily into where a linebacker is supposed to lineup and what gap they are to hit.
When looking at tape, I try to take only what I see, there, with as few preconceived notions as possible.  I watched two games from the 2011 season, week 9 with Colts against Atlanta and week 14, Colts against Baltimore.
In the first game, against Atlanta, Wheeler tried to do too much in the first half. There were a number of times that he aggressively pursued the ball carrier only to have the RB make a cut back in the direction Wheeler was coming from.  Wheeler attempted arm tackles on these runs but it was hit or miss as to whether that was able to bring down the RB.
There were a number of tackles Wheeler made that were not wrap up tackles so he clearly has good arm strength.  I would have liked to have seen more basic rap up tackles but he was one of the most productive members of the defense so at least he was having an impact.
By the second half of the game he was much better at reading the offensive flow, getting in front of the play and setting his feet so that he could either engage a blocker and drive him out of the play or engage the ball carrier and stop his momentum.
When Wheeler set his feet he had good push and was able to make some plays.
Wheeler seems to lack an explosive first step.  He isn't slow but he isn't sudden, either.  This means he isn't a great sideline to sideline defender.  He is good at holding the point of attack when the play comes his direction but he isn't fast enough to be truly effective if the play goes to the opposite direction.
Wheeler played both Strong side and Weak side LB for the Colts.  The strong side is the side the TE lines up on.  The Colts played a lot of zone and in that scenario he may have started on the TE but if the TE went in motion to the other side he didn't mirror him and his assignment changed.
He looked okay at dropping into coverage but he didn't have good flexibility in his hips to change direction and he struggled with athletic tight ends.  By week 14 against Baltimore he was taken off the field in obvious passing situations.
One big area of concern is that Wheeler struggled to disengage from blocks to be able to make a tackle.  Especially with bigger offensive lineman, they almost swallowed him up in their blocks.  Wheeler isn't tiny but he's certainly on the lower end of OLBs at 6'2" 240 lbs.
There was one called blitz that I saw and he executed it very well and did sack Matt Ryan.  He started lined up between the DT and DE off the RG and he moved around the RG into gap between G and C.  He got to the QB before the QB had completed his dropback and hit him for a loss.
Overall, Wheeler looks like a role player, not an elite linebacker.  He should be able to fill in for this season and help replace Kamerion Wimbley, who had many of the same weaknesses in coverage.  Long term, I have to imagine that McKenzie will be looking for a better fit as Wheeler doesn't appear to be a great starting option. 
Original Story:
http://www.tfdssports.com/2012-articl...
THE BACKYARD
BEST OF MAXIM
RELATED ARTICLES
What's up RaiderNation? With the 2012 Free Agency almost at a standstill and the second week of OTA's well underway for the Oakland Raiders, I thought I would talk a little about the culture shock that RaiderNation is surely going through right now. Let's face it, this off-season has been entirely different than any we [...]
Former NFL player Lorenzo Neal has been sentenced to three years of probation after pleading no contest to a misdemeanor drunken driving charge. The four-time Pro Bowl fullback also was sentenced Monday to eight days in an adult offender work program and ordered to pay $1,861 in fines and court fees. Authorities say the former Fresno State University football player was charged...
New Oakland Raiders general manager Reggie McKenzie isn't outwardly concerned with the overall cost of acquiring quarterback Carson Palmer. "You can beat that doggone story 'til it's worn out," McKenzie told Sports Illustrated's Peter King. "But I know this: We've got a quarterback we think can win the division and take us to the playoffs. Losing...
Sure, life is ever-changing. But for the Oakland Raiders, everything this off-season has had it's own sense of oddity. From the abnormal, non-splashy free agency, to the changing of coaches to the approaches of the draft, the Raiders are working against their history…and to that end, the team may be stronger for it. Probably the biggest difference that the Raider Nation would...
Former NFL running back Lorenzo Neal was sentenced Monday to three years' probation after pleading no contest to misdemeanor drunken driving. Neal was charged in a July 4 crash in Fresno, Calif. in which his vehicle struck a pole. He was also ordered to pay $1,861 in fines. Neal was a four-time Pro Bowl fullback. He spent 17 seasons in the NFL before stepping away after the 2008 campaign.
According to all the available evidence, the San Diego Chargers seem rather close to signing former Raiders offensive tackle Mario Henderson. Henderson sat out all of last season after showing up out of shape to the Raiders' training camp last season.  Even prior to this, Henderson had been arrested in Fort Myers Florida early last year for having a concealed weapon without a...
Oakland Raiders general manager Reggie McKenzie told Peter King of SI.com that he was never upset about the fact that he was walking into arguably the worst cap situation in the NFL as well as only have a few draft picks this season, none of which are in the early portion of the draft because of the Carson Palmer trade. "Never thought, 'Woe is me,' " McKenzie told King...
Gene Upshaw and the Raiders are One Number. siphotos: Football: Super Bowl XI: Oakland Raiders coach John Madden walks off the field after leading the Raiders to victory over the Vikings in Super Bowl XI. Behind Madden is Gene Upshaw holding a "We're No. 1" sign. In this week's Monday Morning Quarterback, SI's Peter King writes about how Oakland is finally doing things...
New Oakland Raiders G.M. McKenzie Doesn't Mind Carson Palmer Trade Reggie McKenzie has cleaned house since taking over the General Manager job in Oakland. The most notable exit was that of former Head Coach, Hue Jackson, who orchestrated the big trade for quarterback Carson Palmer and it was speculated that the trade led to his firing. McKenzie claims that he doesn't mind...
NFL News

Delivered to your inbox

You'll also receive Yardbarker's daily Top 10, featuring the best sports stories from around the web. Customize your newsletter to get articles on your favorite sports and teams. And the best part? It's free!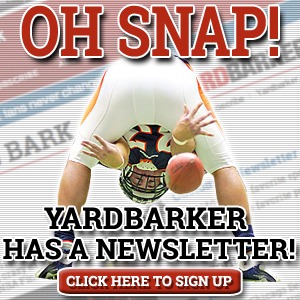 Latest Rumors
Best of Yardbarker

Today's Best Stuff

For Bloggers

Join the Yardbarker Network for more promotion, traffic, and money.

Company Info

Help

What is Yardbarker?

Yardbarker is the largest network of sports blogs and pro athlete blogs on the web. This site is the hub of the Yardbarker Network, where our editors and algorithms curate the best sports content from our network and beyond.