Found October 31, 2012 on Thoughts from the Dark Side:
When the Raiders signed a former undrafted free agent named Willie Smith it seemed like he was going to be another camp body – someone to provide competition and to spread out the many reps that everyone gets in training camp but not someone who was likely to make the team. Not only did Smith make the team but when starting RT Khalif Barnes went down with a groin injury, head coach Dennis Allen and offensive coordinator Greg Knapp turned to Smith to man the right tackle position over former 3rd round pick Joseph Barksdale or 3rd round rookie Tony Bergstrom who played right tackle in college. Smith struggled fairly quickly but so did the entire offensive line as the players struggled to learn how to run the zone blocking scheme and adapt to Knapp's offensive gameplans. Recently, however, the offensive line has appeared to improve and so my curiosity was piqued sufficiently to warrant a mid-season tale of the tape on Willie Smith. What I found surprised me.  Because Smith came from Washington last year where he made the roster as an undrafted free agent I expected to find a lineman that would excel at zone blocking but be limited in other areas.  Instead, Smith seems to be the opposite – he does not appear to be a scheme fit in the zone system. The zone blocking system requires athletes that can move well- especially laterally.  In a zone blocking run play, for example, the offensive line has a predetermined direction in which they will all flow at the snap, taking the defenders in their area (or zone) with them and allowing the running back to find a cutback lane where defenders have been unable to sufficiently keep their gap defended. Smith, however, struggles at moving laterally and with quick footwork in general.  There were multiple examples of him struggling in zone blocking especially when the blocking scheme was to the left.  There were several times in which he fell down trying to move to the left.  This created an unguarded back where the defenses left DE could come into the backfield unobstructed and got a shot at the running back as he was looking for a cutback lane. Furthermore, even when he was able to stay upright, he frequently allowed his man to get too far forward on him, which also allowed more penetration than the scheme would like.  He should have kept a better position on the defensive player, keeping the defender on the right side of his body so that the running back could come back his direction and his body would still be between the defender and the ball carrier.  Instead, the defender got further towards the play and was able to get an arm around the RB as he was seeking the second level, stopping the play too early. There were other examples of his limited agility.  There were a few plays in which he was to pull in coverage – let his DE get past him and move out to block in space at the second level – in which he couldn't get in front of the play in which he was supposed to be a lead blocker. Specifically, there was a screen pass to McFadden where he received the ball in the backfield and was to make his way up field.  Smith was to let the DE get past him, which he did, and get in front of McFadden to spring him at the second level.  However, he wasn't fast enough to get to the second level and so instead ended up chasing McFadden on the play, watching the linebacker tackle him for a short gain as he arrived at the play. There was another play in which Denarius Moore was to get a bubble screen on the R side of the formation and Smith was to let the end brush by him and get out to block for Moore.  Again, the defense was already tackling Moore for a short gain by the time Smith was able to get to the area where he was supposed to be blocking. But, while zone blocking doesn't appear to be his forte, it is not run blocking that Raiders fans complain about but his pass protection.  I watched 3 games of his – Denver, Jacksonville and Kansas City – and while his pass protection may have been poor in earlier games it was decent in those three games. Aside from when he faced off against Denver DE Elvis Dumervil – against whom he was extremely overmatched – Smith actually has held up fairly well in pass protection.  What's more, he's improved as he's received more time in the starting rotation. Smith is a big guy – standing 6'5" and 310 lbs – and so he matches up better against ends that are bigger as well.  He did well against the Chiefs 3-4 Defensive ends that are very stout.  He does struggle with quick defensive ends and outside linebackers at times – again, going back to his lateral movement issues.  If the DE or OLB can really explode up the field, they can hit the corner to pressure Palmer before Smith can stop them. Aside from his struggles with fast ends, however, I felt that Smith actually held up very well in pass protection.  When he can set his feet and use his strength and leverage he does especially well and as the weeks have gone one he's given up less pressure than some of the interior linemen that are more widely respected. As the team has started utilizing more man or power blocking he's also doing much better in the run game.  He's able to wall off the end and give the back a crease to run between the RG and RT position in a power scheme much better than he is able to keep in concert with the OL in the zone scheme. Essentially, Smith's ability to stay with the team is dependent on where the team is going.  If Allen determines that he will stay with the zone scheme, I don't see Smith as being on the squad long term.  If, however, the team is going to continue to use man schemes with some zone mixed in, Smith can be good enough in the scheme to stick as a backup option. For more news and analysis, follow me on Twitter @AsherMathews
Original Story:
http://www.tfdssports.com/site/tale-o...
THE BACKYARD
BEST OF MAXIM
RELATED ARTICLES
On Sunday, the Oakland Raiders will host the Tampa Bay Buccaneers with both teams coming off wins. Tampa Bay will make the long cross country trip to Oakland, but last played on Thursday so should be well rested. The Raiders defense will need to be prepared for a Buccaneers offense that has found balance this season. Tampa Bay is ranked 15th in the NFL in rushing offense with 110...
The Oakland Raiders will get a welcome addition back at practice Wednesday when cornerback Ron Bartell suits up for the first time since suffering a fractured scapula in his shoulder. Oakland placed Bartell on the reserve/injured list September 15th and this is the first week he is eligible to practice. "He will practice Wednesday, yeah," Raiders head coach Dennis Allen said...
The Oakland Raiders feel at home inside the Arrowhead Stadium. For the sixth straight game, the Silver & Black went to Kansas City and came back with a win over the Chiefs. It didn't take a game-winning field goal by Sebastian Janikowski like the last time these two rivals met though, as the Raiders were able to build a comfortable [...]
Sebastian Janikowski was just awarded the AFC special teams player of the month award for the third time in the last four months. "SeaBass" finished the month of October converting 10-11 field goal attempts with the only miss being a 64 yard attempt against the Jaguars. He ended up sealing that game up with a field goal in overtime. Janikowski [...]
Michael Huff, lockdown corner? Oakland Raiders coach Dennis Allen is not willing to go that far. "Listen, I'm not ready to put him in the Hall of Fame yet," Allen said. "I don't think Willie Brown has anything to worry about, but (Huff) has improved. That's what we expect, and that's what we will continue to expect: that every day he has an opportunity...
It's good to see a couple of Raiders come together to rob a California pizza shop. Via: Police are investigating a robbery in Ceres that involved two men who were seen mingling among partygoers in a banquet hosted by a youth football organization that has remained uncooperative, police said. The Ceres Police Department said surveillance video recorded Monday night shows the two...
Last week: 29 (+2) Record: 3-4 After unimpressive wins over the crappy Jaguars and Chiefs, the Raiders are now 3-4 and somehow right in the thick of the playoff race. However, I'm still not sold on this team just because they beat some crappy teams. They schedule gets tougher going forward as they host Tampa Bay, go to Baltimore, host New Orleans, go to Cincinnati, host Cleveland...
Future Oakland Raiders long snapper? Even worse is that the center's (Mitch Morris) team, Garden City, lost the Kansas high school game to Dodge City by the score of 24-20. The thought that you wouldn't have lost a game had you not SNAPPED A PICK-SIX can't be a good feeling. Thigh Five: BroBible; Prep Rally Get the latest Thigh updates by following us...
Tampa Bay Buccaneers (3-4) at Oakland Raiders (3-4) After unimpressive wins over the Jaguars and Chiefs, the Raiders now sit at 3-4 and are somehow in the AFC playoff mix. However, they still aren't very good. They have a point differential of -42. They got blown out in Oakland and in Miami and they weren't impressive in either of their last 2 wins against crappy teams. They...
DOMINANCE! That is what happened last Sunday in Kansas City. If it could only be that easy every week, Raider Nation! Enjoy the Victory! Impressive. MOST IMPRESSIVE! I don't really care if it was ugly, scrappy, or difficult to watch. I also don't give a Death Star damn what type of team they were labeled as before the win by our beloved, Oakland Raiders. The bottom...
NFL News

Delivered to your inbox

You'll also receive Yardbarker's daily Top 10, featuring the best sports stories from around the web. Customize your newsletter to get articles on your favorite sports and teams. And the best part? It's free!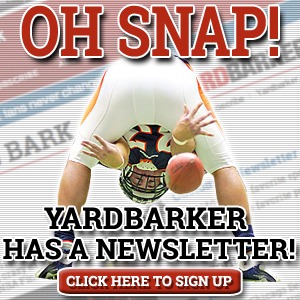 Latest Rumors
Best of Yardbarker

Today's Best Stuff

For Bloggers

Join the Yardbarker Network for more promotion, traffic, and money.

Company Info

Help

What is Yardbarker?

Yardbarker is the largest network of sports blogs and pro athlete blogs on the web. This site is the hub of the Yardbarker Network, where our editors and algorithms curate the best sports content from our network and beyond.