Found July 07, 2012 on Thoughts from the Dark Side:
I watched all or most of three games to get an idea of Branch's strengths and weaknesses and came away impressed with what I saw.
The three games I watched were Week 9 against Denver, week 14 against Green Bay and week 17 against San Diego.
I wanted to watch some games later in the year because of the lockout. Defense takes longer than offense to gel and with a shortened offseason, most of the defenses in the NFL had coverage issues early on that are not indicative of their typical coverage abilities.
First, Branch has very good burst and takes the time to diagnose a play before exploding to put himself into a position to make a play. There are many players who do not take that moment to read the play and simply react. Those players are the most likely to fall victim to play action or other misdirection plays. Branch has enough speed to be able to read the play and then still be able to get in front of the action to make a positive play.
Branch is smaller than many Strong Safeties listed as 6'0" and only 205 lbs. Actually, he's probably on the smaller side of Free Safeties as well. Branch played CB in college and was a prolific return-man as well.
Because his size is less than proto-typical there were questions about his ability in run support but Branch does a very good job at being technically sound, staying in his lane, squaring up and making the tackle. Here's a clip from the first quarter of the Denver game - Branch comes towards the line from the left side of the screen. [Youtube]krUjef3G5Ak[/youtube] Watch how, when the ball is snapped, he doesn't just start running but determines his lane, and stays in it. His patience is one of his best assests and it pays off here, because the running back runs straight to him, allowing him to make the tackle.
By the end of the season, however, he wasn't in run support nearly as much. Due to injuries in the CB corps, Branch was drawn into being the nickelback most of the time. In that role, he would typically matchup with either the slot receiver or TE depending on the alignment.
Probably because Branch was a former cornerback, he excelled in this role. He was able to guard both Tight Ends and Slot WRs well. Here are two clips from week 14, vs GB. [Youtube]s_h4b-uFhJw[/youtube] The first clip is the first GB offensive snap and they immediately targetted Branch's man, Greg Jennings. Watch how well Branch transitioned from backpedal to chase. He stays with Jennings step for step and is able to break up the pass which is good because Huff, the free safety over top, wouldn't have been in a place to stop the pass. [Youtube]8s2qEDg9uOQ[/youtube] In the next clip, Branch is again matched up against Jennings who is in the slot position closer to the camera. Jennings runs a 9 route and Tyvon is again able to stay with him and break up the pass. Again, Branch should have help over the top from a free safety - Giordano this time - but again the safety isn't there and Branch is covering Jennings, one on one, effectively. If you keep watching the clip past the initial play I included the slo-mo replay - watch the excellent job he does by sticking his hand out into the chest of Jennings just before the pass arrives so that he can break up what would be a sure TD reception.
Coverage is definitely Branch's strength although as I said he can play the run, too, effectively. Tyvon is good in man, he's at least average in zone coverage although there were some coverage breakdowns that occured when he and another player left an area open. When he does have his area well in mind, he's very good at the transitioning aspect of the zone - picking up and dropping a player at the perimeters of his zone. That is an underrated skill.
In general, Branch really uses space well. When he's in coverage he knows how to play and use angles effectively. He is able to play sideline to sideline in coverage and in run support and takes good angles in order to make sure he gets to the ball carrier. He was a former kickoff returner and he has a good eye for the field and a great burst of speed. That speed is his biggest asset.
The area in which he's weakest is pass rushing. He is able to get into the backfield but he is, at times, confused about who has the ball. He doesn't seem to have the pass rushing instinct that the elite rushers posses. For all that, however, he's still decent because of his speed. The final two clips show the same play, one in regular speed. As you can see, he goes for the QB, initially not realizing that the play is a running play until the ball carrier is already past him. However because of his speed, he's still able to turn, and make a play from behind the RB as the back is searching for a hole. [Youtube]d__MBesX5U4[/youtube] [Youtube]UmAauVSDeZQ[/youtube]
All in all, Branch is a very strong player. His speed is exceptional for the safety position. He can play either Strong or Free Safety and is likely the best player on the defense to play against Tight Ends, where he should be used much this year.
For more Raiders news and analysis, follow me on Twitter @AsherMathews
Original Story:
http://www.tfdssports.com/2012-articl...
THE BACKYARD
BEST OF MAXIM
RELATED ARTICLES
The Oakland Raiders training camp this summer will determine whether or not new GM Reggie McKenzie cuts or trades Defensive lineman Tommy Kelly. The mountain of salary cap issues with the Oakland Raiders being 31st in the league this year in available cap space is the driving force behind the decision that McKenzie will ultimately [...]
On Friday's episode of ESPN's The Herd with Colin Cowherd, the aforementioned host was having a little fun playing "God" by telling the world what franchises he would eliminate if he were in charge of the four major sports leagues. Given that I wrote a similar article for another publication earlier in the week, I was [...]
The Oakland Raiders linebacker competition is one of the most interesting battles on the team. Oakland brought in several new players to compete for jobs during training camp and the preseason. The middle linebacker position should have been a no brainer with Rolando McClain continuing to develop into the player the Raiders' drafted eight overall. However his legal issues have...
The Oakland Raiders have some of the best specialists in the NFL, marked by three Pro Bowl selections in 2011. There is not much competition at these positions because kicker Sebastian Janikowski, punter Shane Lechler, and long snapper Jon Condo are still at the top of their game. Undrafted free agent punter, Marquette King is a player to watch during training camp and the preseason...
The Oakland Raiders linebacker competition is one of the most interesting battles on the team. Oakland brought in several new players to compete for jobs during training camp and the preseason. The middle linebacker position should have been a no brainer with Rolando McClain continuing to develop into the player the Raiders' drafted eight overall. However his legal issues have...
Aaron Curry #51 College: Wake Forest Height: 6'1⅝" Weight: 254 lbs Arm Length: N/A" Hand Size: N/A"   40 Yard Dash: 4.56 3 Cone Drill: 7.15 20 Yard Shuttle: 4.51 Bench Press: 25 reps Vertical Jump: 37″ Broad Jump: 124″   Curry was a very highly touted linebacker coming out of Wake Forest who seemed to be the total package. After being selected fourth overall in 2009...
Former Oakland Raiders quarterback Kenny Stabler owes the IRS more than $265,000, despite selling his last piece of property in Mobile, Ala. Stabler's attorney said in the Mobile Press-Register that he plans to negotiate a payment plan. Since Stabler, 66, is retired, his only income comes from speaking engagements and autograph appearances. Stabler, who starred at the University...
Rolando McClain #55 College: Alabama Height: 6'3″ Weight: 254 lbs Arm Length: 33″ Hand Size: 9 3/8″   40 Yard Dash: 4.69 3 Cone Drill: N/A 20 Yard Shuttle: N/A Bench Press: 24 reps Vertical Jump: 35″ Broad Jump: N/A   In the last decade there have been a lot of Raiders first round picks that were scrutinized far before they ever put on a uniform. A lot of the scrutiny...
NFL News

Delivered to your inbox

You'll also receive Yardbarker's daily Top 10, featuring the best sports stories from around the web. Customize your newsletter to get articles on your favorite sports and teams. And the best part? It's free!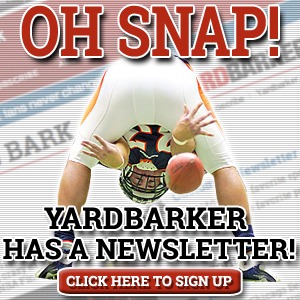 Latest Rumors
Best of Yardbarker

Today's Best Stuff

For Bloggers

Join the Yardbarker Network for more promotion, traffic, and money.

Company Info

Help

What is Yardbarker?

Yardbarker is the largest network of sports blogs and pro athlete blogs on the web. This site is the hub of the Yardbarker Network, where our editors and algorithms curate the best sports content from our network and beyond.