Found May 11, 2012 on This Given Sunday:
This offseason has been characterized by quarterback changes. Manning to Denver, Luck drafted by the Colts, Griffin drafted by the Redskins, Tebow vs. Sanchez, Weeden vs. McCoy; they're all great story lines, but they also highlight a growing perception that may just be completely off base. You need a quarterback to win a championship. That's completely true, but you also need a team around him. Peyton Manning may be the greatest example of why you need a quarterback to win titles, but you also need a team. Manning was able to manufacture one championship with the Colts. Maybe I'm way off base, but a guy that is considered by some to be the greatest quarterback of all time should have more than one ring at this stage in his career. The problem in Indianapolis was never Peyton Manning. He just never had a complete team around him. Eli Manning is a great example of how a team pulling together is just as good as having a great quarterback in today's NFL. Eli Manning i...
Original Story:
http://bloguin.com/thisgivensunday/20...
THE BACKYARD
BEST OF MAXIM
RELATED ARTICLES
Who says that a tall quarterback can't be successful in the NFL? It seems to go against logic that having height like the Denver Broncos' Brock Osweiler would be a detriment to his success as a quarterback. Osweiler is 6'7" which makes it much easier for him to see over the defense compared to the average quarterback who normally stands about 6'2". On top of that, he...
The Denver Broncos still plan on running an option offense. Only, this version centers on giving Peyton Manning the option of calling anything he wants. For the second time in six months, offensive coordinator Mike McCoy has to overhaul his playbook to fit the QB under center. McCoy restructured the offense on the fly last October to better suit Tim Tebow's unique skill set...
Whether their ownership group likes it or not, the Dolphins currently have a nasty stigma attached to their organization. At the moment, it feels like nobody wants to play there. Miami was considered a front-runner to land Peyton Manning when he hit the market, and we saw how quickly that fell apart. Then it appeared they would sign Matt Flynn, but but Flynn ultimately chose Seattle...
A week or so ago, a clip of a Teen Jeopardy contestant incorrectly guessing LMFAO on Jay-Z question hit the Internet at full blast. Well, that same contestant "Kevin" moved on in the tournament and gaffed on this question mistaking Eli Manning for Aaron Rodgers: To be fair to Kevin, there was some technical difficulties that might have prevented him from...
The hits just keep on coming this NFL offseason. Free agency started off with a bang, with the Peyton Manning sweepstakes, the Saints and bounty scandal, and the draft. The Seattle Seahawks have already signed nine of their ten draft picks, including first round pick Bruce Irvin, more on him later. What a difference a year makes huh? This time last year we, as fans, weren't worried...
The kids on Teen Jeopardy! are supposed to be geniuses, yet none of them know who Eli Manning is? They need to put down their physics book and pick up a New York Post once in a while. OK, bad example. Maybe stop watching Nat Geo and start mixing in a little more ESPN. Alright, another bad example. I just know all the useless facts in the world are worthless if you can't recognize...
The New York Giants boasted that Rueben Randle was NFL-ready after taking the LSU receiver in the second round of draft, and the kid didn't disappoint as the Super Bowl champions opened a rookie minicamp on Friday. Randle went up high to catch a pass along the sideline and later burned third-round draft choice Jayron Hosley on a ''go'' pattern in the morning...
Razzball Nation!  The 2012 Fantasy Season is approaching!  It's great to be back and never too early to start thinking about how to field your best squad. What better way to start planning for your upcoming drafts than to think about sleepers.  And just like your friendly proctologist, I'm going to start with the Tight End. Back in the day, it used to be, "Tight End, who...
 Be sure to follow me on Twitter for more Broncos updates throughout the day. Denver Broncos News Hometown Hall of Famers: Floyd Little | SI.com (Video) Take a look back with Howie Long at football great and Hall of Famer Floyd Little's thrilling career in the NFL. Later Picks Learning Plenty | DenverBroncos.com (Video) The second half of the Broncos' 2012 draft class is excited...
Be sure to follow me on Twitter for more Broncos updates throughout the day. Denver Broncos News Drayton Florence: A Product of Raised Expectations | Max Denver Perhaps no single signing since Peyton Manning better illustrates the Broncos' raised expectations than their pickup of cornerback Drayton Florence. Denver's signing — and that he was on the market in the first place...
Giants News

Delivered to your inbox

You'll also receive Yardbarker's daily Top 10, featuring the best sports stories from around the web. Customize your newsletter to get articles on your favorite sports and teams. And the best part? It's free!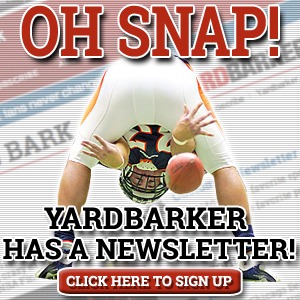 Latest Rumors
Best of Yardbarker

Today's Best Stuff

For Bloggers

Join the Yardbarker Network for more promotion, traffic, and money.

Company Info

Help

What is Yardbarker?

Yardbarker is the largest network of sports blogs and pro athlete blogs on the web. This site is the hub of the Yardbarker Network, where our editors and algorithms curate the best sports content from our network and beyond.