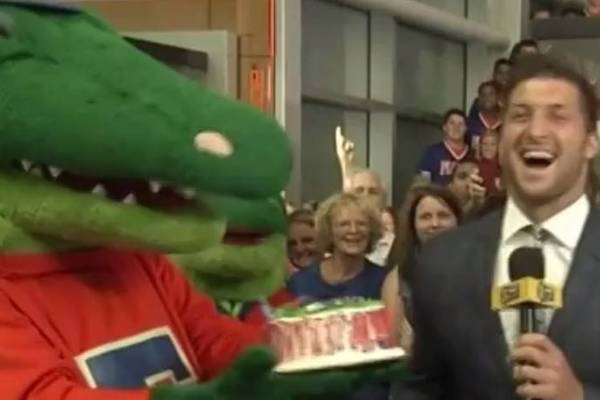 ESPN was madly in love with Tim Tebow before he ever became a network property. And now that he's working for them, one cannot measure the how deeply their relationship will blossom. Or maybe we can. We got a good idea that the infatuation is still running strong on Tebow's 27th birthday, which coincided with the launch of the SEC Network. (Or is it a coincidence?). Florida mascot Albert the Alligator was on hand to present the new face of the fledgling network with a birthday cake on-air. Amazingly, this is not the first time ESPN has thrown an on-air birthday bash for Tebow. Two years ago, SportsCenter had an embarrassing episode that dedicated a full six minutes to Tebow's birthday. (Based on comparative career success, Tom Brady should have an entire network of his own for his birthday). As for the rest of the programming on the newborn channel? Let's just say you Ivy Leaguers wasted a whole bunch of time and money, because based on what I can see THE SEC IS THE BEST THERE EVER WAS AND EVER WILL BE AT ANYTHING EVER! WOO-HOO! S-E-C! S-E-C!
MORE FROM YARDBARKER
Patriots News

Delivered to your inbox

You'll also receive Yardbarker's daily Top 10, featuring the best sports stories from around the web. Customize your newsletter to get articles on your favorite sports and teams. And the best part? It's free!